The Convoy of Conscience departed from Istanbul
The Convoy of Conscience, organized with the aim of demanding the release of Syrian women held in Assad's prisons, departed from Istanbul. The ultimate goal of the convoy is to reach Hatay and appeal to the world.
The International Convoy of Conscience, that was organized to bring attention and demand the release of the women who were imprisoned, subjected to torture and maltreatment in the war in Syria that has continued for 7 years, departed from the Yenikapı Meeting Grounds in Istanbul.
Thousands of women of different religions, languages, races and cultures from 55 countries joined the convoy led by the women of Turkey. Among participants were representatives of NGOs, academics, lawyers, press members, journalists, authors, doctors, artists, sportswomen, politicians, housewives and working women.   
Important names that participated from abroad include Pakistan MP Munaza Hasan, Ukrainian doctor and MP Olga Bogomolets, Scottish author-journalist and women's rights activist Yvonne Ridley, Councilor of Newcastle City Council Ann Schofield, Asia Waheed Alrabayah of the family of the Qatar Emir, Prof. Dato Sri Dr. Zaleha from the Malay University Faculty of Law, Mandela's daughter in-law Rayne Rose Mandela-Perry, award winner comedy author and actress from England Sajeela Kershi and the Mothers of Srebrenica.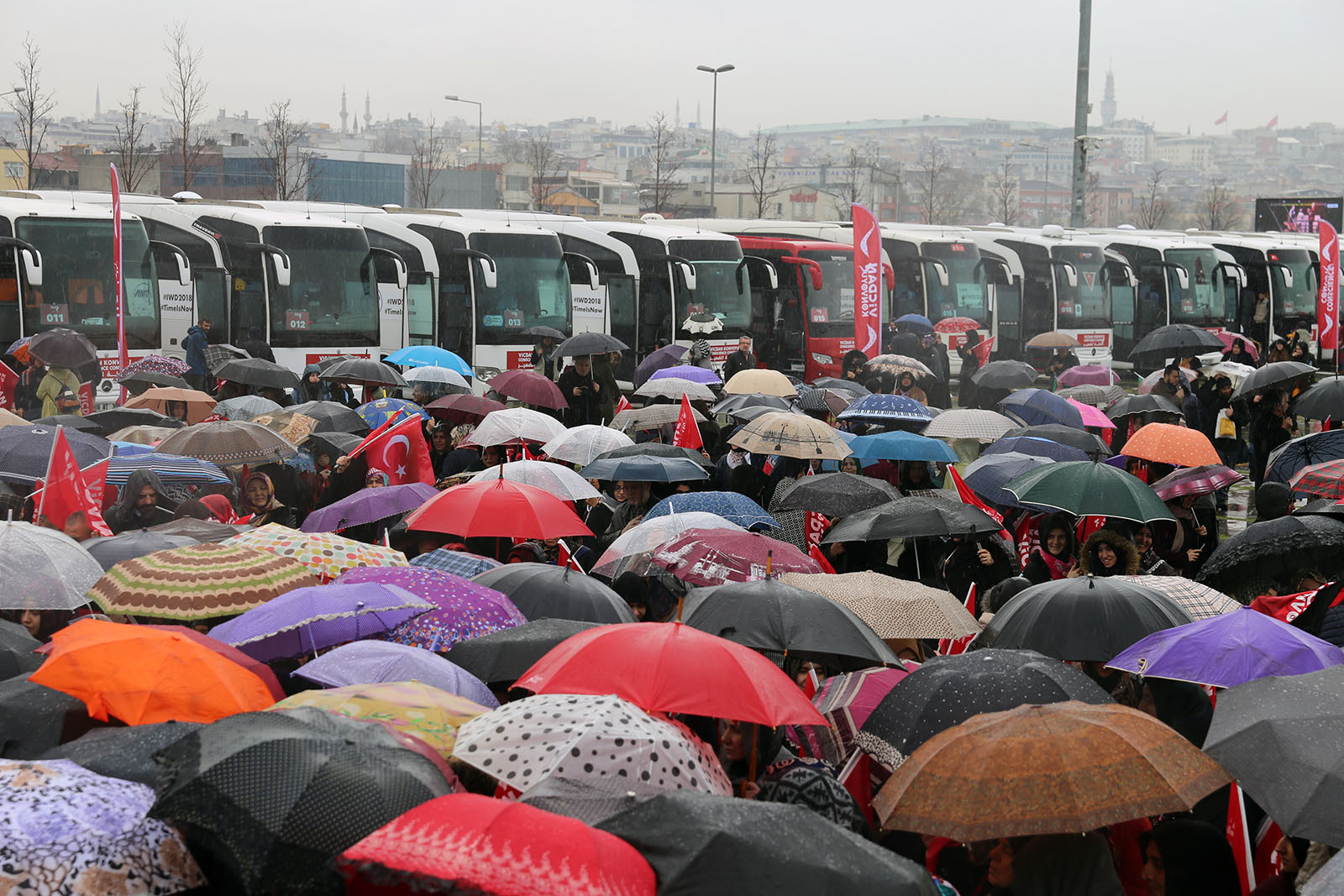 The next stops of the convoy, that departed from the Yenikapı Meeting Grounds at 10:30 am following a press release, will be Kocaeli, Sakarya, Ankara and Adana. The convoy will appeal to the world from the Hatay Exhibition Arena at 10:30 am on March 8, International Women's Day. Participants from the Anatolian region will also be joining the convoy consisting of 60 buses that left Istanbul. Following the scheduled events, the convoy, that will reach Hatay with almost 200 buses in total, will be returning to Istanbul.
"We will never abandon you!"
Lawyer Gülden Sönmez, who spoke on behalf of the convoy at the press release at Yenikapı said: "We, the women of the world are here! Our Syrian sisters, we will never abandon you!" and added: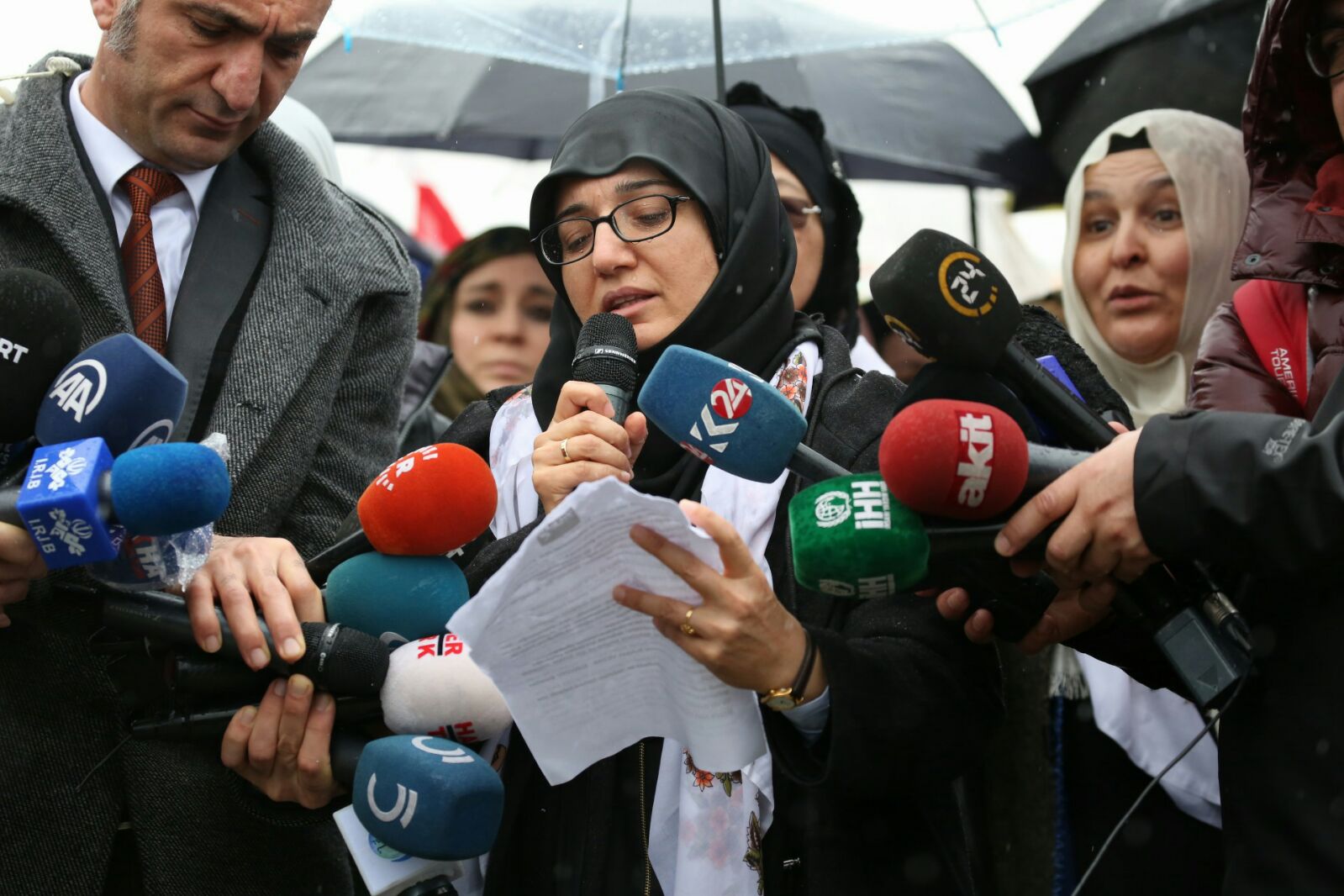 "A child wrote something, so they took him and his friends to be interrogated. Their mothers pleaded "They are only children! Please give us our children!" They did not return these children. First the children began to die, then the adults. Those who opposed the war did not have the power to prevent the war.
They were killed by both illegal and legal methods; sometimes by execution and sometimes mass murder.
As people of the present, we have personally witnessed the live murder of children, and the period in which the most children were killed throughout human history. Almost 1 million people and 15 thousand children were killed.
The most fortunate, in terms of surviving, were probably the refugees. However, all of us failed to give 1m2 to each of these refugees in this world that is large enough for all of us. Borders were closed and babies drowned in the sea.
More than 400 thousand were detained in interrogation centers and prisons, with no discrimination of children, women, elderly and men. During this period, 13.104 people lost their lives in prisons because of torture. 76 thousand people whose fate is unknown are classified as "lost." "Lost" individuals: 116 of which are children and 4219 women.
13.581 women were arrested. 6.736 women are still detained in prisons. They are tortured and subjected to rape. The Syrian Regime used, and is still using rape as a weapon against these women.
As all this is continuing, all of these crimes classified as war crimes and crimes against humanity in the legal systems are occurring in front of the international mechanisms and states. International law failed to prevent these crimes, failed to punish those responsible for these crimes, but managed to confirm these crimes with 55 thousand photographs leaked by a military forensics officer of the regime. The tortures bodies of 6.786 people who were killed by various horrific methods of torture were revealed to the whole world. The scenes of violence, the screams exceeding the walls, the limits to the extent that it was deafening.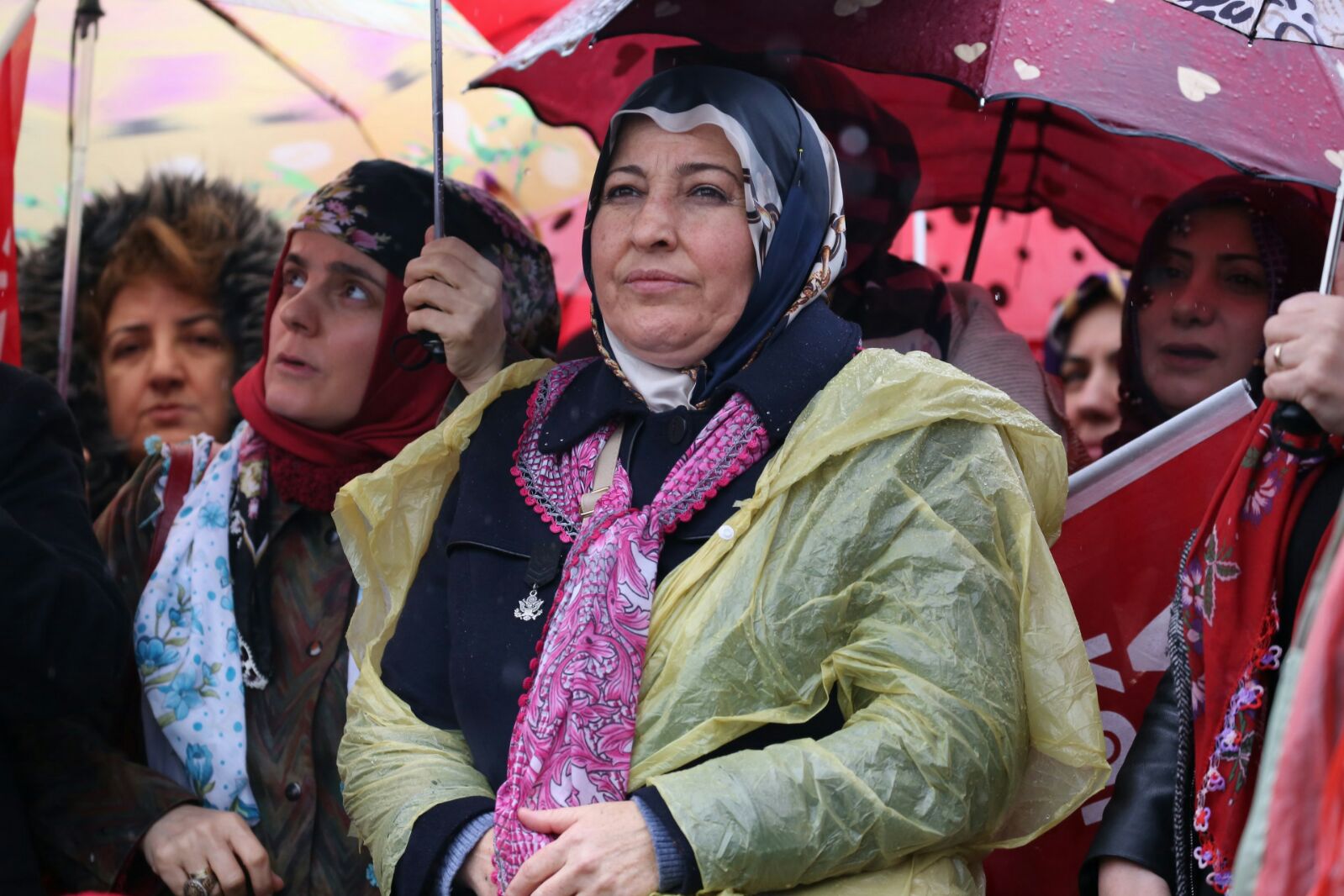 "We hear you Syrian Sisters"
We hear you Syrian sisters! We hear you despite all the voices trying to prevent us from hearing you. We feel your pain. And we are coming for you our sisters. We gathered women from all other the world, irrelevant of their religion, language or race and we are leaving for the conscience of humanity. We are leaving to tell the world that the conscience expected in the Syrian prisons is on this Convoy.
We are sorry! As the world remains silent, you are subjected to even more suffering! We are sorry! As the world remains silent these oppressors find the courage to continue! We know you have waited a long time, and we can hear you asking "where is humanity?" We are here dear sisters! We have not abandoned you, we will never abandon you. We are setting out to come and rescue you. We are aware that saving you, helping you to survive is keeping the values of humanity alive, keeping hope alive; is giving the chance to live.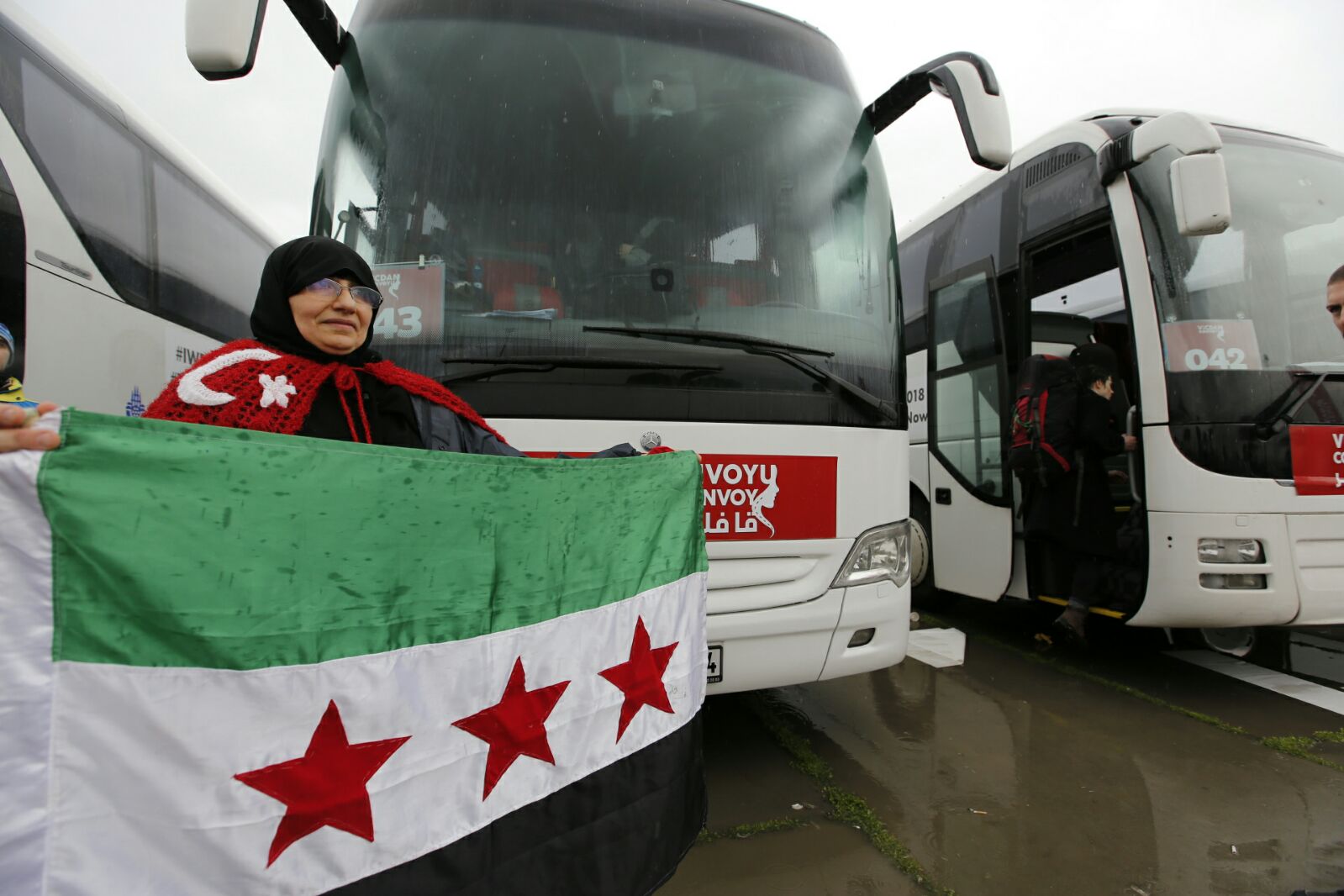 We Are Here. A World of Women, We Are Here!
-We will broadcast that you are there to the world…
-We will pester all the decision makers until we ensure your release…
-When you are freed, we will work together to prevent wars…
-When you are freed we will fight together for the protection of women…
The Convoy of Conscience that is the integration of our voices and your voices will demolish these walls. Now is the time. Our dear sisters, we are coming to you incorporating everyone in our convoy and in our voices. And we promise, we will never abandon you."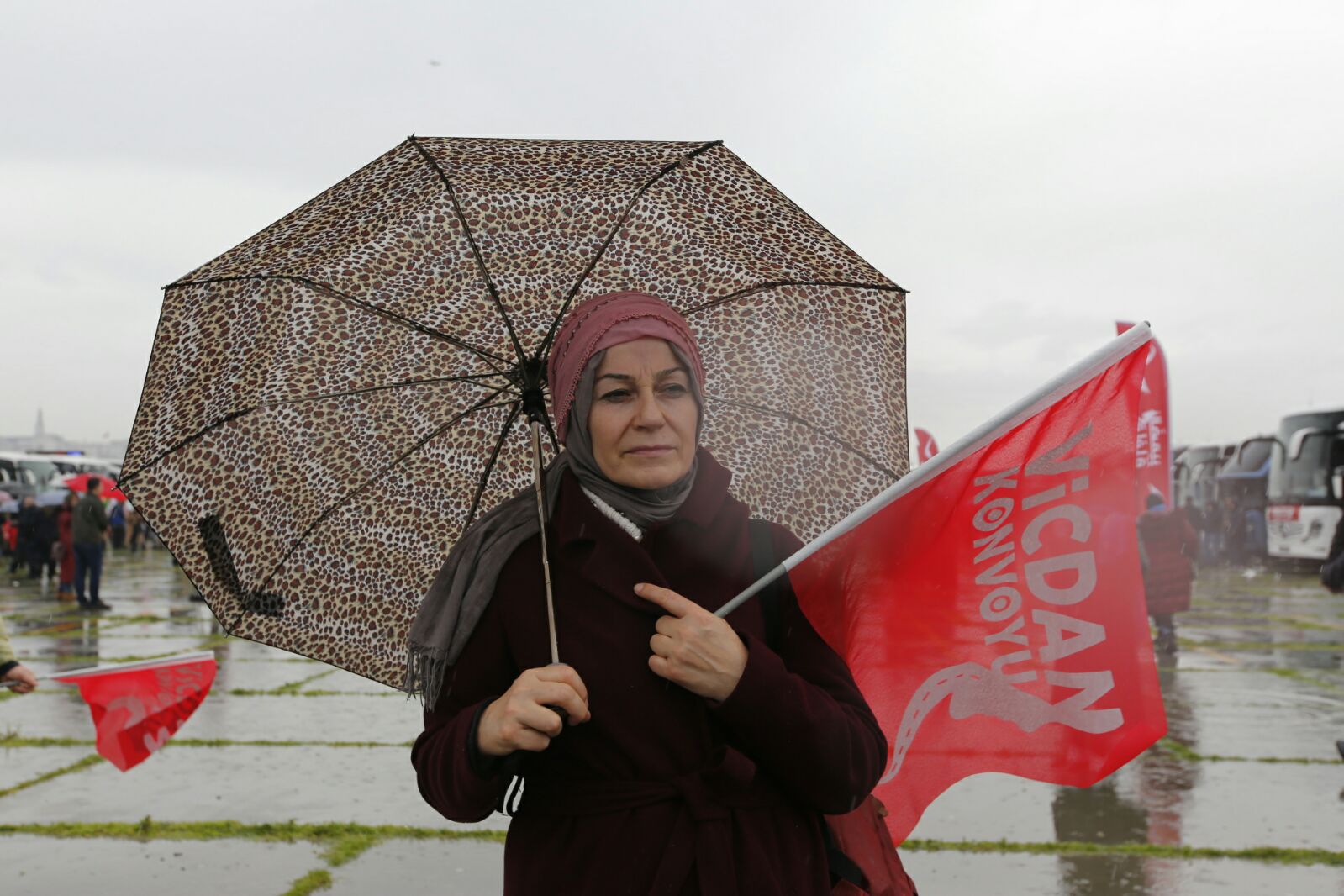 Palestine Our Route
01.06.2022
Palestine Our Route
27.05.2022
Women marched for East Turkistan
On 8 March International Women's Day, women staged marches in 61 cities to be the voice of the East Turkistan women. A joint press statement was given after the protests in Fatih, Istanbul.