Dessert distributed on holy day
Launching 2010 Ramadan campaign with the slogan "Together We Can Change the World," the IHH distributed semolina halwa to 3,000 people at Eminönü district of Istanbul on Lailat al-Baraat, a holy night
Istanbulites showed huge interest in dessert distribution from the mobile kitchen of the IHH Humanitarian Relief Foundation. The residents who ate from the halwa thanked the foundation's executive for the treat.
Mahmut Albayrak, imam of the Yeni Mosque in Eminönü, came to the mobile kitchen and recited prayers with the people there.
The IHH mobile kitchen trailer will visit 25 cities in Turkey during Ramadan and distribute hot food to 65,000 Muslims at the fast-breaking time.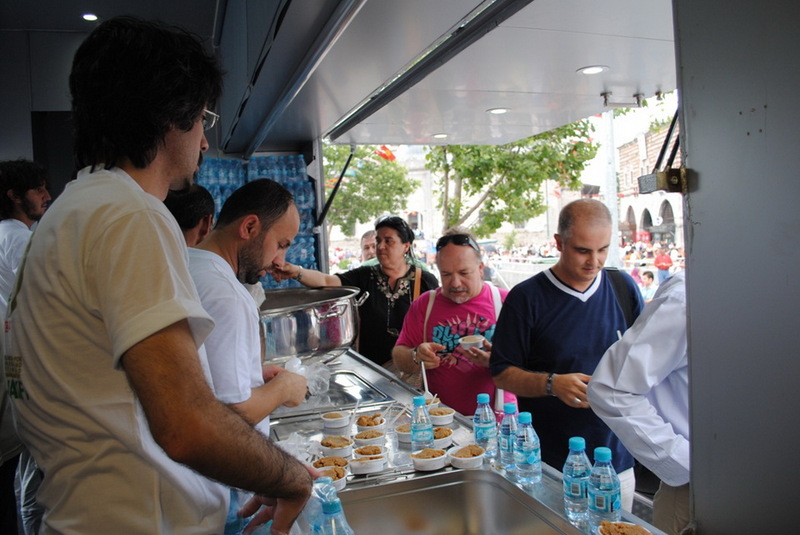 The foundation will organize Ramadan activities in 61 countries and 60 provinces of Turkey.
20 000 food packs to be distributed in Turkey
The IHH has set donation amount for various aid items: 60 Turkish liras (TL) for a food pack, 70 TL for clothing an orphan, 5 TL for a fast-breaking dinner and 25 TL for stationery materials to needy students.
The foundation is aiming to reach out to 1m people with zakat, fitr and sadaqah donations of charitable people.
Companies and enterprises can donate to the foundation through food banking system and register the donation amount as tax write-off. Consult www.ihh.org.tr for detailed information.
IHH plans to reach out to 2.5 million people in Ramadan
After 30 years of Ramadan projects in different geographies of the world, IHH Humanitarian Relief Foundation is planning aid activities in 57 countries including Turkey this year, with the slogan "Continue the Spirit of Ramadan." IHH plans to deliver the donors' zakat, sadaqah, fitra and donations to almost 2.5 million people in regions suffering from war, occupation and natural disasters.