Faruk Aktaş and Bahattin Yıldız remembered in front of their tombs
IHH Asia Representative Faruk Aktaş and IHH volunteer Bahattin Yıldız were remembered in front of their tombs as they became martyr's on their way to Afganistan to carry out IHH's orphan support program.
It has been 4 years since the two lost their lives. Bahattin Yıldız and Faruk Aktaş lost their lives in 2010 when their plane crashed on their way to Afganistan. They were on their way to fulfil their duties for IHH's orphan support program. A remembrance program was organised were they were remembered in front of their tombs in Edirnekapı graveyard.
Yıldız's mother, Ayse Yıldız, son's Mustafa Zahit, Enes Yıldız, friends and loved ones of Yıldız and Aktaş attended the program.
Bahattin Yıldız's friend, Arif Altunbaş, made a speech at the program where Quran recitations and prayers were read.
Altunbaş, mentioned how Yıldız and Aktaş spent their lives serving the Muslim Ummah. Especially Yıldız whom he knew very closely. He mentioned how he was a great role model with the life that he lived, articles he had written and projects that he was a part of.
Altunbaş, also mentioned how Yıldız had a broad minded understanding of the world and often used the words "our children" and "our geography" in his writings and speeches. He said how Bahattin Yıldız never lost his passion to take action for the oppressed in different parts of the world.
Works in the name of our martyrs
-In Kenya there is Faruk Aktaş Duksisi (Traditional Quran courses) which provides services to 100 people.
- In Kenya Bahattin Yıldız Duksisi… Duksis in the Dadaab camps have the distinction of being the only permanent structure.
-In Sri Lanka there are very few medical clinics. Despite this, there is Cevdet Kılıçlar and Faruk Aktaş clinic which provides medical services for the community.
-In Afganistan's capital city Kabul there is a fully equipped Martyrs Orphanage which has the capacity of 100 people. It was made on behalf and named after our martys Bahattin Yıldız - Faruk Aktaş- Aynuddin Yoldaş ve Ahmet Iqbal Yoldaş. It will be available to operate in the upcoming time.
-In Cameroon, the Bahattin Yıldız water well has now opened to serve and another one is in the process of being built. In addition, two wells were opened and are now serving in Somalia. All water wells serve around 15,000 people.
-There is a primary school which was named after Bahaattin Yıldız in the city of Zanzibar in Tanzania were 250 students are currently attending.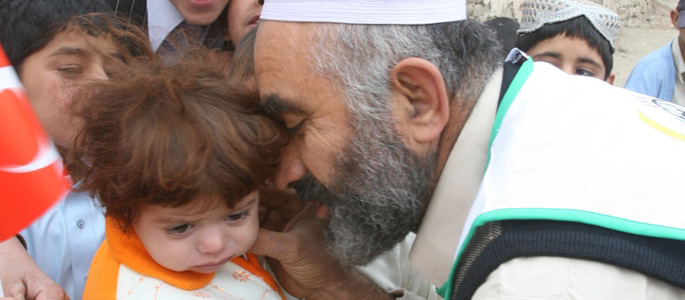 Who is Bahattin Yıldız ?
He was born in Sivas in 1956. He graduated from İmam Hatip high school which was located in İzmir in 1975. In Erzurum, he graduated from the School of Business in 1987. His articles were published in Mavera, Güldeste, Gurbet magazines and the National Newspaper. He has published many books titled Savaşan Afganistan, Cihat Günlüğü, Kar Çiçeği, Karda Ayak İzleri, Güllerin Vedası. He has five children; three daughters and two sons.
When Bahattin Yıldız was leaving Afganistan in 1982 he tearfully said "Hoda hafız biraderanı mücahidan! (Be entrusted to God my mujahideen brothers)." In every book that he published he wrote about Afghanistan and the shahada…
Who is Faruk Aktaş?
He was born in Iğdır in 1974. He studied Primary school and High school in Iğdır. He lost his father at a very young age. He grew up as an orphan. In 2002 he graduated from Pakistan Islamic University, Faculty of Islamic Law. He has a child named Muhamed Ferzan. His family lives in İstanbul. He started working with IHH 6 months before his shahada. He knew three languages; English, Arabic and Urdu. Faruk Aktaş was known as an ideal role model with his self sacrifices, sensitivity and modesty.
Ibrahim's first steps
The dream of 6-year old Ibrahim Tüser, who is supported under IHH's Orphan Sponsorship System, to be able to walk, came true with the support of donors.
Pedaling for orphans
IHH Malatya volunteer Ihsan Kılıç will be visiting 13 cities, cycling from Malatya and travelling a total of 500 km to raise "Orphan Awareness."
Malatya, Orphan
23.09.2020