Fatma Afra's new home
Nine percent of Sri Lanka's population of 20 million people are Muslim. Civil war and tsunami in Sri Lanka has left many children orphaned.The number of Muslim orphans exceeds 6 thousand.
SouthAsia,
SriLanka
22.03.2016
Nine percent of Sri Lanka's population of 20 million people are Muslim. Civil war and tsunami in Sri Lanka has left many children orphaned. The number of Muslim orphans exceeds 6 thousand. Those from the Northern and Eastern regions, were forced to flee from their homes and live in camps because of the civil war which continued for 30 years. Refugees began to return to their homes with the end of the war in 2009 however, their homes no longer existed. 10-year-old Fatma Afra was one of those who lost her home.
Fatma Afra was born in the middle of the war. She does not remember her father who she lost during an explosion in their neighborhood. When Fatma was 4-years-old her mother was diagnosed with lung cancer. One year later he mother passed away and she was left orphaned. Mumtaz and Rizna are Fatma Afra's siblings. The three orphans are under the care of their grandmother, Riyana who works part time at a tea field. Although Riyana's income is enough to support this small family, their biggest problem is living in a shed. Riyana says when it rains, the furniture inside the shed becomes wet and the children become sick. Although she has attempted to cover the holes using a transparent tarpaulin, she has not been able to prevent the water from coming inside.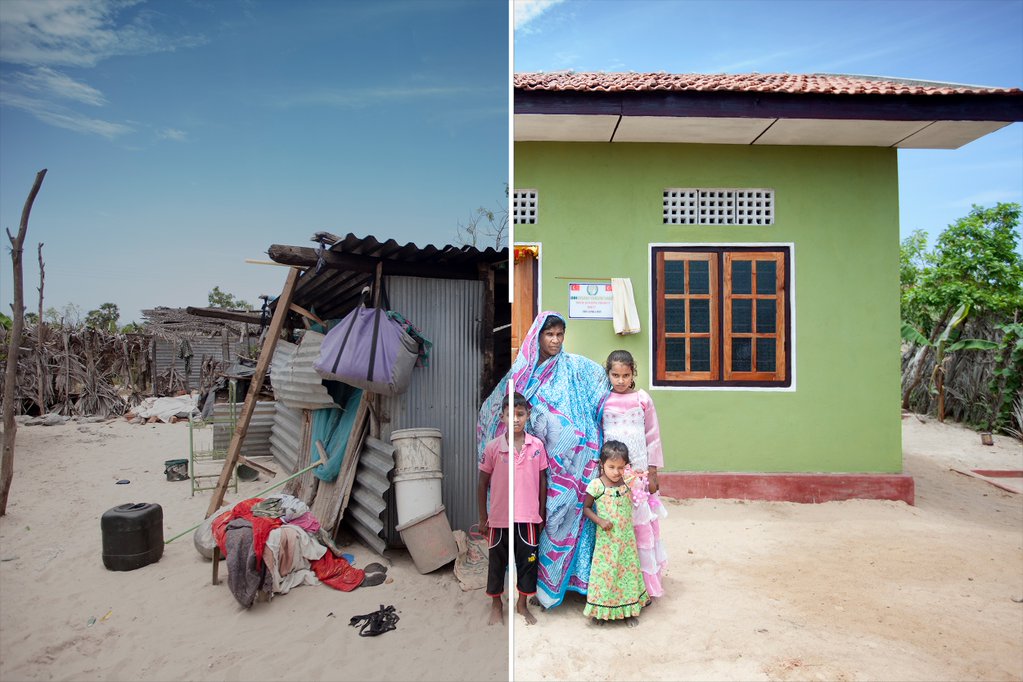 Last year on Orphan Solidarity Days, IHH moved Fatma Afra, her grandmother and siblings into a new home where they will be safe from the rain. Their cozy 40 square meter home has two bedrooms, a living room and a kitchen. Including the newly purchased furniture, the total cost to construct the home was 16 thousand liras. We would like to take this opportunity to thank all our charitable donors.
What is Orphan Solidarity Days?
Each year, with the help of IHH, a team of volunteers leave Turkey and visit orphans across the world. They provide them with support and aid, open orphanages and put a smile of their faces. We call this campaign which is repeated every year in March, April and May the Orphan Solidarity Days program.
Among the projects to be carried out are:
• Purchasing furniture for orphan families
• Covering refurbishment costs of orphanages
• Buy sewing machines for orphanages so they can meet their own needs
• Conducting health screenings
• Help orphans who are financially unstable, to get married
• Distribute stationary and books
• Hold several entertainment programs such as picnics and the kite flying festival
IHH has opened 27 orphanages. With the orphanages which are to open in Bangladesh, Thailand/Patani and Turkey, this number will rise to 32.

To find out more details about orphan sponsorship: 00 212 631 21 21
The last terminal of "An Armful of Goodness"
IHH Humanitarian Relief Foundation continues to commemorate the 11th annual Orphan Solidarity Days (OSD) project with the theme "An Armful of Goodness". Many studies have been carried out for orphans and their families in Kenya, one of the countries where the initiative is executed.
54,000 loaves of bread for camps in Syria per day
Through a partnership between the IHH and the İnsan Charity Foundation, and with financial support from The United Nations Office for the Coordination of Humanitarian Affairs (OCHA), 54,000 loaves of bread are supplied daily to civilians living in camps in the countryside of Idlib province in northern Syria
4 permanent works in Sierra Leone
In West Africa's Sierra Leone, IHH inaugurated four distinct buildings including orphanages, universities and mosques. The newly inaugurated permanent works are vital to the country's future.
Mosque-Masjid, Orphan
17.11.2022