Humanitarian aid distributed to prisoners in Albania
IHH Humanitarian Relief Foundation distributed humanitarian aid to the prisoners in Jordan Misja Prison in Tirana, the capital of Albania. Upon the request of the prison administration, bunks, beds and medicines were distributed to the prisoners.
Albania,
Turkey
01.05.2014
Within the scope of the joint humanitarian aid operation carried out by IHH Humanitarian Relief Foundation and Alsar Foundation in Albania, needy prisoners in Jordan Misja Prison in Tirana were distributed humanitarian aid. Before the humanitarian aid was distributed a ceremony was organized upon the request of the prison management.
Members of IHH Executive Board Osman Atalay and Yaşar Kutluay as well as Alsar Foundation authorities attended to the ceremony. After the ceremony prisoners were distributed materials that can use in their social life. Moreover IHH and Alsar authorities held a meeting with prison managers and talked about the difficulties experienced in the prison, education activities, needs of the prison, the development of the social lives of the prisoners, the development of cooperation among prisoners and etc.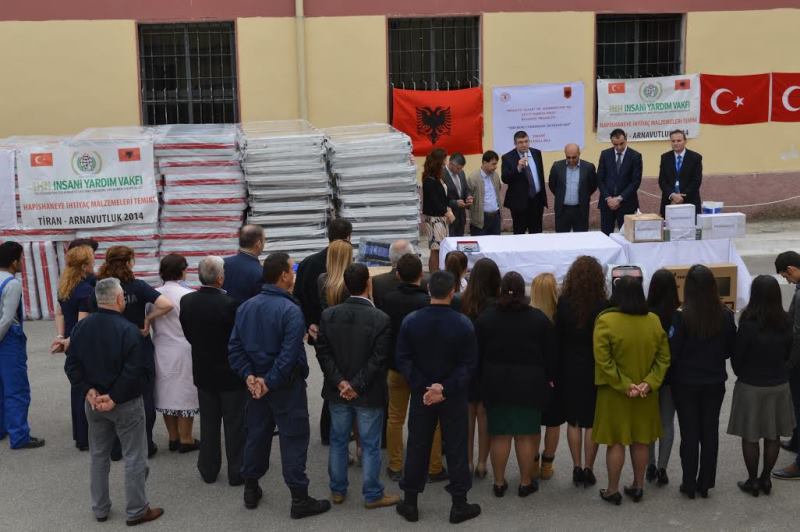 Ibrahim's first steps
The dream of 6-year old Ibrahim Tüser, who is supported under IHH's Orphan Sponsorship System, to be able to walk, came true with the support of donors.
Pedaling for orphans
IHH Malatya volunteer Ihsan Kılıç will be visiting 13 cities, cycling from Malatya and travelling a total of 500 km to raise "Orphan Awareness."
Malatya, Orphan
23.09.2020