IHH Launches Campaign to Fight Drug Abuse in the Balkans
IHH Humanitarian Relief Foundation has initiated a campaign in 6 Balkan countries to fight against drug abuse, which has become a dominant social problem in the Balkans.
Balkans,
BosniaandHerzegovina
25.11.2016
IHH Humanitarian Relief Foundation in collaboration with Turkish Green Crescent has launched the campaign entitled "Drug Abuse: the End of Freedom" with a panel discussion event held in Hotel Europe, Sarajevo.  The campaign's booklet published in Bosnian to promote the fight with drug abuse was also presented in the event.
Turkey's ambassador to Bosnia HE Haldun Koç, IHH Executive board member Osman Atalay, Turkish Green Crescent Foreign Affairs Coordinator Ahmet Zeki Olaş, Zenica Rehabilitation Centre's director Mirnes Telalovic have attended the panel among many other notable guests.
The Campaign Covers 6 Balkan Countries
The campaign that will raise awareness against drug addiction will be conducted in Bosnia and Herzegovina, Montenegro, Serbia (Sandjak), Albania, Kosovo and Macedonia. Therefore the promotional event was held in Bosnia and Herzegovina's biggest city and capital Sarajevo. 
The ambassador Koç, who made the opening remarks, pointed out that drug abuse knows no borders and requires collaboration of all side to fight it back. "I would like to thank everyone who has contributed to the realization of this project thus proved that collaborations can be done in every field" he added.
IHH Humanitarian Relief Foundation board member Osman Atalay highlighted that drug and alcohol addiction is a global public health problem that causes millions of deaths nowadays.
According to United Nations Office on Drugs and Crime's 2016 World Drug Report 5% of adult population (250 million) has used at least one drug in 2014, said Atalay. "One in every 6 drug addicts is getting treatment" he commented.
Atalay reported that according to UN, deaths caused by drug abuse in 2014 were 207,000. "An estimated 85,900 people in Asia and 52,500 people in America and 39,200 people in Africa died because of drug abuse" he asserted..
Balkans Have Turned to a Drug Route  
Atalay highlighted the drug trafficking route:
"Balkan countries lie at the heart of the route considered as Balkan route that encircles Southern European countries including Turkey. It is very east to get access to drugs in Balkan countries due to drug trafficked into developed Western European countries. The fight against alcohol and drug abuse should involve multi-faceted policies and processes. It requires a comprehensive policy that will involve prevention, intervention, treatment, rehab and integrating the abuser back into the society."
Olaş reminded that Turkish Green Crescent has an office in Bosnia and Herzegovina. "We give Balkans priority as a region. On that note we provide know-how to 34 countries for establishing a local green crescent society. We carry our public awareness campaigns and trainings for fighting drug abuse in Turkey and abroad" he said.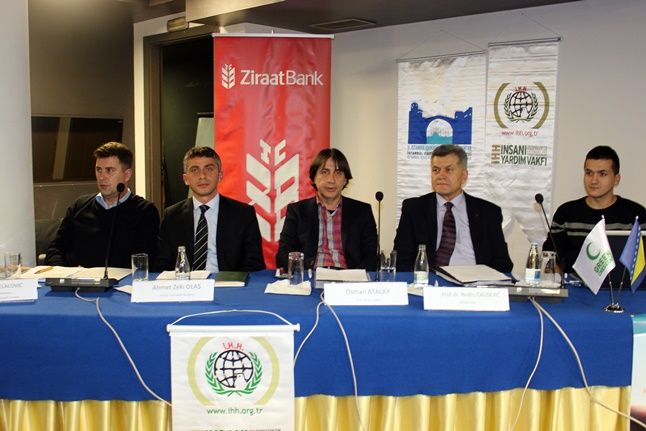 25,000 Books for Distribution
10,000 books in Bosnian and 15,000 books in Albanian were printed in conjunction with the campaign against drug abuse. The said books are going to be distributed in events that will be held in different countries as a part of this campaign.
Conferences, workshops, and research studies are going to be conducted in collaboration with local grassroots and NGOs as well as national education ministries.  The campaign is sponsored by Sarajevo Istanbul Education and Culture Centre, Turkey's Sarajevo Office of Press and Public Relations, Yunus Emre Institute, Ziraat Bank and, Turkish Airlines.
Goals in Fight Against Drug Abuse
The primary goal is raising awareness among the youth and their families.
To prevent youth from access to drugs
To help drug abusers and those who just started using drugs receive treatment.
To point out to the significance of figures from media, arts and sports support the campaign
Collaboration of grassroots and state institutions in order to continue the fight in a more effective way
Palestine Our Route
01.06.2022
Palestine Our Route
27.05.2022
Women marched for East Turkistan
On 8 March International Women's Day, women staged marches in 61 cities to be the voice of the East Turkistan women. A joint press statement was given after the protests in Fatih, Istanbul.