IHH offers meals to 10,000 Syrians every day
IHH Humanitarian Relief Foundation is delivering meals to an average of 8,000 people in its mobile kitchen in Babussalam, a Syrian border gate.
Syrians who have fled the violence in nearly every part of the country are taking refuge in border regions, which are safer. There is a growing number of people on the borders as the number of Syrians fleeing the country increases. One of these regions where there is a big number of Syrians is the Babussalam Border Gate.
Syrians who had to flee their homes are trying to cling to life in tents established for them at Babussalam Border Gate. These people who are overwhelmed by so many problems do not even have a place to cook meals or bake bread. In order to meet these people's need for meals, IHH set up a kitchen in the region around 1,5 years ago. This kitchen provides meals to around 10,000 people every day. In addition, food packages including breakfast supplies such as zahter (a mixed spice), olives, olive oil, jam, honey, butter andhalva are delivered to every family at the beginning of every month.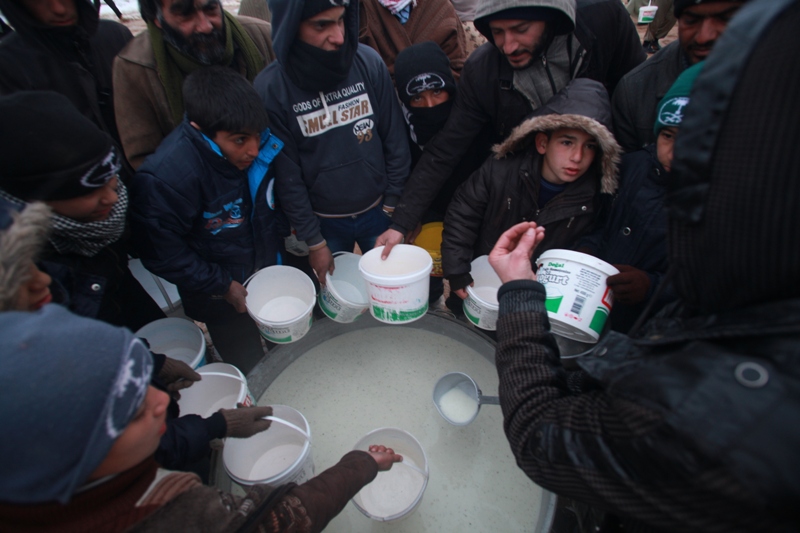 In the kitchen only Syrian meals are cooked by Syrian cooks. The cooks try to have a different menu every day. Meals are delivered to Syrians only once in a day in tent cities due to the population density at the border. The meals are given to families in pots and plastic boxes brought by the families. In addition, 10 to 15 loaves of bread are delivered to families every day.
Since this kitchen is very close to Babussalam Border Gate, people entering or exiting from the border are also offered meals, making the number of people benefiting from the kitchen every day reach 10,000.
Aid to help West Darfur conflict
95.000 people were forced to migrate to other regions and 213 people lost their lives due to the conflict between tribes in Sudan's West Darfur. IHH Humanitarian Relief Foundation launched emergency aid projects for the people affected by the conflict and became Internally Displaced People.
Medical aid for Afghanistan
IHH sent 4 trucks of medical aid to Afghanistan. This medication will be distributed to hospitals in the cities of Kabul, Herat, Mazar-i-Sharif and Kandahar.