IHH puts a smile on 300 orphans faces in Suruc
Within the scope of the Orphan Solidarity Days, IHH's Sanliurfa team organized a picnic for 300 orphans. Amongst them were 100 orphans from Suruc and 200 orphans from Kobani.
Within the scope of the Orphan Solidarity Days, IHH's Sanliurfa team organized a picnic for 300 orphans. Amongst them were 100 orphans from Suruc and 200 orphans from Kobani.
In the morning the buses picked up the orphan families and children from Suruc city center and AFAD tent city and brought them to the garden of Suruc High School located in Aligor. IHH Sanliurfa representative Behcet Atila and other representatives were there to greet the guests. Officials of the foundation made the picnic an unforgettable one for the orphan families and children.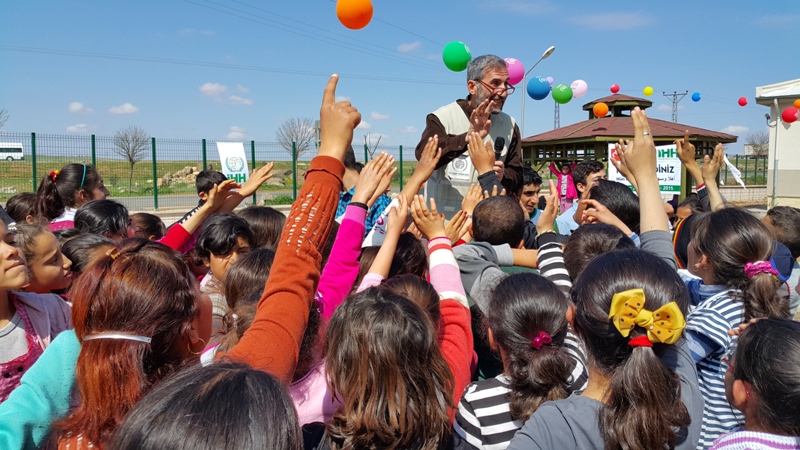 Those who attended the event organized by the IHH Sanliurfa team participated in many games and competitions with the orphans such as running, pull rope, jump rope, quizzes consisting of religious questions, football and handball.
Suruc District Education Manager Mahmut Demirbilek, AFAD officials, Suruc High School principal Muhittin Bozkaya, 'Suruc Eğitim Bir Sen' Chairman Mustafa Durmaz and other school administrators from different schools attended the event.
IHH Sanliurfa representative Behcet Atila made a speech at the event. During his speech he mentioned that IHH Humanitarian Relief Foundation provided the needs for those who suffered from war, natural disasters and poverty in 35 different countries and regions including Turkey. They also provided sheltering, food, clothing, education and medical needs for orphans.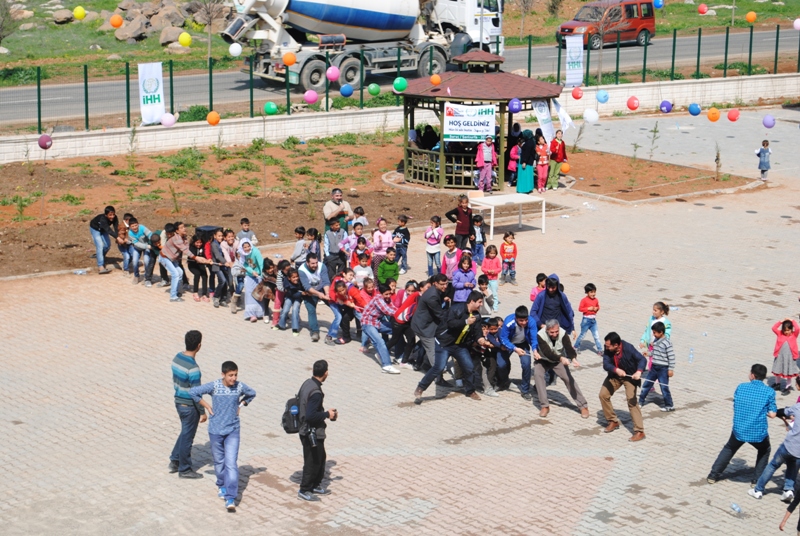 Atila also noted that regular cash assistance is made by the Sponsor Family System for close to 60 orphans.
"Today, we are pleasing refugees from Sanliurfa's Suruc region and Syria. We are planning on including Urfa, Suruc Viransehir and with gods will Hilvan and Ceylanpinar to the program this year. Of course, our final program will be held in Urfa. Our aim is to unite all these orphan children and help them live an unforgettable day where they will play games, attend competitions, have dinner and receive gifts."
Atila mentions how "we are responsible for orphans." He continued by saying that: " They were entrusted to us from the Messenger of Allah S.W.A (peace and blessings be upon him). We must look at these children with this intention. We enjoy looking after these children and spending time with them. We are also trying to win their hearts. Seeing them happy and joyful makes us very pleased. I thank everyone who contributed to this event and made it possible. May Allah S.W.A be pleased with you all. We are forever grateful to our brothers and sisters who helped sponsor our orphans."
After the fun games and competitions, food was served to the orphans, families and other guests. The event ended with the distribution of toys to the orphans. IHH sponsors approximately 60, 000 orphans worldwide. In Turkey, the most orphans are supported in the province of Sanliurfa. Regular cash assistance is provided to 500 orphans in this region.
The last terminal of "An Armful of Goodness"
IHH Humanitarian Relief Foundation continues to commemorate the 11th annual Orphan Solidarity Days (OSD) project with the theme "An Armful of Goodness". Many studies have been carried out for orphans and their families in Kenya, one of the countries where the initiative is executed.
54,000 loaves of bread for camps in Syria per day
Through a partnership between the IHH and the İnsan Charity Foundation, and with financial support from The United Nations Office for the Coordination of Humanitarian Affairs (OCHA), 54,000 loaves of bread are supplied daily to civilians living in camps in the countryside of Idlib province in northern Syria
4 permanent works in Sierra Leone
In West Africa's Sierra Leone, IHH inaugurated four distinct buildings including orphanages, universities and mosques. The newly inaugurated permanent works are vital to the country's future.
Mosque-Masjid, Orphan
17.11.2022