IHH team meets orphans in Bangladesh
A team of 10 people from IHH got together with orphans in a picnic in Bangladesh.
Bangladesh,
Turkey
30.04.2014
Orphans welcomed the team with flowers in the picnic organized by IHH's partner organization Bangladesh Islamic Relief Foundation in Cox's Bazar.
In the picnic, several fun races were held for the kids such as running, rope pulling, egg-and-spoon, sewing while walking among the girls, sack race and cricket.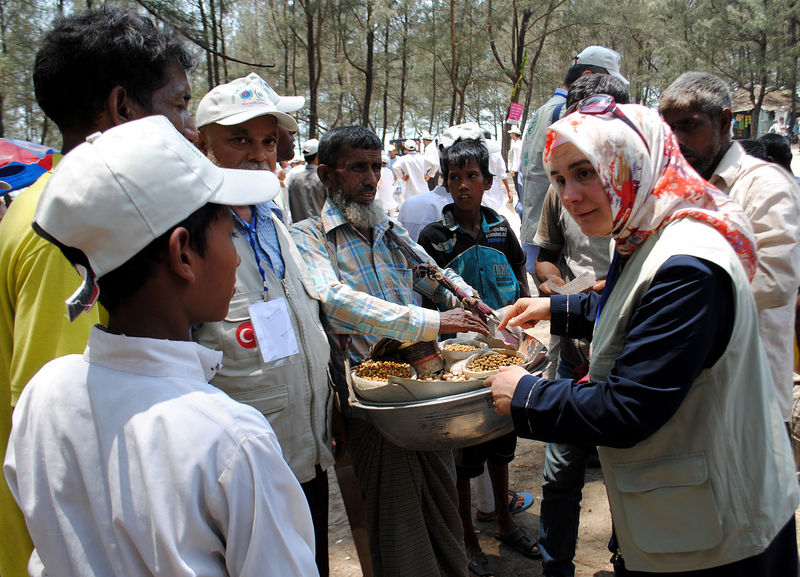 Orphans recited Quran and nasheeds/hymns in the event. The winners of the races received various presents and all 150 children attending the picnic got hygiene kits.
IHH board member Mehmet Celik delivered a speech in the event and said Bangladesh visit was organized in conjunction with annual "Orphan Soldiarity Days."

Çelik expressed that their intention was to meet 250 orphans sponsored by IHH in person. "We have travelled here to spend time with them, share their joy and alleviate their sadness a bit if we can. We are having a picnic with 150 children here. It is great to see the joy in their sparkling eyes. Once more, we had the chance to see that the efforts of those people who send their donations and prayers from Turkey is invaluable. We would like to extend our thanks to the donors on behalf of the orphans," he said.
Çelik also pointed out that orphaned children are vulnerable and open to exploitation.
"Both for us and those vulnerable, it is so important that we take care of them. There is almost a billion orphans. Europe based organizations are focusing more on the orphans. IHH's efforts and work in this regard brought up the issue of orphans in the agenda in the Muslim World. IHH is supporting over 40 thousand orphans across the world today. With the support of our donors in Turkey our goal is to raise this number to 100 thousand. It is possible to bring joy to these orphans with a monthly sum as small as 100-150 liras."

Çelik was one the IHH team members who joined the races along with the children in the picnic. "After many long years, it's the first time I participated in sack race. We pulled ropes. One feels like a child when he joins the game. The children are also playing and racing with you. It makes them feel closer to you" he said. He noted that IHH has been working in Bangladesh over the past 10 years and have opened orphanages and water wells in the region as well as built a mosque and organized distribution of meat and food hampers during eid al-Adha.
Mehmet Çelik also added that they will be doing more orphan-care work in different Bangladeshi towns for 6 days in conjunction with "Orphan Solidarity Days."
Ibrahim's first steps
The dream of 6-year old Ibrahim Tüser, who is supported under IHH's Orphan Sponsorship System, to be able to walk, came true with the support of donors.
Pedaling for orphans
IHH Malatya volunteer Ihsan Kılıç will be visiting 13 cities, cycling from Malatya and travelling a total of 500 km to raise "Orphan Awareness."
Malatya, Orphan
23.09.2020