IHH's relief efforts in Syria
Turkey hosts the largest number of refugees in the world as it has opened its doors to over 2 million people.
It's been five years since the crisis in Syria began with the oppression and brutal killing by the regime forces, however today the situation has gone beyond a civil war. With the entrance of several countries; Syria now faces a major war. Almost 300 thousand people have lost their lives due to the war, thousands were jailed, and over 5 million people were forced to flee from their homes and seek refuge in other countries in order to stay alive.
Turkey hosts the largest number of refugees in the world as it has opened its doors to over 2 million people. For thousands of years Syria was home to many different cultures, but now it is now indistinguishable from the ruins. As each day goes by the humanitarian crisis in the country is getting worse and total destruction is spreading across the land. In 2015, we have distributed 266,187,000 bread to those in need. This number alone is enough to show the severity of the mass destruction and suffering the country faces.
As IHH Humanitarian Relief Foundation, we have been working hard since the beginning of the crisis to help both the displaced Syrian refugees and those facing hardship within the country. Besides providing emergency support, shelter, clothing, education and health care, we have been working hard to help the Syrian people within their war torn country.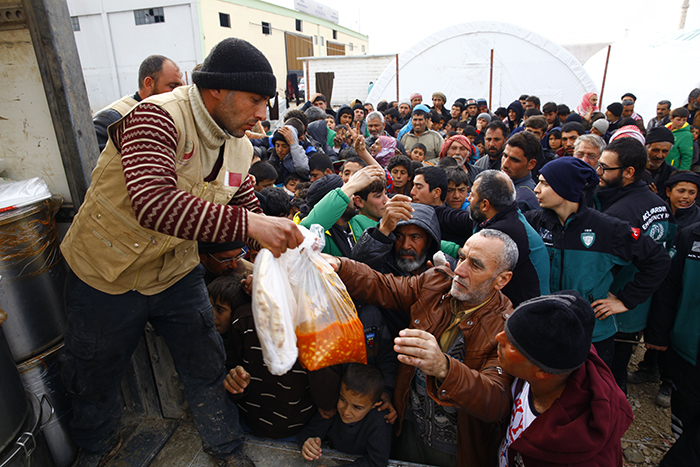 Our foundation has been conducting services for Syria in four regions including Reyhanli, Kilis, Sanliurfa and Yayladag. Our coordination offices in Bab al-Hava, Bab al-Selam and Turkmendag serve as the coordination centers for these services. Our coordination centers also takes on tasks such as hosting diplomatic and international meetings.
Reyhanli Coordination Centre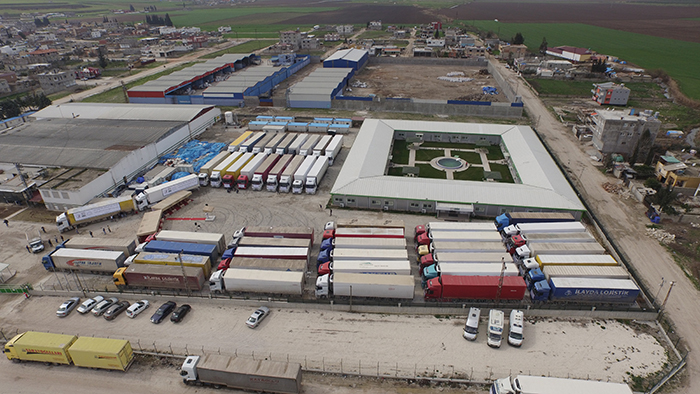 In 2013, Reyhanli coordination center was built on 23 decares of land. It includes a 5 thousand meter square warehouse and has a bakery which produces 130 thousand bread a day. At the centre, 3 orphans home, a therapy centre, a tailoring workshop and an art studio were opened in 2015 to serve the Syrian refugees. At the same it has offices for 16 different international institutions. The centre continues to provide services with dozens of staff and volunteer, including 8 cars, 4 trucks, 2 minibuses, 2 forklifts, 2 tractors, 3 trailors, 2 medical trailers, 2 soup kitchens and 1 truck in total 27 vehicles.
Bab al-Hava Office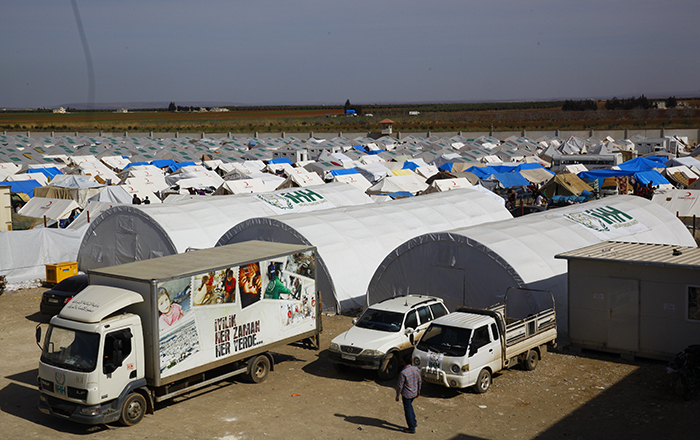 Bab al-Hava Office established on Syrian soil in coordination with Reyhanli; is built on 6 decares of land. It consists of a 300 m2 office building, a 1,400 m2 warehouse, a refectory, a repair workshop and other outbuildings. In addition, a 1,000 m2 area is board for emergency and fire department and a 2,000 m2 for warehouse building.
RAF Qatar – IHH Childrens Living Centre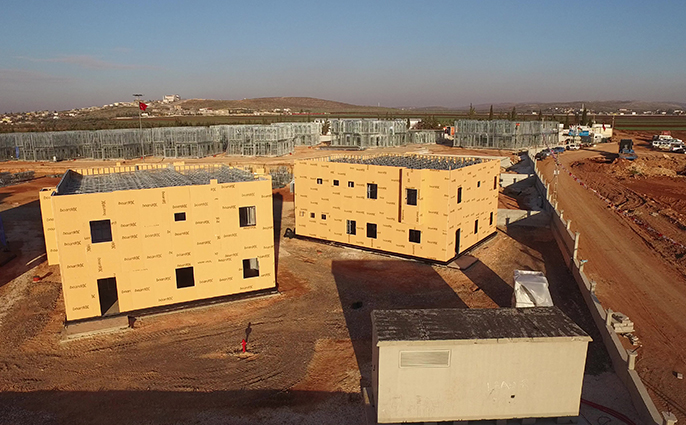 In 2015, RAF Qatar – IHH Childrens Living Centre was established on 95 decares of land. The aim to provide support to 990 children who were left orphaned in war and provides needs such as education, health, psychological support and warm meals in home environment.
IHH is running a project, RAF Qatar – IHH Childrens Living Centre, for Syrian orphans who are like their peers in other war and poverty-stricken parts of the world vulnerable against criminal syndicates like organ, prostitution and beggar mafia, human traffickers, substance abuse, warlords and missionary organizations while deprived of love and compassion they so much need.
According to the protocol signed with the Ministry of Family and Social Policies the project will be realized on around 100,000 square metres land in Hatay's Reyhanlı district. The complex will provide education, accommodation, healthcare, food, clothes, counselling support in a home-like cosy environment to around 990 Syrian children who lost their parents during the war.
The complex is carefully designed for orphan children where 35 villas for boys and 20 villas for girls will be built. In each house, which is planned on 350 square metres, 18 children will live. It will also feature three schools, one mosque, a clinic, auditorium, administrative building, lodging for staff, sports field, playground, patches of land for growing plants and a green meadow.
Kilis Coordination Centre
IHH's Kilis coordination center contains an industrial oven that provides 100,000 loaves of bread daily, a soup kitchen that provides hot meals for 50,000 people and a warehouse that can hold humanitarian aid from 90 trucks.
Bab al-Salam Office
In coordination with Kilis, the centre is serving on Syrian soil. It was established on 10 decares of land. The office consists of a 150 m2 building, a 2,350 m2 warehouse, a 1.000 m2 closed area container city headquarters and a 1,500 m2 emergency and fire station.
Sanliurfa Office
In Sanliurfa, we are continuing our activities with an office building and one warehouse building.
Yayladagi Office
The Yayladagi office which was opened in 2015 consists of an office building and a 200 m2 warehouse.
Turkmendagi Office
The Turkmendagi Office consists of a 100 m2 office building and 3 warehouse buildings. We serve our work with ten volunteers and four vehicles.
Our humanitarian aid facilities in Syria in 2015:
. 104,211 orphans received help
. 2,074 orphans were included in our Orphan Sponsorship System (IHH is caring for over thousand Syrian orphans).
. 5 orphanages were established. (213 orphans live in the newly opened orphanages.)
. 6,450 people has receiving psychological help to recover from the traumas they have faced.
. 8 schools have opened. (IHH has opened 24 schools in Syria.)
. Logistics support was given to 342 schools, 202 in Turkey and 104 in Syria.
. 22,252 Ramadan food packages were delivered.
. 6,550 Qurbani shares and 1,977 Adak-Akika Qurban meat was distributed to 81,875 families.
. 3 container towns and 1 tent city was established.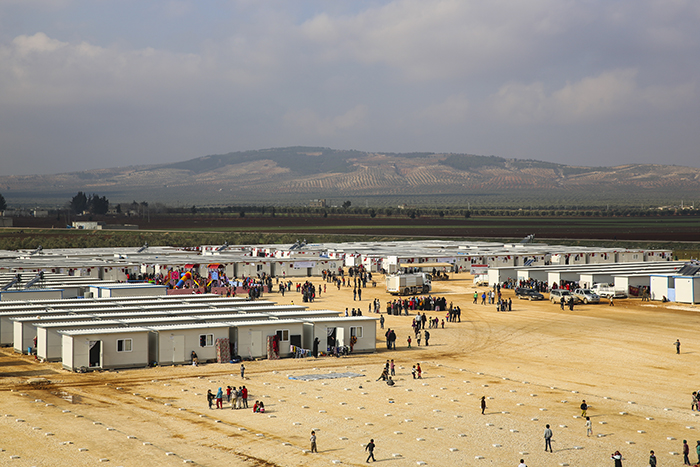 There are currently 62,000 people living in the 9 container towns and 13 tent cities IHH has established in total.
. 2 bakeries were opened. (IHH has opened 10 bakeries in Syria. It provides flour and fuel support to 48 bakeries).
. 6 soup kitchens were opened. (IHH supports a total of 22 soup kitchens in Syria.)
The Kilis coordination center established in 2014 on 18 acres of land, there is a bakery which produces 100 thousand bread on a daily basis and provides meals to 50 thousand people.
. 3 water wells were opened. (IHH has opened 21 water wells in Syria.)
. 4 mosques, 7 masjids were opened. (IHH has opened 6 mosques and 18 masjids in Syria).
.1 hospital was established. (IHH has opened a total of 7 hospitals till now. In 2015 it provided logistical and medical assistance to 78 hospitals in Turkey and Syria.)
. 150,000 medical supplies were distributed. (Bedding, wheel chairs, crutches, first aid kits, medicine and hygiene materials.)
. 130,000 passed through health screening.
Aid for flood-affected families in Sudan
Sudan's last week's flood is still impacting the country. The floods, which claimed 99 lives and wounded 94 others also destroyed houses, workplaces, and acres of farmland. After the floods, IHH Humanitarian Relief Foundation launches its relief efforts for the victims there.
IHH Takes Action for Pakistan
The flood occurred the day before due to heavy rains in Pakistan. The flood resulted in the deaths of 1061 people and injured 1575 others. Right after the flood, the IHH Humanitarian Relief Foundation launched an emergency relief effort for the country.
IHH delivers aid to Gaza
In the attacks carried out by the occupying Israel against Gaza, 44 people, including 14 children, were martyred and 360 people were injured. The IHH Humanitarian Relief Foundation, which took action immediately in the aftermath of the attacks, launched emergency relief efforts for the people of Gaza.