Kuwaiti Royal Family Pays Courtesy Visit To IHH
Sheikh Ali Badr Al Sabah, member of the royal family of Kuwait, paid a courtesy visit to IHH's Head Office and delivered his condolences regarding the attack on the ship Mavi Marmara. Ali Badr Al Saba
The Israeli attack on Mavi Marmara, the ship that embarked on a journey to break the inhumane blockade on Gaza with its passengers from 36 countries, resulted in the death of 9 activists and an international outcry. IHH, the Turkey leg of the flotilla campaign received enormous support and messages of condolence from all over the world.
Sheikh Ali Badr Al Sabah, a member of the royal family of Kuwait, paid a courtesy visit to IHH's Head Office and delivered his condolences regarding the attack on the ship Mavi Marmara. Ali Badr Al Sabah had meetings with Bulent Yildirim, President of IHH, Yavuz Dede, Deputy President and Huseyin Oruc, Vice President of IHH during his visit to the Fatih Office of the Foundation. Ali Badr Al Sabah also met with the wounded and the families of the deceased. Al Sabah paid close attention to the stories of the wounded and martyrs' families. Al Sabah expressed his thanks to the families of the martyrs and the injured and presented them with shield awards on behalf of the international Muslim community for their honorable journey.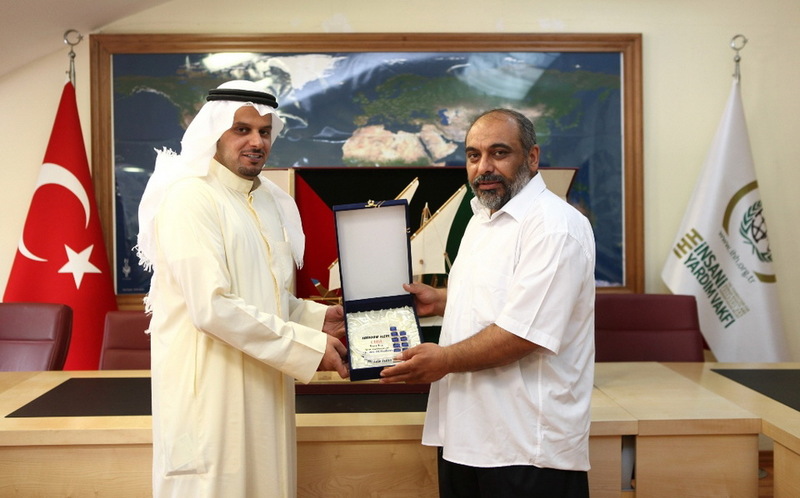 Kuwaiti royal family member Sheikh Ali Badr Al Sabah also gave a model ship to Bulent Yildirim, President of IHH, as a gift. Al Sabah also expressed his appreciation of IHH for its humanitarian aid efforts, said that they have been following IHH's work closely. Bulent Yildirim presented Al Sabah with a shield award and thanked for his kind visit to the Foundation.
Support from IHH to people of Yemen
In Yemen, where a civil conflict has been raging since 2014, relief efforts are still being made by the IHH Humanitarian Relief Foundation. Recently, IHH dispatched a team to the area to provide relief to the nation's needy.
Emergency aid to Afghanistan's earthquake victims
A least 1.000 people lost their lives and 1.500 people were injured in the 5.9 magnitude earthquake that struck the Khost province of Afghanistan. IHH Humanitarian Relief Foundation immediately launched an emergency aid campaign for the region.