Kuwaiti Royal Family Pays Courtesy Visit To IHH
Sheikh Ali Badr Al Sabah, member of the royal family of Kuwait, paid a courtesy visit to IHH's Head Office and delivered his condolences regarding the attack on the ship Mavi Marmara. Ali Badr Al Saba
The Israeli attack on Mavi Marmara, the ship that embarked on a journey to break the inhumane blockade on Gaza with its passengers from 36 countries, resulted in the death of 9 activists and an international outcry. IHH, the Turkey leg of the flotilla campaign received enormous support and messages of condolence from all over the world.
Sheikh Ali Badr Al Sabah, a member of the royal family of Kuwait, paid a courtesy visit to IHH's Head Office and delivered his condolences regarding the attack on the ship Mavi Marmara. Ali Badr Al Sabah had meetings with Bulent Yildirim, President of IHH, Yavuz Dede, Deputy President and Huseyin Oruc, Vice President of IHH during his visit to the Fatih Office of the Foundation. Ali Badr Al Sabah also met with the wounded and the families of the deceased. Al Sabah paid close attention to the stories of the wounded and martyrs' families. Al Sabah expressed his thanks to the families of the martyrs and the injured and presented them with shield awards on behalf of the international Muslim community for their honorable journey.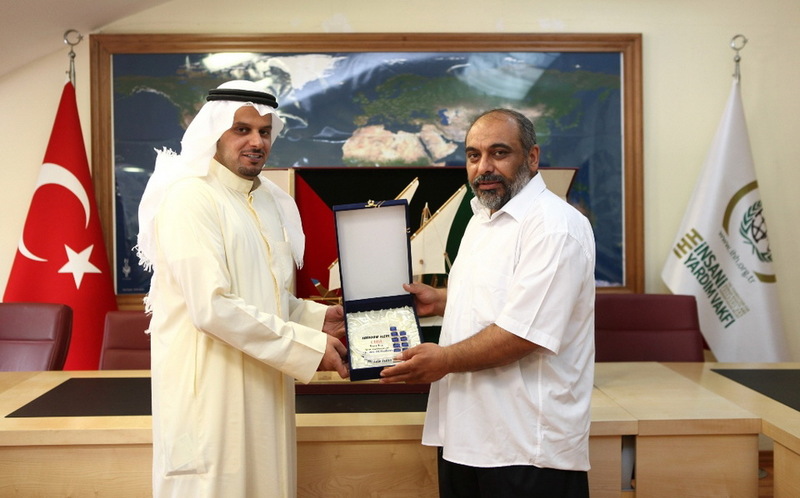 Kuwaiti royal family member Sheikh Ali Badr Al Sabah also gave a model ship to Bulent Yildirim, President of IHH, as a gift. Al Sabah also expressed his appreciation of IHH for its humanitarian aid efforts, said that they have been following IHH's work closely. Bulent Yildirim presented Al Sabah with a shield award and thanked for his kind visit to the Foundation.
Flour distribution to 38 thousand 601 families in Somalia
IHH Humanitarian Relief Foundation has been carrying its aid efforts in Somalia, and our effort intensified following the severe drought that has hit the country since 2020, causing millions facing difficulties in accessing clean water and food.
Mobile soup kitchen from Turkey to Ukraine
The mobile soup kitchen dispatched by the IHH Humanitarian Relief Foundation to Ukraine, which is under Russian bombardment, departed from Istanbul. The soup kitchen was intended to provide food to 30,000 people each day. In addition, three truckloads of humanitarian supplies provided to Ukraine by the IHH in recent weeks have been delivered to war victims.
IHH helped 700,000 Syrians in 2022.
In 2022, IHH Humanitarian Relief Foundation delivered 2,043 truckloads of humanitarian relief supply to war-affected Syrian residents living in the country's IDP camps and settlements in various locations.