Medical aid for Gazans
IHH Humanitarian Relief Foundation has launched a campaign called "Be Remedy for Gaza." Within the framework of the campaign, IHH has sent 250,000 Euros to the al-Shifa hospital in Gaza.
Palestine, Palestine - Gaza
13.07.2014
Gaza, who is left helpless in the face of Israeli attacks and blockade are waiting for medicine. Due to Israel's blockade, Gaza is unable to reach 65 percent of the medication they are in need of. The children and elderly who are seeking treatment in hospitals are face to face with death because they are unable to reach required medication.
IHH provided humanitarian aid for Gaza since 2007 when the blockade first started. But when the crisis occurred in Egypt in 2007, they announced that all ongoing projects in Gaza will come to an end due to not being able to obtain supplies.
When the lack of medication turned into a critical state due to the blockade in Gaza, IHH launched the "Be Remedy For Gaza" campaign at the end of 2013.
The medicine campaign which was launched because of the blockade received extensive support from the public with the latest attacks. IHH has sent 250,000 Euros to the officials of al-Shifa Hospital in Gaza to be bought medical supplies.
BULENT YILDIRIM CALLED OUT TO THE PEOPLE OF GAZA
IHH President Bulent Yıldırım adressed the people of Gaza and opresive Isreali in the following manner "I am calling out to the people of Gaza from here: Two-thirds of the world's heart are with you. Many Israelis around the world are taking action against these Zionists. Have no fear, insAllah help is going to reach you. We are going to make thousands of people and NGO's take action. I admire the people of Palestine. They are protecting dignity of all humanity, and Al-Aqsa Mosque. Become a union. Do not allow anyone to cause fitna among you."
HOW CAN YOU HELP?
Those who want to take part in the "Be Remedy For Gaza" aid campaign organised in cooperation with IHH Humanitarian Relief Foundation and the Palestinian Student Platform can make donations to the foundations bank account and corporate donations can be made online through the screen.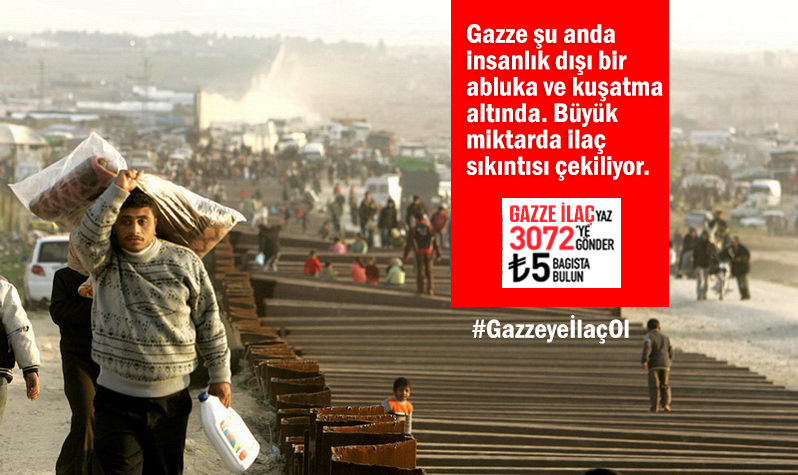 Please click for online donation...
Aid to help West Darfur conflict
95.000 people were forced to migrate to other regions and 213 people lost their lives due to the conflict between tribes in Sudan's West Darfur. IHH Humanitarian Relief Foundation launched emergency aid projects for the people affected by the conflict and became Internally Displaced People.
Medical aid for Afghanistan
IHH sent 4 trucks of medical aid to Afghanistan. This medication will be distributed to hospitals in the cities of Kabul, Herat, Mazar-i-Sharif and Kandahar.