Permanent Works for Niger
IHH Humanitarian Relief Foundation laid the foundation of the Musab Bin Umayr Imam Hatip Primary School and Bilal-I Habashi Mosque in the Balbali village in Niamey, the capital of Niger.
In addition to humanitarian aid efforts all over the world, IHH continues to be a ray of hope for the aggrieved with its permanent works. In this scope, IHH is constructing permanent works for people in various geographies that are deprived of education and worship facilities.
The foundation of the Musab Bin Umayr Primary School was laid for students who have been receiving education under extremely difficult conditions. The school will serve 100 students with one administration room, 2 classes and 4 toilets.
Additionally, IHH also laid the foundations of the 100m2 Billal-I Habashi Mosque that will come with 3 toilets/washrooms and the Osman Bin Affan water well for the local people. 10.000 people living in the region will benefit from the water well.
IHH General Secretary Durmuş Aydın and IHH team that attended the ceremony dug the first soil for the foundation, accompanied by prayers.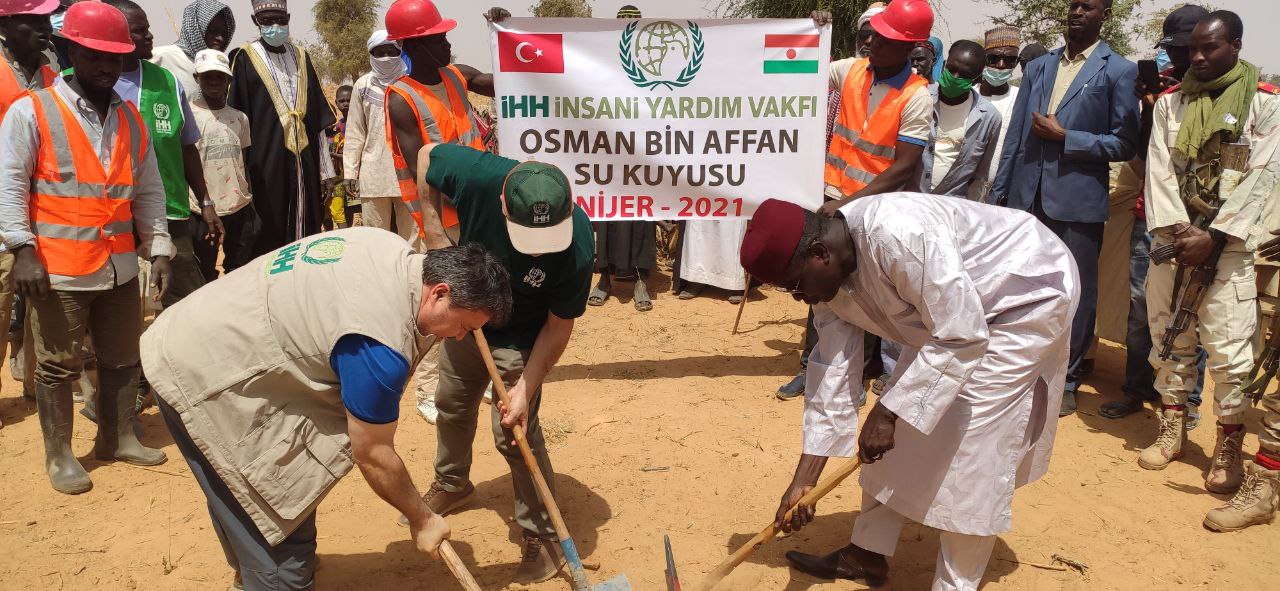 The projects that their foundations laid will be completed sixth months after and start to provide service.
Flour distribution to 38 thousand 601 families in Somalia
IHH Humanitarian Relief Foundation has been carrying its aid efforts in Somalia, and our effort intensified following the severe drought that has hit the country since 2020, causing millions facing difficulties in accessing clean water and food.
Mobile soup kitchen from Turkey to Ukraine
The mobile soup kitchen dispatched by the IHH Humanitarian Relief Foundation to Ukraine, which is under Russian bombardment, departed from Istanbul. The soup kitchen was intended to provide food to 30,000 people each day. In addition, three truckloads of humanitarian supplies provided to Ukraine by the IHH in recent weeks have been delivered to war victims.
IHH helped 700,000 Syrians in 2022.
In 2022, IHH Humanitarian Relief Foundation delivered 2,043 truckloads of humanitarian relief supply to war-affected Syrian residents living in the country's IDP camps and settlements in various locations.