Palestinian children: "We want peace, removal of Gaza blockade"
Ten Palestinian children who held a news conference in İstanbul gave a message of peace to the world at a time when Israel takes steps to start a new war through its daily air assaults on Gaza.
Palestine,
MiddleEast,
Turkey
28.03.2011
"Gazan children should no longer be killed. This war should end," said Palestinian children who gave a lesson of humanity to Israel.
The news conference was held at the headquarters of the IHH Humanitarian Relief Foundation in Fatih district. Appearing before the cameras, the Palestinian children reiterated that they do not want a new war in Gaza while giving messages of peace and brotherhood.
The children said tens of people have been killed in Israeli aerial attacks which have recently begun again in the region.
One of the children, Bisan Sagga, said he sleeps with tank sounds in Gaza and wakes up to bullet sounds. "I live in Gaza. I want peace for all the children in the world. Everyone should know that we sleep with tank sounds in Gaza and wake up to bullet sounds," he said.
Muhammad Bashir Salih, another Palestinian child, said: "We want peace in the world and in Gaza. Many of us have lost their family members or relatives in the war. Today, I understand the ongoing war in Libya very well as a child who witnessed war. I can guess in what kind of a mood the Libyans are and I am praying for them."
Dua Al Ferah said she has the happiness of seeing somewhere other than Gaza thanks to the benevolent Turkish nation. She said she wishes no child in the world will experience war. "I just want to share something with you here which I find very strange. I am really astonished by the strength of the Gazan children amid war," she said.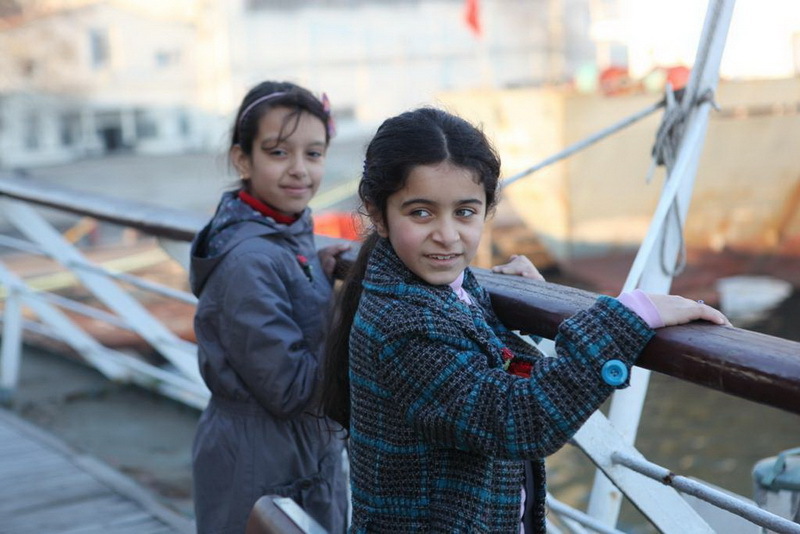 One of the children Noor Rami Said who is an orphan demanded the removal of the blockade on Gaza. She said Israeli atrocities in Gaza deeply shake them and that they undergo very difficult days. "I want peace to come to Gaza as soon as possible," she said.
Speaking at the news conference, IHH Executive Board member Hüseyin Oruç talked about the frequent use of figures of war in the paintings drawn by Palestinian children. Noting that tension has begun to rise in Gaza again during the time Palestinian children are in İstanbul, Oruç said: "Israeli began to carry out military operations in Palestine while Gazan children are here. Tens of people have been killed in these operations. Most of the victims were children. The Gazan children who are our guests here have for the first time gone out of Gaza. They will return to their country several days later. These children and all the Palestinian children do not want war. We never want the killing of any children. A new war is about to erupt in Gaza due to Israel's provocations. We want the ending of this war even before it begins."
Flour distribution to 38 thousand 601 families in Somalia
IHH Humanitarian Relief Foundation has been carrying its aid efforts in Somalia, and our effort intensified following the severe drought that has hit the country since 2020, causing millions facing difficulties in accessing clean water and food.
Mobile soup kitchen from Turkey to Ukraine
The mobile soup kitchen dispatched by the IHH Humanitarian Relief Foundation to Ukraine, which is under Russian bombardment, departed from Istanbul. The soup kitchen was intended to provide food to 30,000 people each day. In addition, three truckloads of humanitarian supplies provided to Ukraine by the IHH in recent weeks have been delivered to war victims.
IHH helped 700,000 Syrians in 2022.
In 2022, IHH Humanitarian Relief Foundation delivered 2,043 truckloads of humanitarian relief supply to war-affected Syrian residents living in the country's IDP camps and settlements in various locations.