Raise Your Voice for Masjid Aqsa!
The statement of 55 Islamic scholars, academics prepared in conjunction with Eyup Meetings were released in a press meeting participated by IHH president as well. The statement asserted that Masjid Aqsa's occupation was totally unacceptable.
After Israeli occupying forces entered Masjid Aqsa, which is the third holiest mosque in the world and murdered three Palestinian boys, they shut down the place for Friday prayers. Hence for the first time since Jerusalem was occupied in 1967 Friday prayers were not performed in Masjid Aqsa. Zionist government does not only deprive Palestinian Muslims the most basic human with that is freedom of worship but also installed x-ray machines all around the Masjid Aqsa. Terrorist regime forces assaulted the congregation performing prayers at the gate of Masjid Aqsa. During the assault former mufti of Jerusalem Ikrime Sabri also was injured.
Muslim world reacted to the current events in Palestine. Especially as a reaction to the occupation of Masjid Aqsa 55 Islamic scholars, academicians and community leaders that gathered in Reshadiye hotel located in Fatih, Istanbul released a statement which highlighted that occupation of the first qiblah (prayer direction) of Muslims is unacceptable. Eyup Meetings Platform brings together over 50 scholars and community leaders.
"Zionists Escalate Aggression due to Irresponsive Muslim leadership"
Eyüp Meetings Platform spokesperson Abdullah Yıldız read out the statement. The meeting followed with brief remarks by scholars and academicians, The statement signed by fifty five different scholars started with a brief summary of the events unfolded in Masjid Aqsa and followed like this:
Zionist regime that soiled our holy masjid with their boots that banned our adhan and blocked our worshipping challenges the Muslim world while dismissing any and all international agreements. Under this pretext it intends to annex entire Jerusalem that they call the capital and demolish Masjid Aqsa.
The occupier Israeli regime picks up courage for its aggressive actions from direct and indirect Western support. Western imperialists secured themselves and their interest by expelling Jews from their territories and installing them like a dagger in the heart of Muslims world. So expecting them to make any enforcement on Israel for its human right violations is in vain.
Zionists are drawing courage from divisions in Islamic world, the silence of Muslims, and apathetic Muslim leaders. Accomplice leaders of Muslim populated countries do not show the common attitude that adapted against Qatar or Ikhwan al-Muslimin against Israel, die-hard enemy of Islam. Zionists makes moves taking advantage of the division in the Muslim world; the events in Iraq, Syria, Egypt, Yemen and Qatar open the way for Zionists strengthening their hands.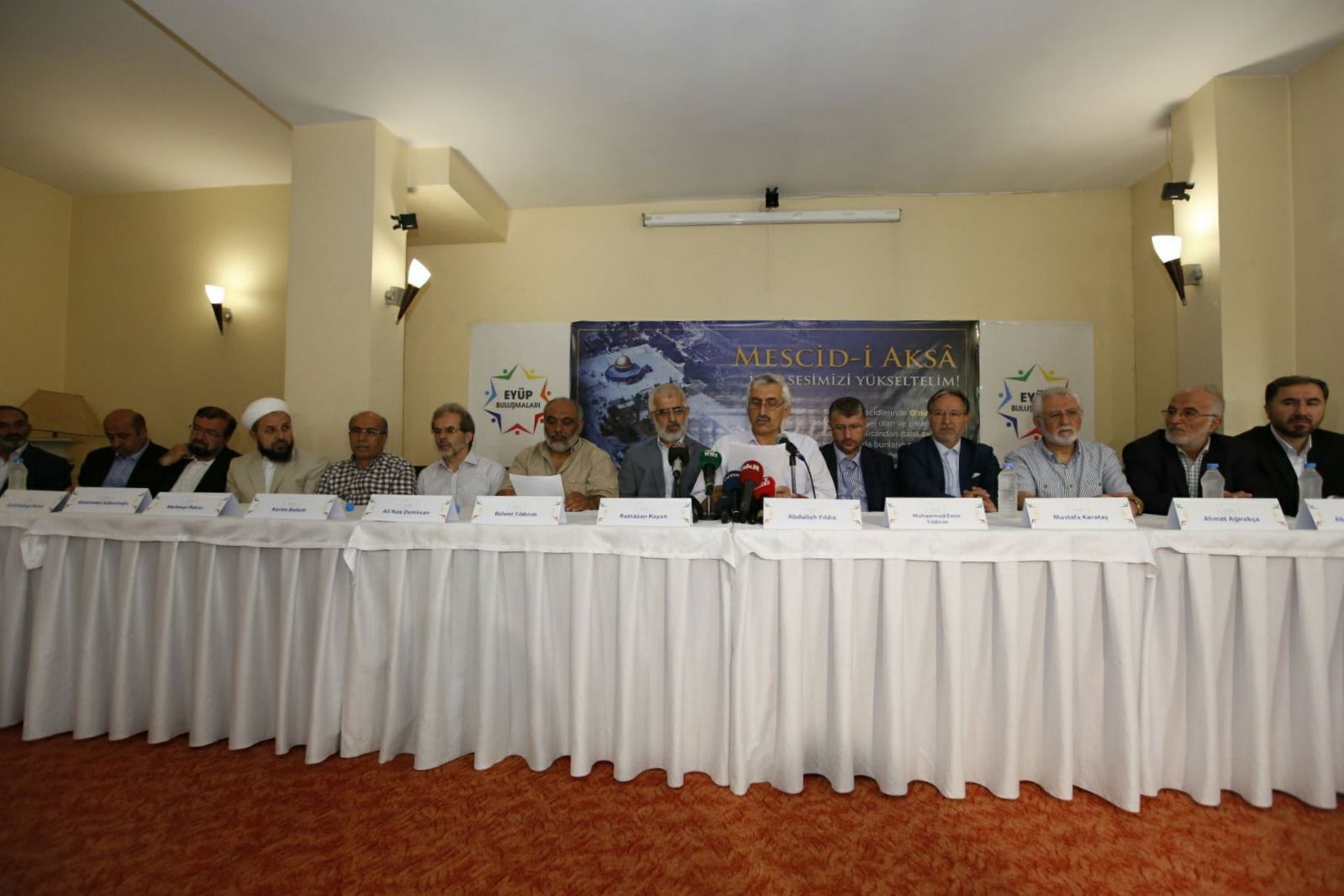 The occupation of a prophetic place is unacceptable!
Apparently these assaults will continue until and unless Muslims regard Palestinian issue and Jerusalem a matter of life or death and Zionists will dare to do worse things. The oppression and tyranny in the Muslim world will not cease until people of Islam regard Jerusalem, Istanbul, Cairo, Damascus, Bagdad, Sana, Islamabad, Mecca and Medina as the parts of a whole that cannot and should not be separated. Each and every individual and leader of the ummah should realize this Zionist trap and know that Jerusalem nor Masjid Aqsa shall be free before we unite hence raise their voice.
The occupation of Palestine, which is the land of prophets, is unacceptable. The occupation of Jerusalem, where the Prophet's ascension to heaven took place, is unacceptable. The occupation of Masjid Aqsa, which is our first direction for prayers, is unacceptable. Banning adhan and shutting down masjids to worshippers is unacceptable.
We as Muslims of Turkey know what occupation of masjids and reappropriation for purposes other than worshipping mean. Hence we condemn Israel's closure of Masjid Aqsa and ban Muslims from praying there. We call out to all Muslims to do something about it to stake Muslims' claim on this holy site.
We pray to our Lord to grant us the will power and unity to liberate Masjid Aqsa made holy with its vicinity and the land of prophets Jerusalem that was entrusted to us by Sultan Abdulhamid, Saladin Ayyoubi, the Pious Caliph Omar.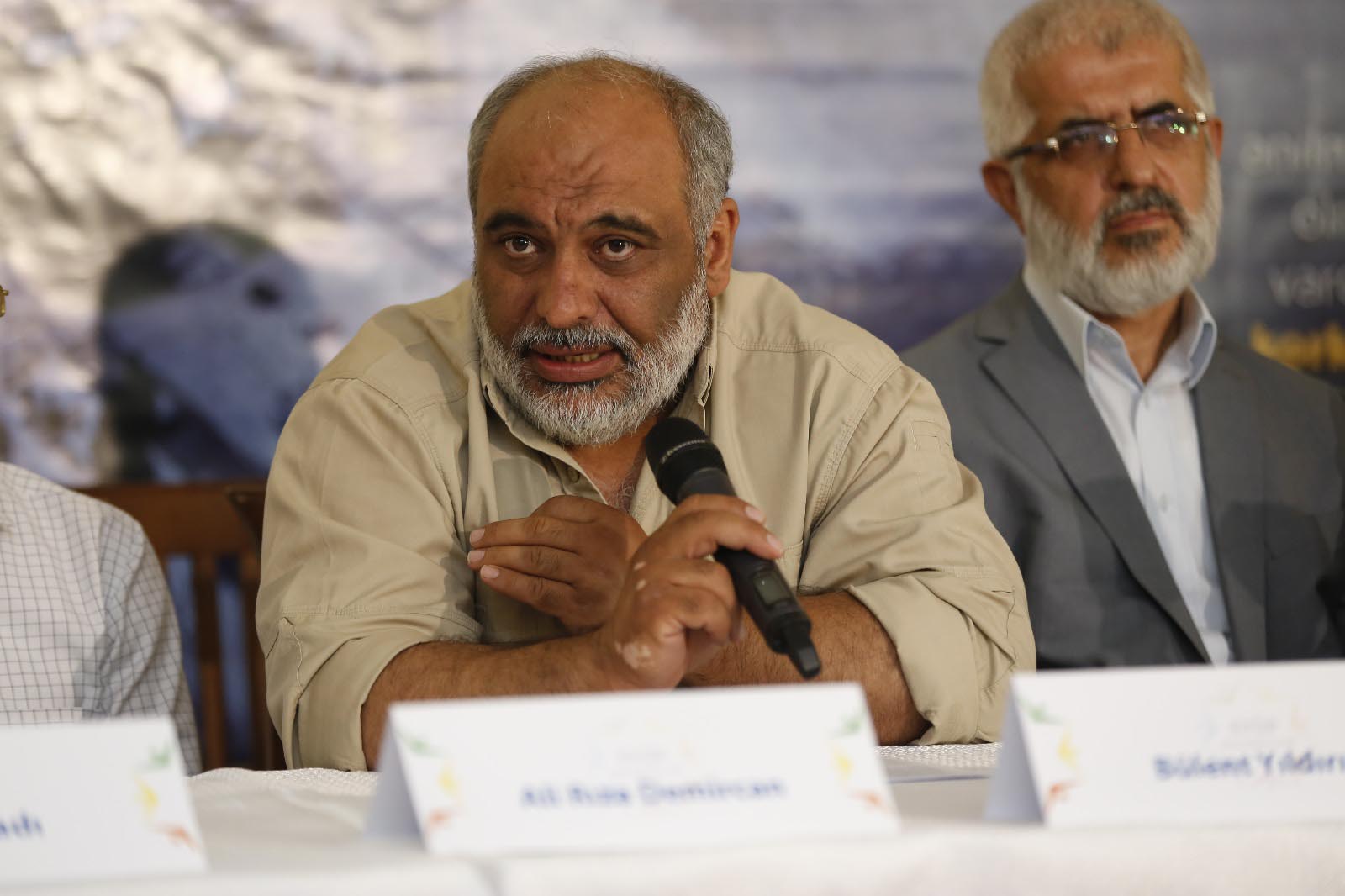 Signatories:
Abdullah Büyük, Abdullah Cihangir, Abdullah Taylan, Abdullah Yıldız, Abdullah Trabzon, Abdülaziz Kutluay, Abdülhamid Kahraman, Abulhamid Ramazanoğlu, Abdülmetin Balkanlıoğlu, Abdülvahap Ekinci, Adnan Demircan, Ahmet Ağırakça, Ahmet Hamdi Yıldırım, Ahmet Taşgetiren, Ahmet Varol, Ali Rıza Demircan, Ali Rıza Temel, Ahmet Bulut, Bülent Yıldırım, Celalettin Vatandaş, Emrullah Hatiboğlu, Faruk Beşer, Halil İbrahim Kutlay, İbrahim Cücük, İhsan Süreyya Sırma, İhsan Şenocak, Kazım Sağlam, Kerim Buladı, Mahmut Toptaş, Maruf Çelik, Mehmet Beşir Eryarsoy, Mehmet Çelen, Mehmet Göktaş, Mehmet Paksu, Mehmet Said Yaz, Mehmet Salih Ekinci, Metin Karabaşoğlu, Molla Abdullah Yıldız, Muhammed Emin Yıldırım, Muhammed Özkılınç, Mustafa Ağırman, Mustafa Karataş, Nureddin Yıldız, Ömer Döngeloğlu, Ömer Faruk Akkaya, Ramazan Kayan, Recep Songül, Salih Turgut, Şinasi Gündüz, Talha Hakan Alp, Vehbi Karakaş, Yaşar Kandemir, Yusuf Kaplan and Yusuf Ziya Kavakçı.
Thousands Marched in Solidarity for Gaza
The Palestinian Initiative Platform organized the "Hand in Hand for the Gaza Strip" in many cities across Türkiye to draw attention to Israel's heinous attack on Gaza. In Istanbul, tens of thousands of people marched from Edirnekapı to the Blue Mosque Square, where participants formed a 3.5-kilometer human chain along the route.
"Freedom Convoy for Palestine" Reached Konya!
IHH-led "Freedom Convoy for Palestine," which set out to support Palestine en-route the Incirlik Air Base in Adana, has reached its final stop in Konya. A massive rally was organized at Konya's Mevlana Square with the participation of convoy members and the public.