Reached 2 Million People in Eid Al-Adha
With 24 years of experience under its belt, IHH has carried out Eid Al-Adha organizations in 5 continents and 89 countries and territories including Turkey. Our foundation has delivered 43.155 shares of udhiyah (qurban) to 2 million needy people. Also, IHH has given away eid outfits to İHH 34.719 orphan children in various countries including Turkey.
IHH teams reaching to far ends of the world do not only bring meat of udhiyah to their brothers and sisters who look forward to their arrival but also launch projects to improve their living conditions. Projects for mosques, masjids, wells, education centres, orphanages and many other projects are realized during IHH teams' visit in Eid Al-Adha.
The relief activities are concentrated on regions of crisis and war. IHH teams also visit other places where Muslims and needy people live to deliver the aid and meat of udhiyah during Eid Al-Adha.
Eid Al-Adha with Syrian Refugees
In this Eid al-Adha when Syrian crisis entered its sixth year our donors' and supporters' priority was Syrian refugees. 8 bin 381 shares of 'udhiyah donated to IHH was slaughtered and distributed to 400.000Syrian refugees living in camps in Turkey and outside Turkey. People do not have access to basic humanitarian needs in the country. In this Eid Al-Adha IHH teams delivered 'udhiyah slaughtered in Idlip, Aleppo, Hama, Lattakia, Humus, Damascus to the needy families.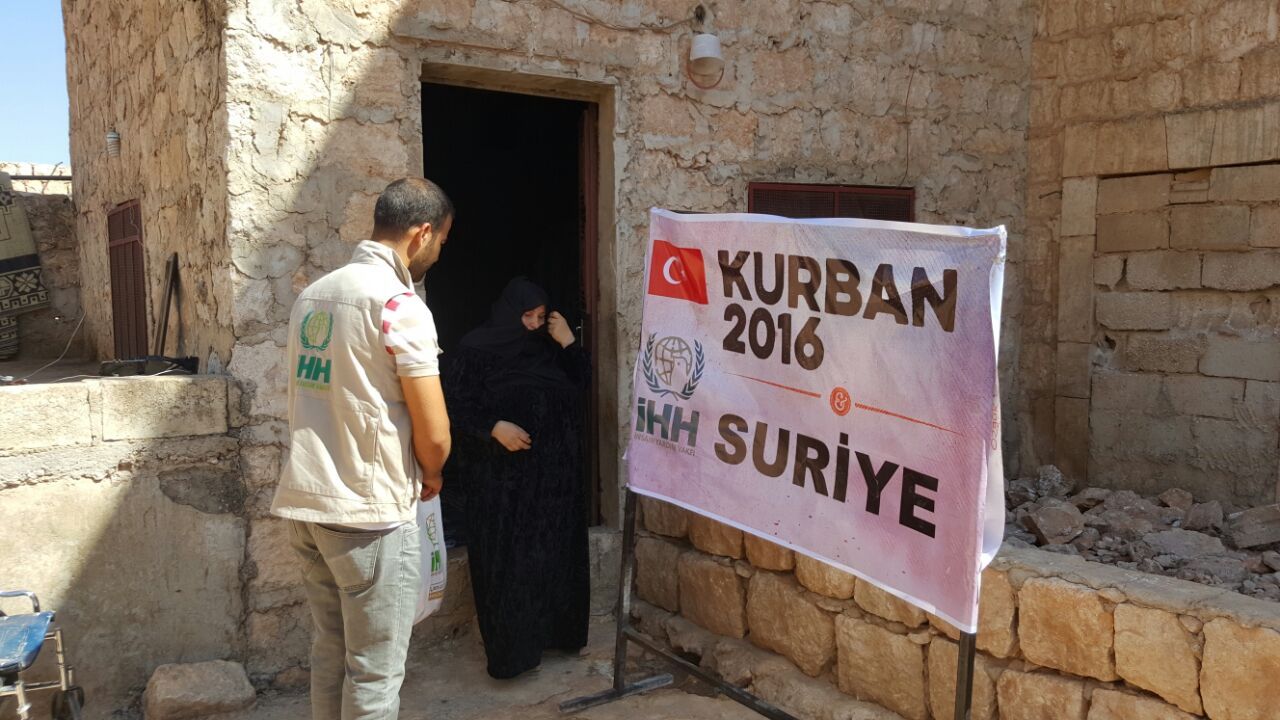 Aid Delivery in the Middle East where Clashes Continue
In places like Palestine, Iraq, Lebanon, Syria, Jordan, Yemen donated udhiyah was slaughtered and distributed to the needy families.
Palestine-Gaza
IHH does not forget about the needy Palestinians. In the region, where lots of donations were concentrated on, IHH teams have slaughtered 2.486 'udhiyah and distributed it to the people who are forced to live under occupation in Palestine and Gaza.
Yemen
While in Yemen, which is badly harmed by the recent assaults, 1.300 shares of 'udhiyah were slaughtered and distributed to the families living in hard conditions in the region.
Eid Al-Adha in Africa
IHH teams had an intensive schedule in Africa to realize all the projects in the agenda. IHH is opening wells and facilitating cataract operations in Africa. This year we have carried out Eid al-Adha organizations in many places in need and reached out to the poor families.
1.260 shares of 'udhiyah was slaughtered and distributed in Somalia. In Sudan's Kesele, Khartum and Darfur cities 1.330 shares of udhiyah are slaughtered and distributed to the needy families. The same organization was carried out in other African countries as well.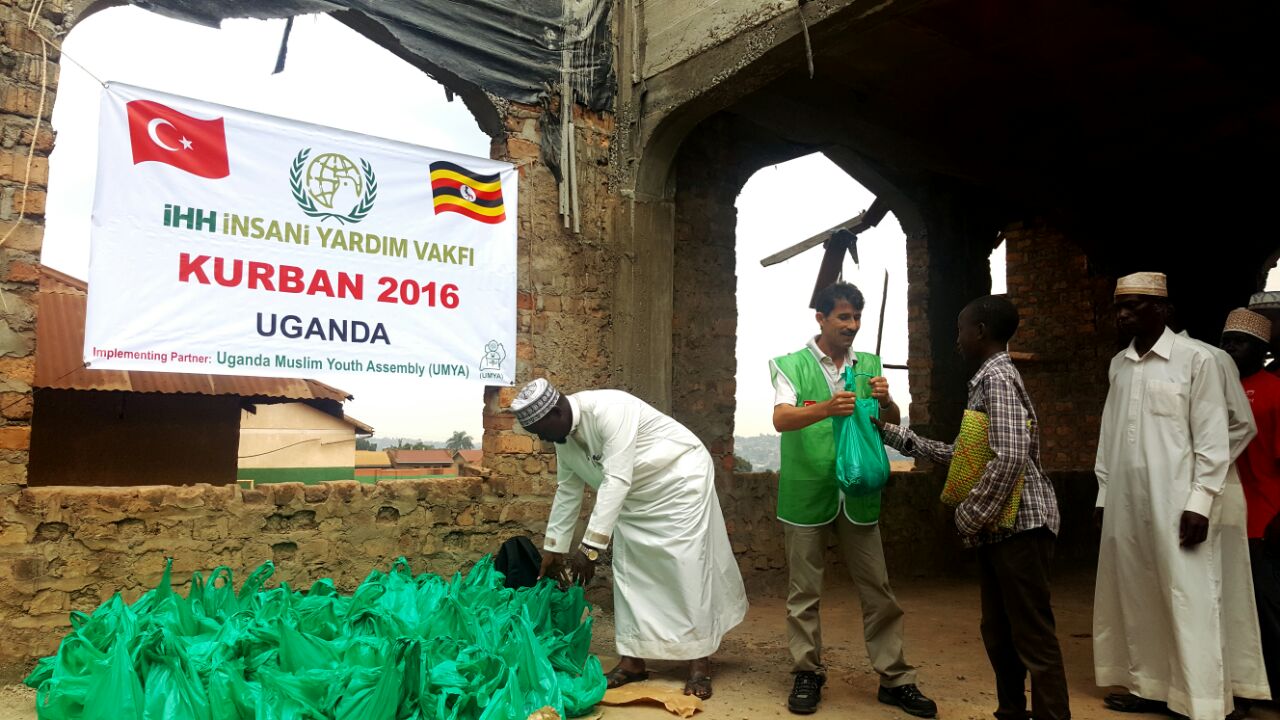 Arakan and Nepal
In certain parts of Myanmar where an awful human tragedy is played out, in Bangladesh where Muslim refugees from Arakan live and in Nepal where 2 million Muslims live IHH slaughtered and distributed 'udhiyah. IHH teams slaughtered 3.535 shares of 'udhiyah in Arakan where persecution of Muslims knows no end, 1.260 shares of udhiyah in Nepal and delivered it to the needy. Meanwhile, in Bangladesh 1050 shares of udhiyah are delivered to the poor families.
Philippines - Moro
IHH, which also is acting as the negotiator in the negotiations between Philippines government and Moro Islamic Liberation Front, delivered 630 shares of udhiyah donated for Muslims in Bangsamoro, Philippines.
Pakistan, Afghanistan, East Turkistan...
1.680 shares of udhiyah in Pakistan which is one of those countries where life is harder than most place around the globe; 490 in Kashmir;690in Afghanistan;297 in Chechnya, 2.310 in India; 341 shares of 'udhiyah in East Turkistan were slaughtered and distributed.
The Balkans
IHH teams carried out Eid Al-Adha organization in Albania, Bosnia-Herzegovina, Bulgaria, Montenegro, Kosovo, Hungary, Macedonia, Romania and Serbia (Sandzak and Preshovo). 1.445 shares of 'udhiyah were distributed to the needy in different countries and territories in the Balkans.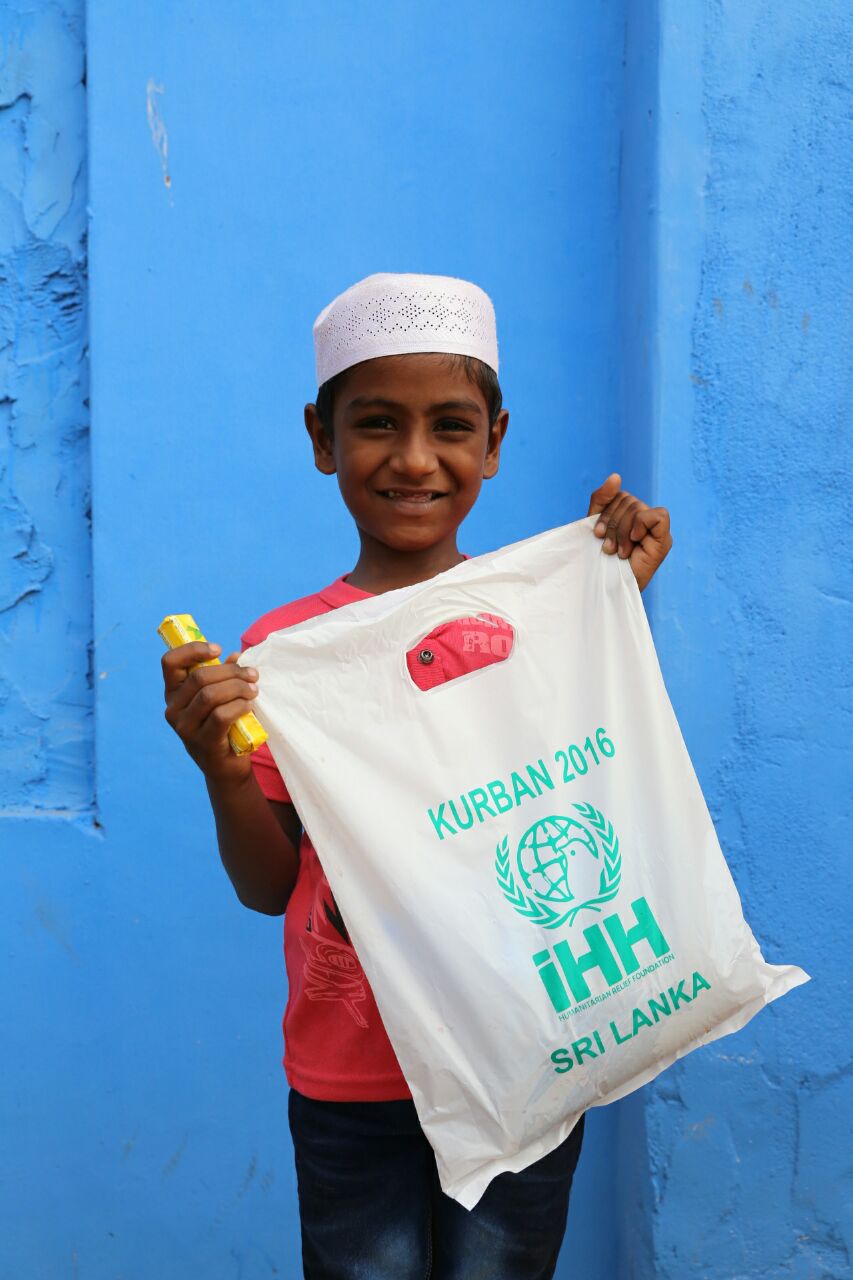 Orphans' Joy for New Eid Outfits
IHH gave away eid outfits to 34.719 orphans in 11 countries including Turkey. In the following countries orphans received brand new outfits for eid thanks to the donations from our supporters: Albania, Chad, Chechnya, Palestine, Montenegro, Kashmir, Somalia, Sri Lanka, Sudan, Syria and Turkey.
Flour distribution to 38 thousand 601 families in Somalia
IHH Humanitarian Relief Foundation has been carrying its aid efforts in Somalia, and our effort intensified following the severe drought that has hit the country since 2020, causing millions facing difficulties in accessing clean water and food.
Mobile soup kitchen from Turkey to Ukraine
The mobile soup kitchen dispatched by the IHH Humanitarian Relief Foundation to Ukraine, which is under Russian bombardment, departed from Istanbul. The soup kitchen was intended to provide food to 30,000 people each day. In addition, three truckloads of humanitarian supplies provided to Ukraine by the IHH in recent weeks have been delivered to war victims.