"Remaining Silent Against Aleppo's A Crime!"
Funeral prayers were held across Turkey for those who were killed in attacks in Aleppo while the perpetrators of the crimes were condemned in a press release.
Pointing out to the Muslims not reacting against atrocities in Aleppo "It's not only USA or Russia or Iran, those who remain silent against crimes in Aleppo also are murderers of Muslims there" IHH Humanitarian Relief Foundation's president Bülent Yıldırım said in his statement in press meeting outside Fatih Mosque.
In a demonstration held outside Fatih Mosque, Istanbul people protested the atrocities happening in Aleppo. Upon the call of IHH Humanitarian Relief Foundation and various NGOs a big group congregated to hold funeral prayers for those killed in Aleppo outside Fatih Mosque.
NGOs voicing out the slogan of "Stop the Atrocities; Open the Road to Aleppo" condemned the atrocities in Aleppo.
"Oppression Has Become Normal"
Şemsettin Özdemir, spokesperson for Istanbul Platform in his opening remarks said "How painful it is that Muslim world has turned into a bloodbath." Suriye, Irak, Yemen, Afganistan ve Mısır gibi ülkelerdeki zulümlerin normalleşmeye başladığına dikkat çeken Özdemir pointed out that the oppression in Syria, Iraq, Yemen, Afghanistan and Egypt have become something ordinary: 
"Unfortunately Muslim world leaders are not even concerned about these issues. At this point we are conscious and responsible Muslims and scholars should shun sectarianism and or any other segregation in our faith because it is an evil that we have suffered so much. The strongest countries in the world keep bombing while the rest looks on. As you very well know Turkey was ensanguined lately thanks to them. They are not concerned about Syria or Hama or Aleppo for that matter. They keep murdering Muslims wherever they are."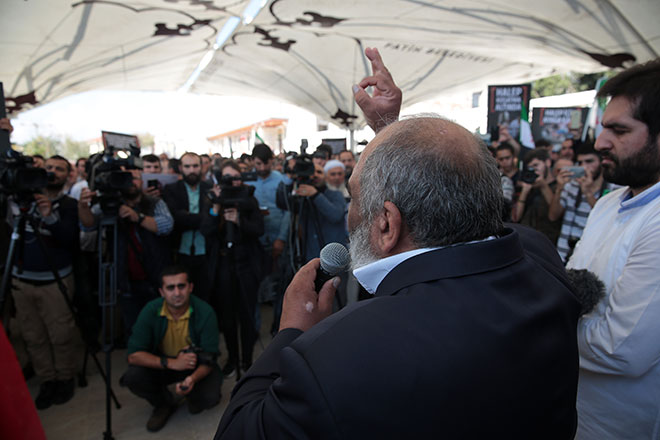 "You should feel ashamed and come back to your senses"
Following Özdemir's speech IHH Humanitarian Relief Foundation's President Bülent Yıldırım delivered a moving speech. Reproachful of Muslims and Muslim groups who remain silent against the atrocities in Aleppo he said "Those who remain silent against the atrocities are on the same page with those committing them." His striking statement is as follows:
"When I was coming here today I was planning to call out to the world leaders. I was thinking to myself 'World leaders are turning a blind eye to the atrocities committed by Russia, Assad and Iran in Syria in order to break a third world war.' However, I see that it is not only world leaders that cause these atrocities but also us the Muslim peoples. It is a big embarrassment that the congregations in the mosques today are small even though the atrocities in Aleppo are enormous. You should feel ashamed and come back to your senses. We have been calling out for days. Women are killed or children's legs are torn. How can you swallow your bites as you have dinner at home? Do you even have a conscience? How did you end up like this? Not even those children pulled from under the rubble move you anymore?
"Shout out to the groups: what are you up to?"
Later in his speech Yıldırım called out to the religious groups in Turkey and questioned why they too remain silent against the atrocities in Aleppo. "What are you after?" he asked.
"I am calling out to the religious groups. What are you after? What are you up to? Those prayers you perform in the mosques are not going to bring in salvation to you. You should feel ashamed and come back to your senses. But I see that the religious groups are concerned whether they should gather in this mosque or that mosque, what the others would say, what the politicians would say. Therefore you do not take up the squares. Don't you worry the politicians you are so afraid of are shouting and condemning more than you do. You better overcome those unfounded fears already. What kind of mentality is this? So only a handful of people stand by a handful people of Aleppo. What have you done against the atrocities in Syria? Did you show up in the square in millions? You think only Asad will be hold accountable for bombing Aleppo. I bear witness that Assad is a murderer, Russia is a murderer, USA is a murderer, those whoever remains silent is a murderer and whoever does not take up the streets and enjoys his life, is a murderer. May God forgive us all."
"Muslims are not valued as much as Animals"
"USA or Russia will not get out of Syria until and unless we own up Syrian people" Yıldırım said in his reproaching comments. "The wrath of those killed in bombings will come find us" he commented.
"Don't forget that relief aid cannot reach Aleppo and many other places in Syria. The world keeps silent. We deliver aid to wherever there is need even if the needy people are Christian in faith. However when the needy and the destitute people are Muslims they are not worth even as much as animals. America, Russia, Europe none of them valued Muslims as much as they did animals. However I still harboured the hope that Muslims would value their brothers in faith. I am calling out to those so called Muslims who do not value their Muslim brothers and sisters: if you are not up to the task, the younger generation will be, those who will come after you will. A new generation will come and they will tell the truth to your face. You plug your ears to the thunder of the disaster approaching. You avoid telling the truth to the people for the fear of yourself and your institution. Everybody should turn around and look himself in the mirror. We all are guilty. If you cannot react to the atrocities in Aleppo you cannot raise your voice to the atrocities on the streets of Istanbul."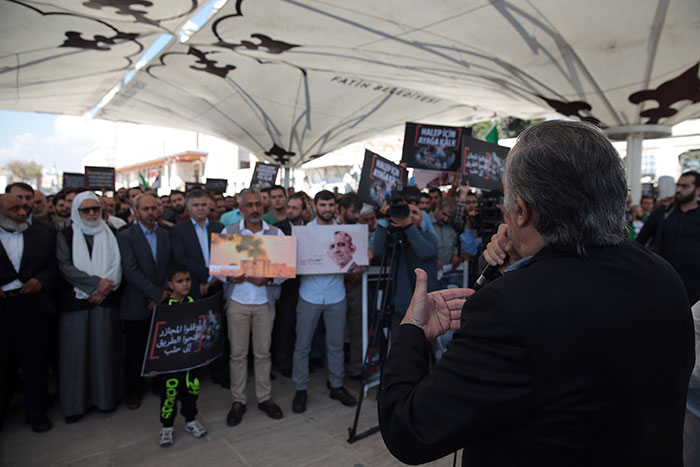 Shout out to Russia and Iran
Putin is coming to Turkey on Monday. We do not wish the fallout of Turkish-Russian relations.  However he comes here while bombing Aleppo even harder. He comes here as the murderer of children. If they lend an ear I would like to call out to them. The history will note you down as those who dragged the world to a war. You are doing in Aleppo what you in Chechnya; you are killing innocent civilians. I hope when you arrive on Monday the files of your atrocities would be placed before you and you become red in the face. However it seems that Muslims have no friends but Muslims.
Meanwhile I would like to call out to Iran. They are after you to divide you up. After Turkey it is going to be the turn of Turkey and Iran. You know it very well. Do not meet your Maker along with the oppressors!
O Muslims come back to your senses. So we are saying that even if we are left a handful of people we will take up the streets. We place the defence line against this imminent catastrophe along Damascus and Aleppo and work relentlessly in order that justice prevails in this world again.
I wish I could tell you that the children who were sleeping in Aleppo woke up with the sound of mortar shells and fighter jets in the morning. They did not blink an eye throughout the night. They could not tell from where the bomb came, where the rockets hit. Some of them are martyred. Currently 8500 attacks against Aleppo have taken place. These oppressors have launched more attacks at Syria than USA did at Philippines.  The children have been killed in thousands. The women have been killed in thousands. 
"Long Live Hell for Oppressors!"
Damn your ideological views. Damn your sectarian views. Damn you whatever world force. Damn you whatever UN force. All of you are guilty. And all of you will see how the tears of a little girl from Aleppo will topple you down. Do not forget that the commander who attacked in Karbala, who killed Hz. Hussein, grandson of the Prophet Muhammad live only 2 more years. You who destroy Aleppo and Damascus you will not enjoy the rule of the world. You will live 3 to 5 years at most. You will first go under the earth and then to hell. Long live hell for the oppressors! Long live hell for the oppressors! Long live hell for the oppressors!
"We will keep up the struggle even when one single soul is left"
Head of the Council of Syrian Scholars Union, Usama al-Rifai thanked Turkish people and the government and said "We will keep up the struggle even when one single soul is left in Syria."
The demonstrators chanted "God is great" and the slogans of "Murderer Assad Get Out of Syria", "Murderer USA Get Out of Syria", "Murderer Russia Get Out of Syria", "Murderer Iran Get Out of Syria", "Syrians are not Alone", "Syrian Struggle is Out Pride" and "Thousand Well wishes from Istanbul to the Resistance in Aleppo"  during the protest.
The signs carried by the demonstrators read "Rise up for Aleppo", "Aleppo's Burning", "Halep's Besieged" and "Anything left in the heart ignoring the oppressed/ When we look away Aleppo's gone." The demonstrators left without causing any trouble following the speeches.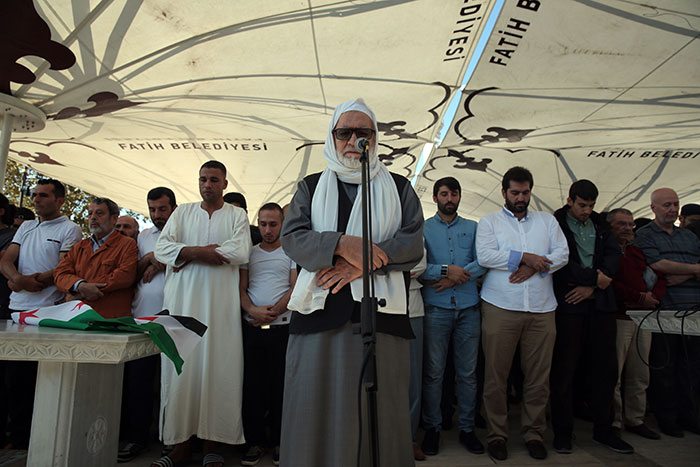 IHH supplied aid to 80.000 people in Gaza
The İHH Humanitarian Relief Foundation has been continuing its aid efforts in Gaza, where the humanitarian crisis is growing due to the massacres committed by the occupying Israeli forces. Since October 7th, the foundation has provided support to tens of thousands of people in areas such as food, blankets, and medical supplies.
Emergency Aid for Sudan
IHH Humanitarian Relief Foundation has organized a shipment of aid supplies consisting of 15 containers to Sudan, where an internal turmoil has been occurring since April 15. This comprehensive relief effort, considered the largest aid initiative sent to the country since the onset of the crisis, aims to help approximately 200,000 Sudanese people.