This is not fooling, it's genocide!
The East Turkistan Platform released press statements simultaneously all over Turkey, including in Istanbul. Supported by more than 200 NGOs in 34 countries, an appeal was made for the concentration camps to be closed down.
EastTurkistan,
Turkey
01.04.2021
Since 1 April 2017, the Chinese government has launched systematic arrests in East Turkistan. The camps set up on huge plots of land since 2014 are no different than the present day's implementation of the Nazi camps in World War II.
The East Turkistan Platform that involves IHH Humanitarian Relief Foundation, AGD (Anatolian Youth Association), Yedi Hilal, Cihannuma, Özgür-DER, Lawyers Association, Iletişim (Communication) Platform, AKDAV, ÖNDER, UMHD, East Turkistan Human Rights Watch Association and many other NGOs have begun to organize events. The platform appealed to the whole world for the concentration camps to be closed down on 1 April that coincides with "April Fools Day" under the slogan "This is not fooling, its genocide."
A photo exhibition was opened and press statements released as part of the chain of events. The program was launched with a press statement given in Beyazit Square. The events were held simultaneously in all districts of Istanbul, and in the 81 provinces of Turkey.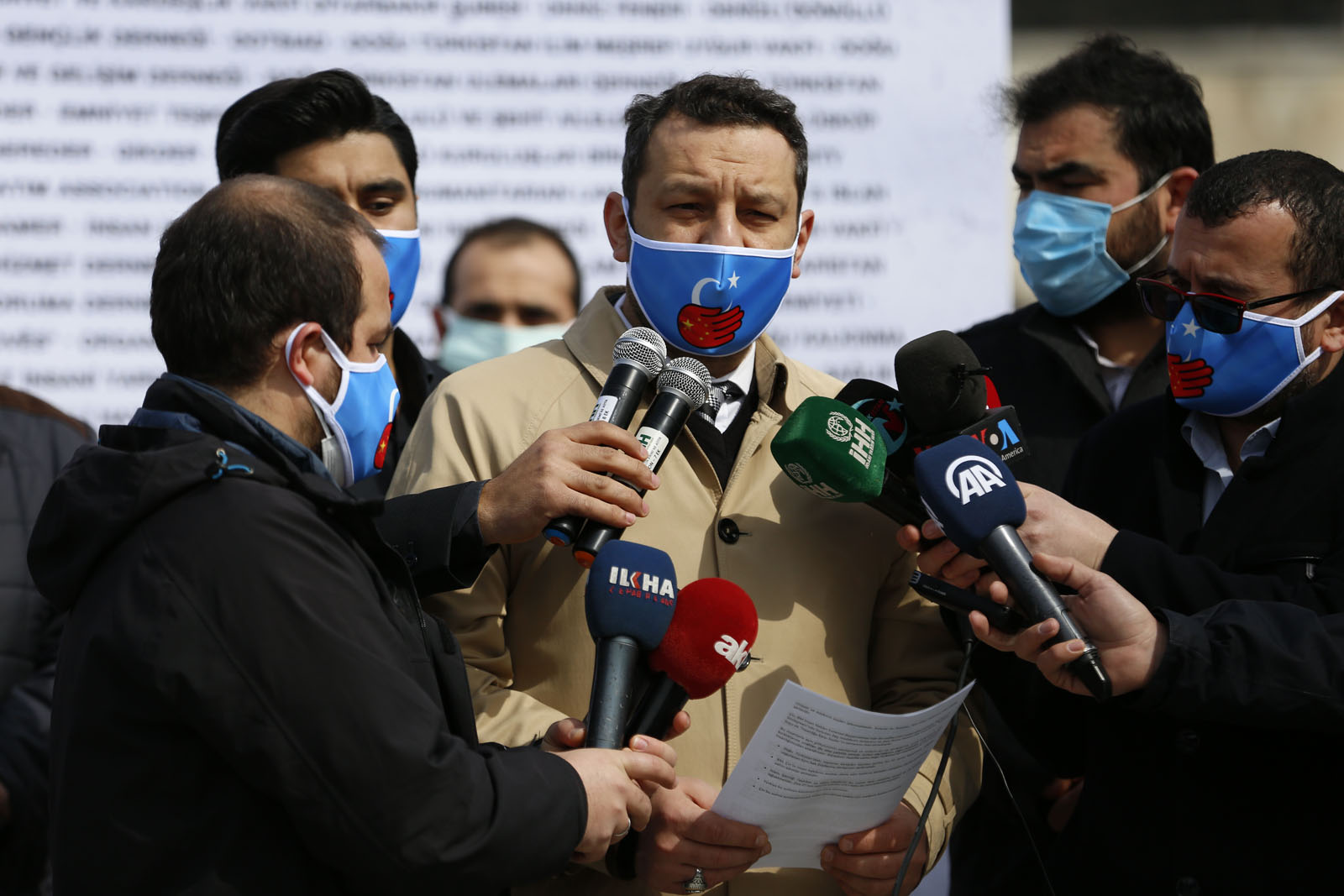 "Chinese goods should be boycotted"
Lawyer Uğur Yıldırım, the platform's spokesman who read the press release on behalf of the East Turkistan Platform, began his speech to remind us of the cries of the little girl in front of the Chinese Embassy "Do none of you have children? I have not seen my father and siblings for four years now." Yıldırım said that nobody could describe the trauma experienced by a child that is supposed to be busy playing. He added that for the last nine years there has been a state of absurdity in East Turkistan. Yıldırım ended his speech with these words:
"The concentration camps in East Turkistan must be closed immediately without question, all the violations of rights enforced in the region must cease right away. The UN must take real steps to put a stop to the atrocity of the concentration camps that totally disregards human rights. The Organization for Islamic Cooperation (OIC) must either mobilize Islamic countries against this oppression or be abolished. The present stance of the OIC is giving China even more courage. Turkey must lead the mission to end this persecution. People in the world must boycott Chinese goods until they put an end to this persecution."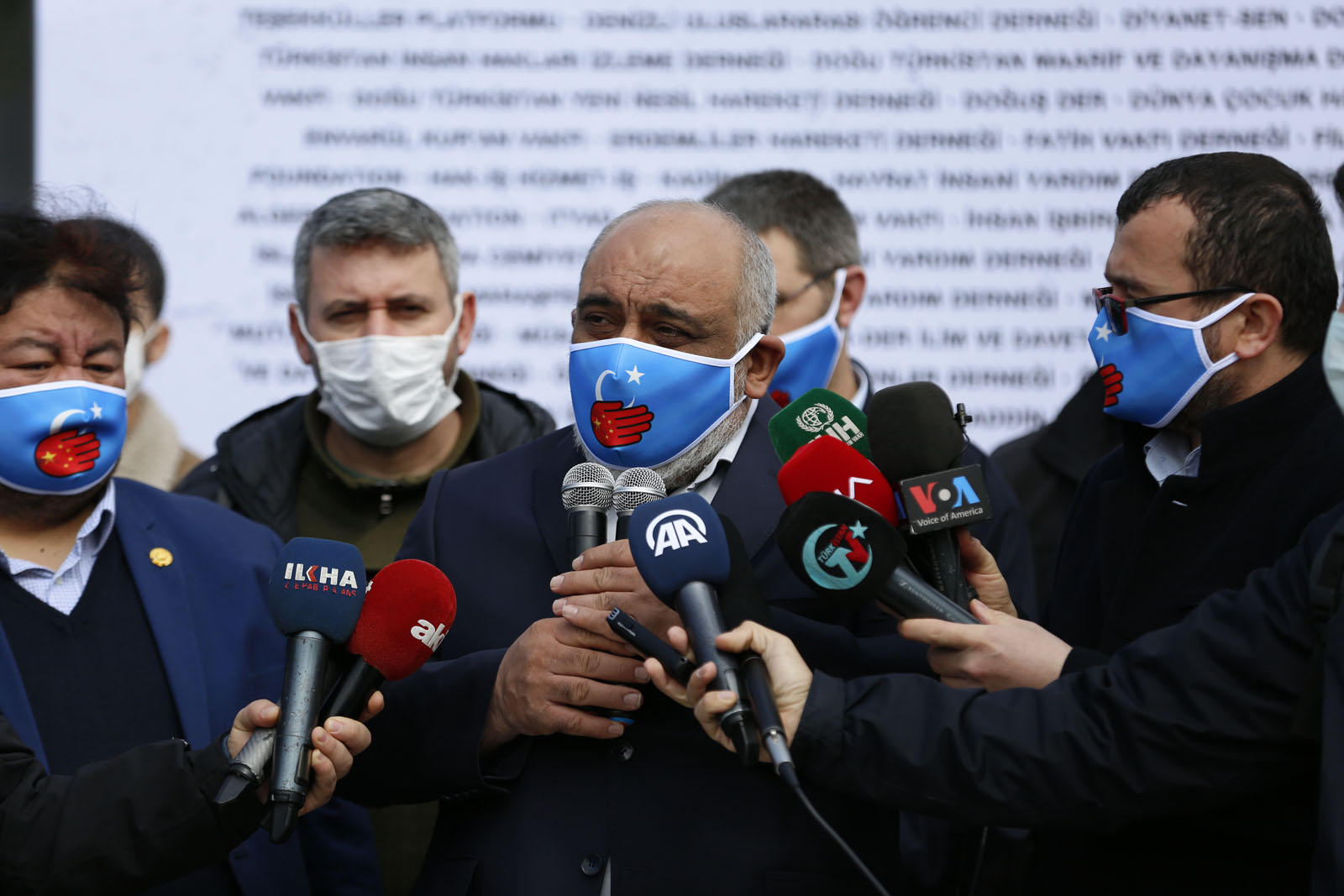 "Turkey is the largest supporter of the East Turkistan people"
Speaking after the press release, IHH General Secretary Bülent Yıldırım said, "Unfortunately, while the people of East Turkistan are suffering from torture in these concentration camps, the heads of the Communist Party are insulting these tortured people, saying that they are receiving vocational training. They depict the Uyghur Turks that have a deep-rooted civilization as uneducated and uncultured." Yıldırım, who emphasized that members of the press have a huge responsibility, continued his speech saying:
"The Chinese government invited certain press members from Turkey and put on an act by saying "We are training the people here." But even while staging this act, they sat people at the tables, forced them to work and claimed that this was training.  They have no consideration for any basic human rights and freedom. Of course, Turkey, the Turkish people, the Islamic world, and everyone in the world who loves kindness and humanity will stand by the people of East Turkistan in such an environment."  
"Today is 1 April, the anniversary of the establishment of these concentration camps. Everyone considers 1 April as April fool's day. They play jokes on one another. But this is not a joke, there is genocide continuing in this country. I want to appeal to the whole world. As long as the people of East Turkistan, the Uyghur people, are suffering from systematic persecution and elimination from the earth, the world cannot sleep in peace. The Turkish people especially can never sleep in peace. Once again, these press releases are being read in the world and many places in Turkey. If the Chinese government still refuses to understand this, then huge marches, demonstrations will be held and the streets of the Islamic world will give their support to the Uyghur Turks. If the streets begin to take action, then China's "One Belt One Road" project will suffer from this immensely. So take notice of this so that neither you nor the Uyghur people would suffer from persecution. Abandon these evil actions."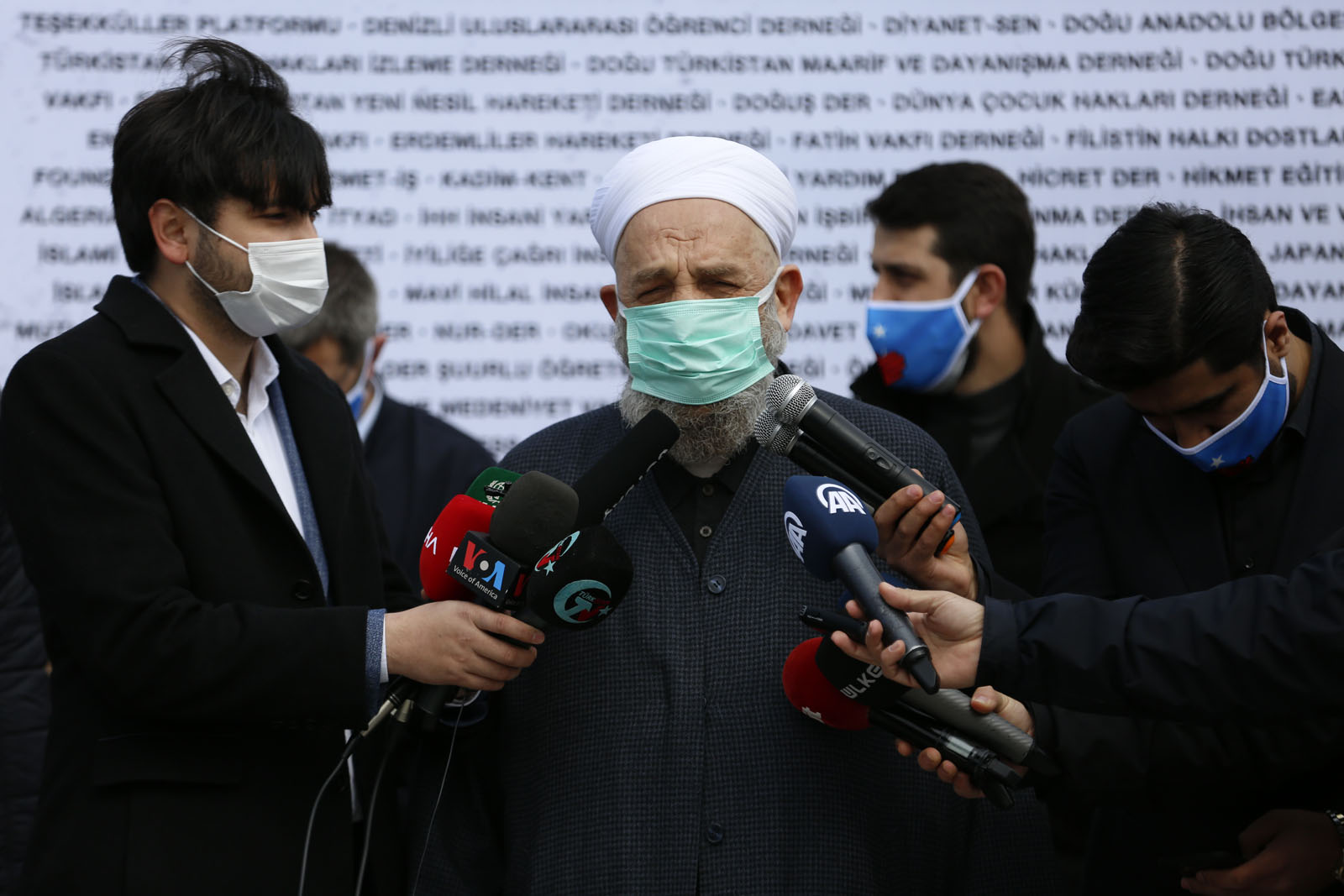 "May our Lord protect East Turkistan"
Reminding us that we are entering Ramadan, which is a period where our prayers will be accepted, Mehmet Talu, Chairman of Doğuş-DER invited everyone to pray for East Turkistan. Mehmet Talu said, "May our Lord protect East Turkistan, our faith and our state. May we never be deprived of the Azan or our flag. May the Lord protect us from those who want to cause us harm."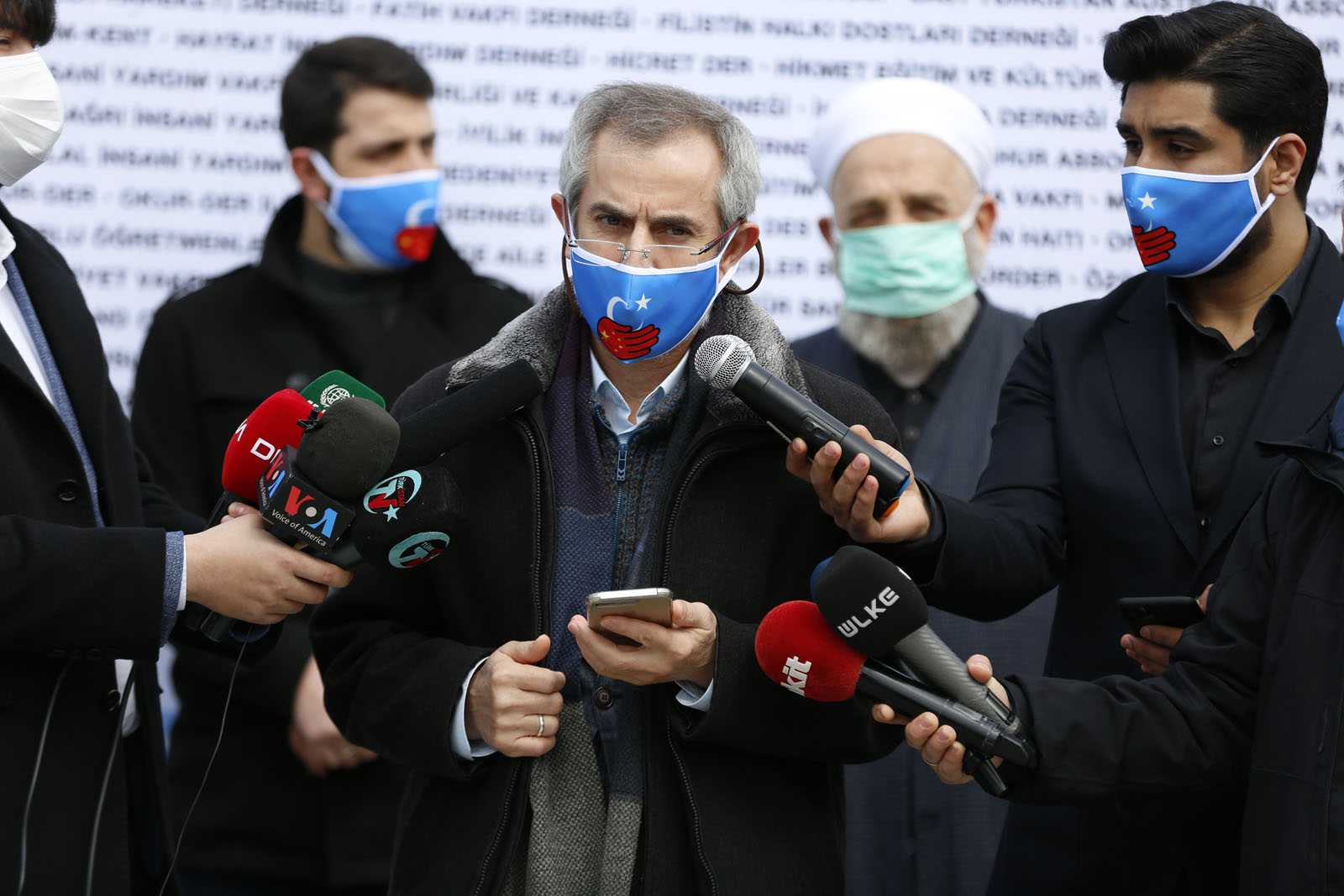 "China should export humanity"
Önder Deputy President Tayfur Esen explained that they expected those who have power not to resort to injustice, but to act with more responsibility. Pointing out that there is a constant need for good examples of humanism, Esen said, "The reason for the existence of Muslims is to be a reminder of the universal values when they begin to disappear. Today, we are reminding the entire humankind of this once again. And we suggest that if China wants to export something, then they should export humanism."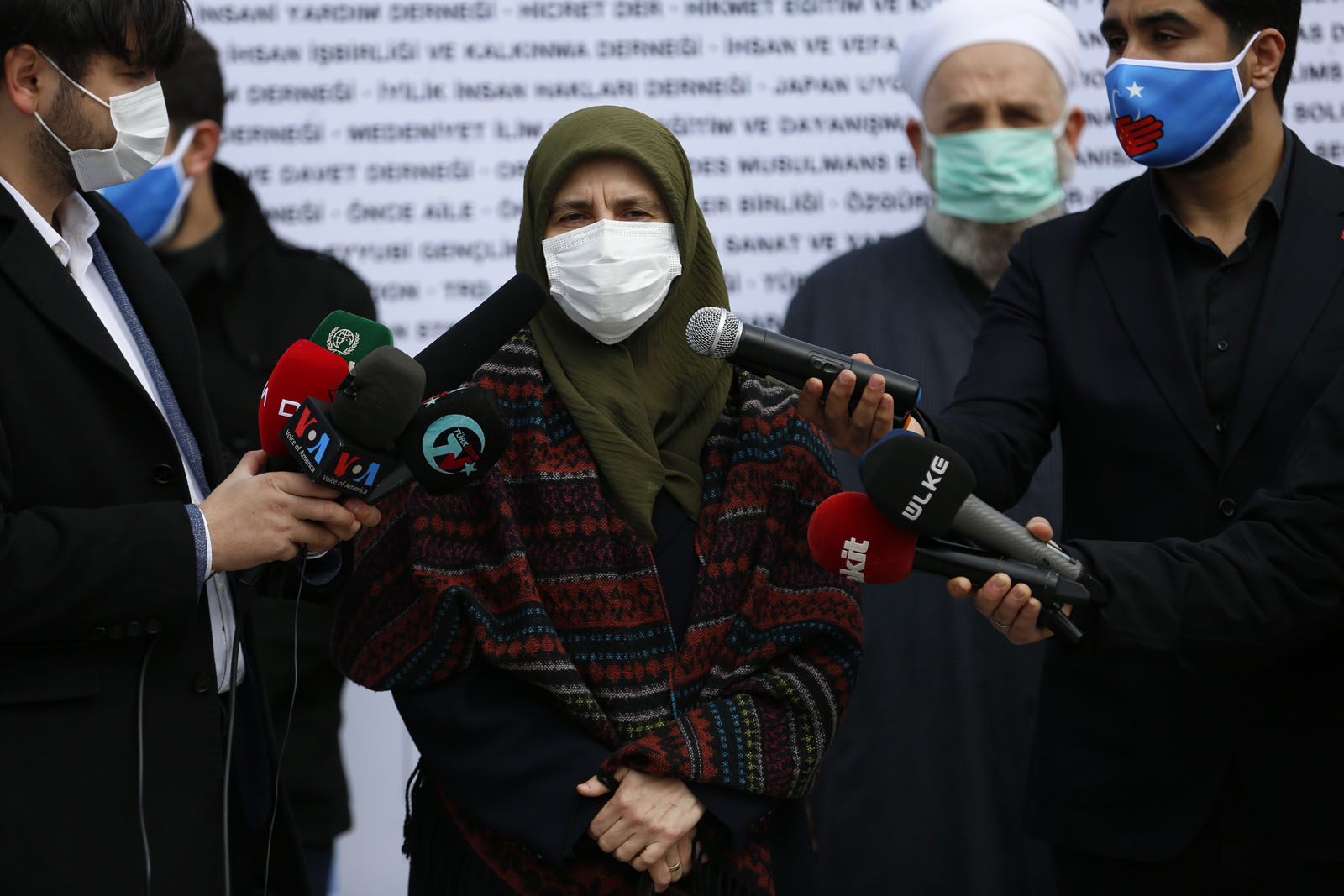 "They are more concerned for their economy"
Özgür-DER Board Member Hülya Şekerci stated that many people are silent, "Because they are more concerned about their economies, dollars and petrol. I would like to congratulate our brothers and sisters of East Turkistan who, despite this silence, displayed the courage to stand up to China's persecution with the power of their faith. In the hereafter, we can be sure about the place of those who appeared on television channels claiming that China was not persecuting these people, but simply giving them training. As Muslims, we must mobilize the countries where we live, wherever this may be in the world, to stand up against this persecution. Undoubtedly, one day our brothers and sisters in East Turkistan will be able to perform their worship and fast freely. This is the prayer of us all."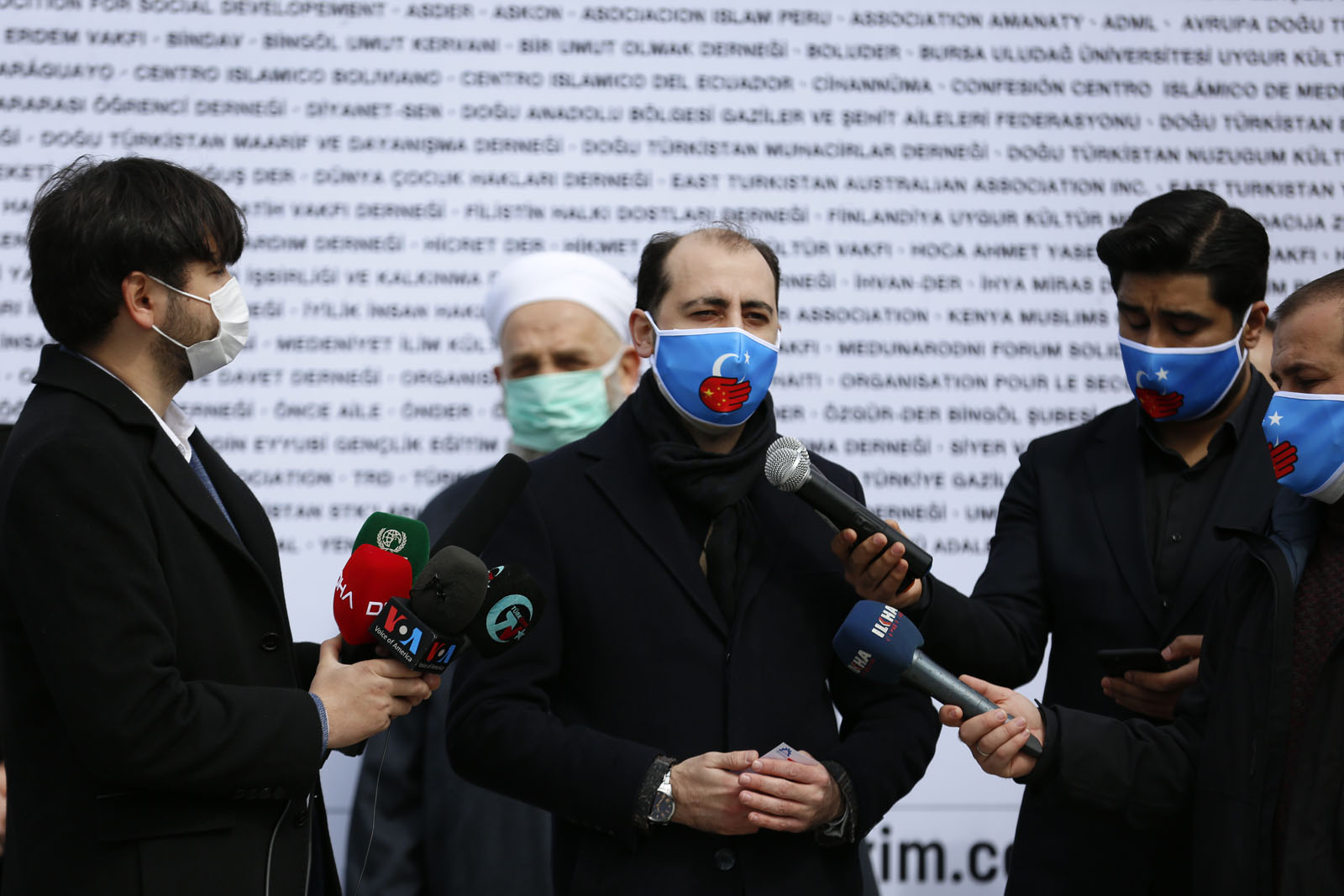 "We want justice to prevail"
HAK-İŞ Foreign Affairs Expert Mustafa Sürücü said, "We in HAK-İŞ Confederation regard supporting all the oppressed and aggrieved, wherever this may be in the world, as a duty of humanity. HAK-İŞ will continue to fulfill this responsibility of supporting those suffering from oppression and persecution. We want the persecution of oppressed people all over the world to end and for justice and peace to prevail."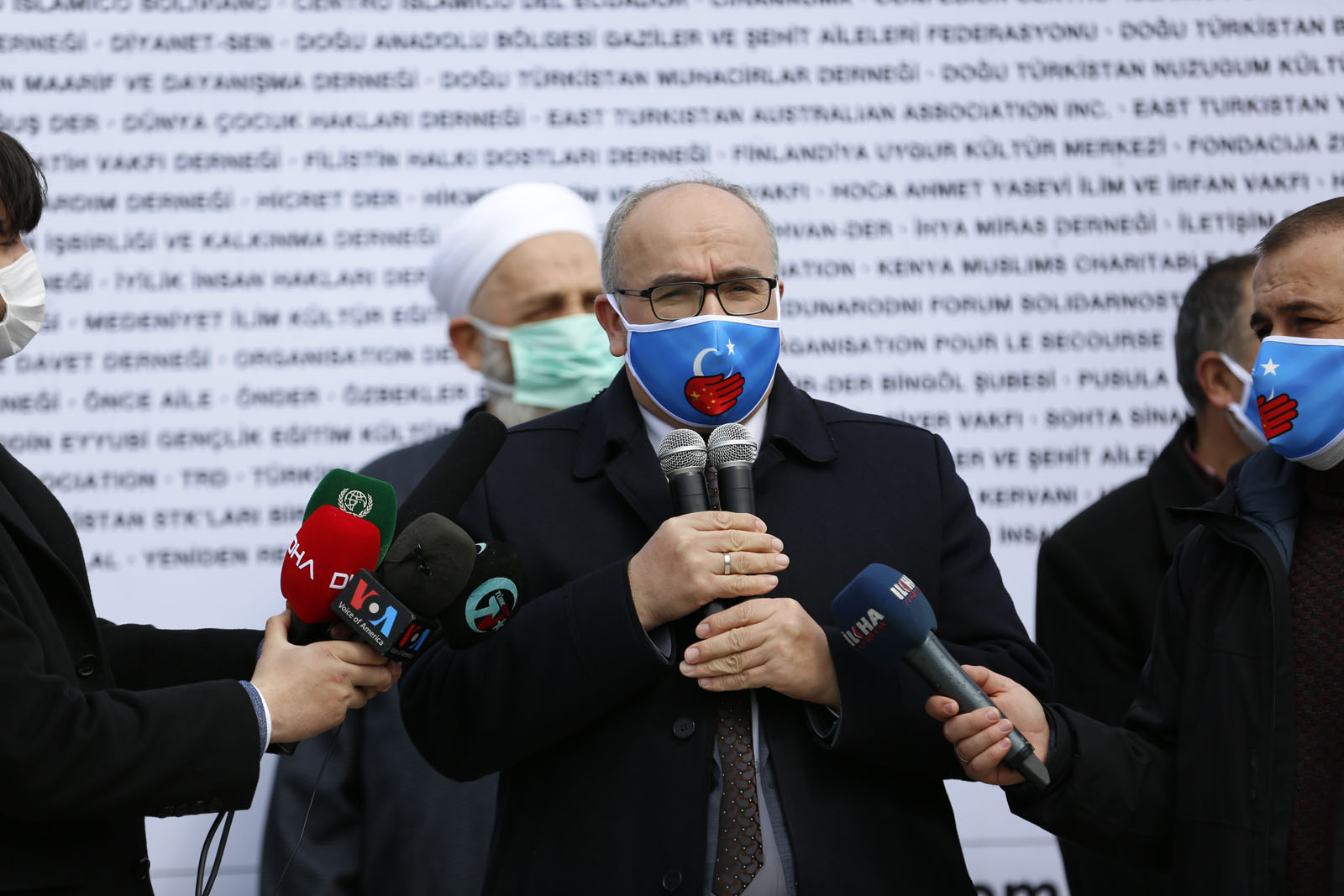 "We must support the truth and save them"
Serdar Akça, Board Member of the Cihannüma Association: "Oppressors gain such power to from our silence. But once upon a time, we represented a civilization that was concerned for their sheep on the banks of the Tigris. We feel the same pain not only for our brothers and sisters in East Turkistan but for everyone suffering from oppression all around the world. We hope our brothers and sisters suffering in East Turkistan can escape from this oppression and gain their freedom immediately. But to achieve this, we must raise our voices, support the truth and save these people."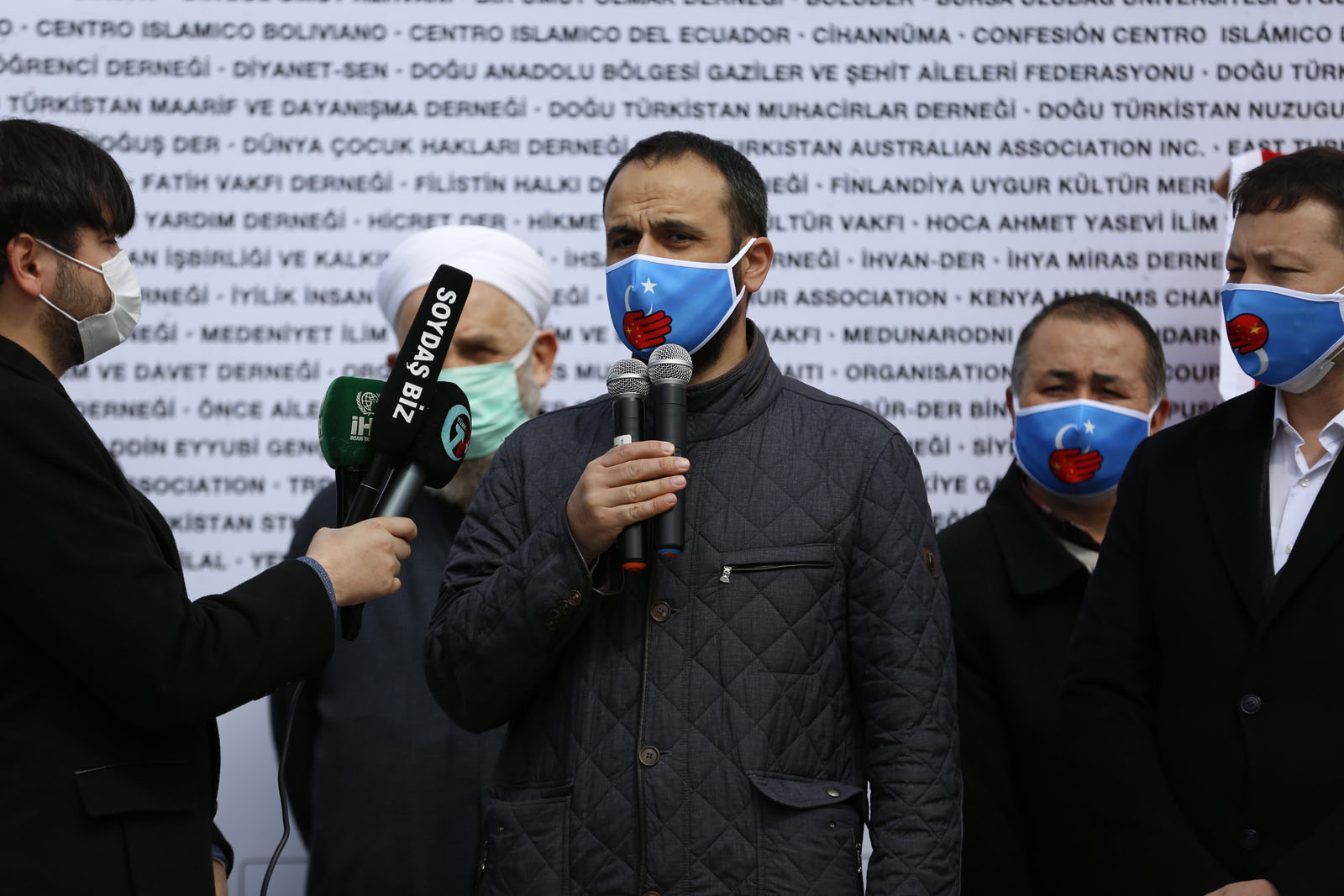 "The trash heap of history is full of cruel, oppressive states"
Chairman of the Yedi Hilal Association Salim Sarıyıldız: "Since China has lived behind a wall for thousands of years, it may be unfamiliar with the history of humanity. However, the trash heap of the history of humanity is full of cruel, oppressive states. From the Nazis that attempted to occupy entire Europe and gather this under the rule of a single nation, or Russia that envisioned to gather the whole world under its red flag. Whoever believes he can rule the world by persecuting, killing or assimilating people will also find themselves in the trash heap of history."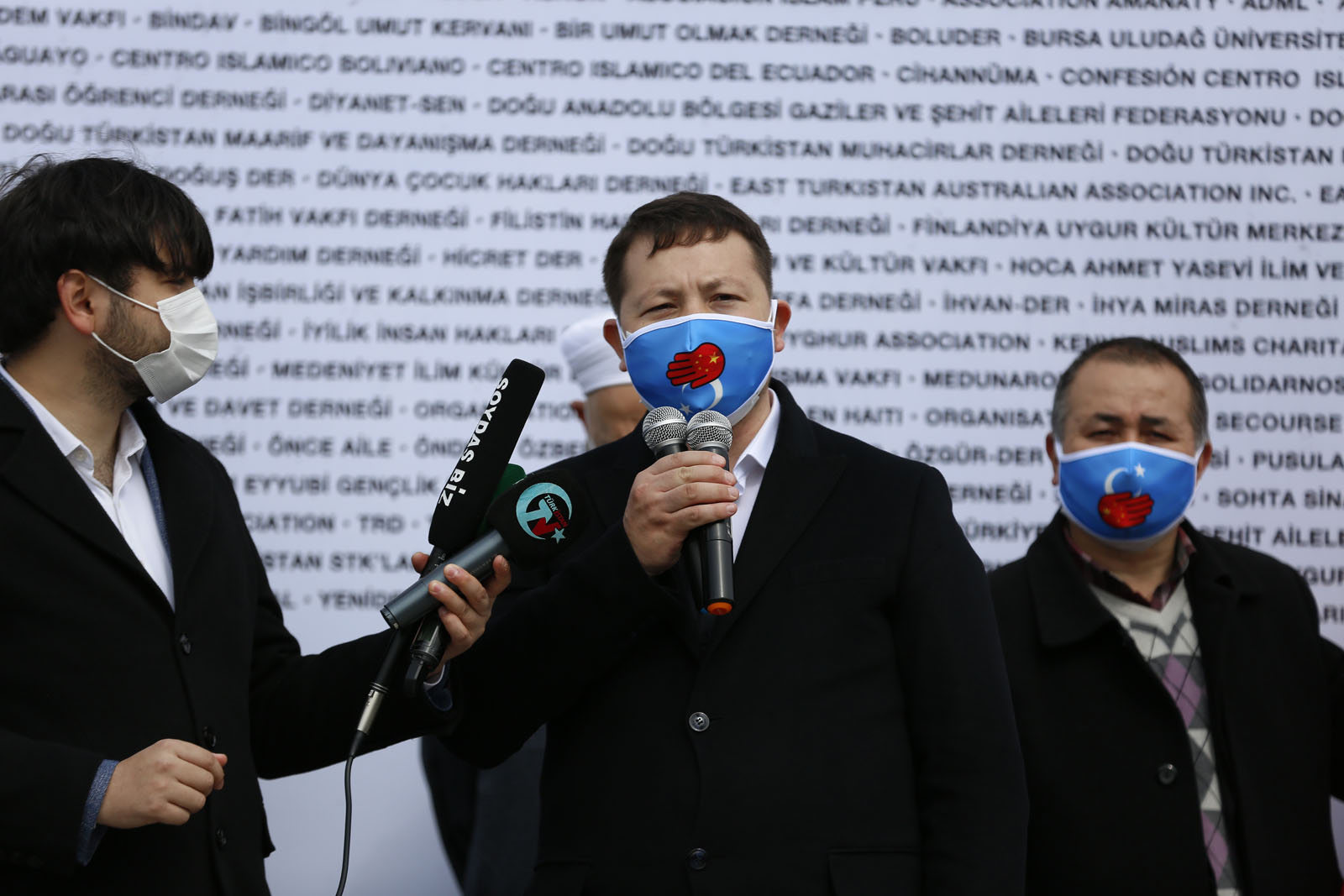 "We will not bow down to oppression"
Nurettin Izbasar, General Secretary of the East Turkistan Human Rights Watch Association: "On behalf of the East Turkistan people, I would like to thank everyone who supports this event. As the East Turkistan people, we will never give up and we will continue our campaign until all East Turkistan people regain their freedom. Muslims' silence encourages Chinese oppression even more. Because of this, we must all condemn this cruelty together. The East Turkistan people will never give in and bow down to China. And one day, when the entire world supports the East Turkistan people, they will stand up against China. China will not be able to keep forcing people to migrate and replace others by committing genocide, murder and rape."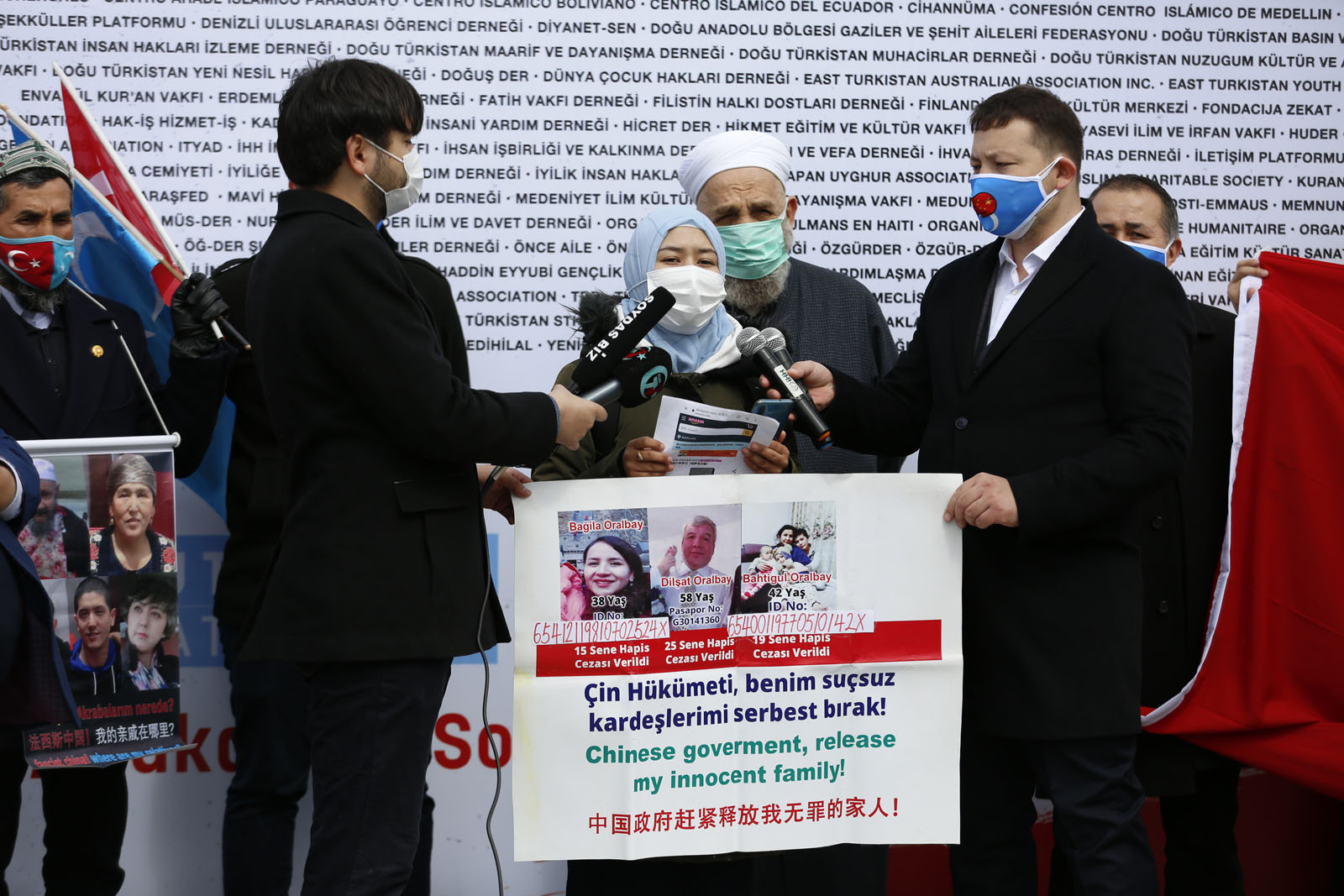 "Why is my translator uncle held in the 'training camp'?"
Melike Mahmut whose family members are detained in the concentration camps: "I am from East Turkistan. Currently, I am a university student in Istanbul. At the same time, my relatives are detained in concentration camps. My uncle and two aunts living in the city of East Turkistan were taken by force to the concentration camp for so-called "training" by the Chinese police. They have been detained for three years. The Chinese Embassy in Istanbul claims they are being taught Chinese in the concentration camps. In which case, I want to ask the Chinese government why is my Chinese translator uncle detained in the concentration camp? What are my two aunts, who have their own occupations and businesses, doing in the concentration camps? What are you going to teach them? I would like to appeal to the whole of humankind and the Turkish world. Help us. Ensure that these concentration camps are abolished and our millions of innocent brothers and sisters who are in tears regain their freedom. Allow mothers and fathers to be reunited with their children and families. We, the East Turkistan people, are unable to breathe."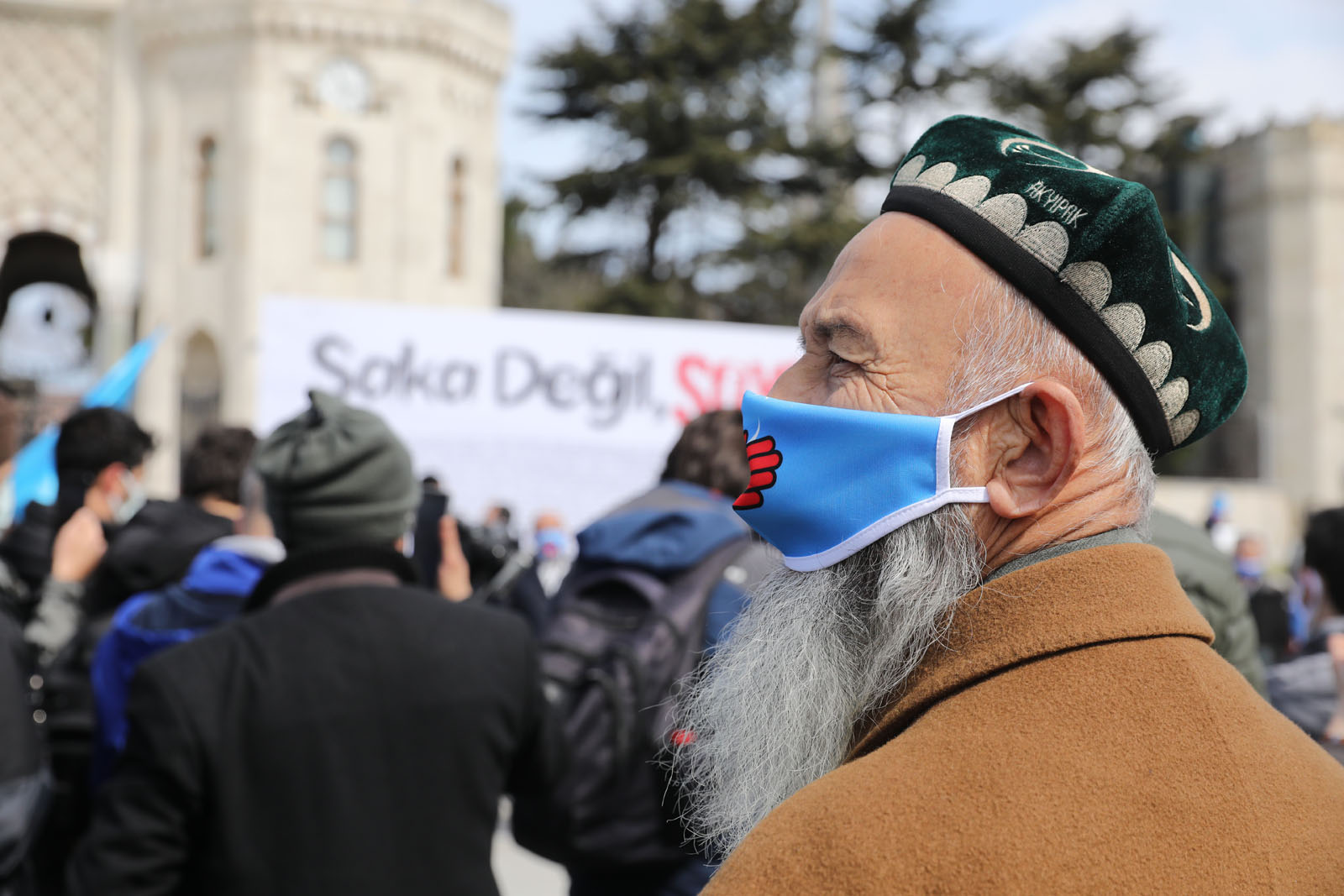 A TT campaign is to be organized
The program was concluded following these speeches. These events will be organized via social media and will continue with the TT campaign. The slogan #ŞakaDeğilSoykırım will be used in the campaign.     
Palestine Our Route
01.06.2022
Palestine Our Route
27.05.2022
Women marched for East Turkistan
On 8 March International Women's Day, women staged marches in 61 cities to be the voice of the East Turkistan women. A joint press statement was given after the protests in Fatih, Istanbul.