Students prepared to lend a helping hand to the orphans of Soma
IHH has begun a new practice in which students will lend a helping hand to the orphans whose fathers fell victim to the mining incident that took place in the Manisa province of Turkey.
Within the scope, Aydin IHH Association took action to support the orphans right after the "heart wrenching" mining incident.
With the support of the Ministry of Education and the Presidency of Religious Affairs, IHH Humanitarian Aid Foundation has carried out the "Each Class has an Orphan Fellow" project in which they aim to help orphan children.
Bilal Aycan, in charge of Aydin IHH Association and teacher, stated: "After the heart wrenching mining incident that took place in Soma, located in the Manisa province of Turkey, many children have become orphan children. Within the scope of the project, we plan on helping these orphan children. Currently, orphan children all across Turkey are included in the IHH's orphan project. We also want to conduce to every class supporting an orphan. In this manner, our children's hearts will beat along with the hearts of our orphan children."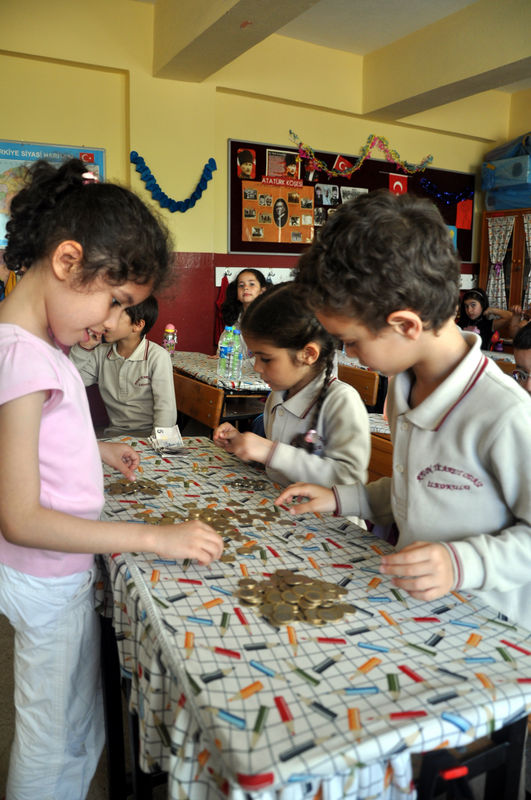 Aim to Establish a Bond of Unity
Aycan, the teacher of students of class 1-C, while stating that his students have allocated sums of their allowance for an orphan child in Sudan by the name of Abdullah, went on by saying:
"We aim to contribute to the food, education and housing expenses of our Sudanese brother with the money we sent. The amount of money sent is not really a large sum of money, however, we aim to help improve our children's aid awareness and develop a sense of compassion and benevolence. After the mining incident, orphaned children are in need of financial and moral support. We are also going to try and deliver our students' letters of unity to the orphaned children of Soma. Herewith, we want to establish a bond of unity between our students and the orphaned children."
On the other hand, students gave voice to their grief for the children who lost their fathers and that they want to give their utmost support.
Ibrahim's first steps
The dream of 6-year old Ibrahim Tüser, who is supported under IHH's Orphan Sponsorship System, to be able to walk, came true with the support of donors.
Pedaling for orphans
IHH Malatya volunteer Ihsan Kılıç will be visiting 13 cities, cycling from Malatya and travelling a total of 500 km to raise "Orphan Awareness."
Malatya, Orphan
23.09.2020