Symposium for Syrian refugees in Istanbul
The second of 'Protection for Refugees from Syria to Lebanon Symposium' was carried out in Istanbul.
The symposium that was held with the Lebanese Iğasiye Foundation who were hosts of IHH ended on the 22nd February.
Discussing the Syrian refugee crisis at great length, the Lebanese Igasiye Foundation as well as IHH was also supported by the Qatar Charitable Organization as well as the Organization of Islamic Cooperation .
In the opening speech given by IHH president Bülent Yıldırım, he said he was pleased by the numerous meetings that have been held in the past few weeks to address the Syrian and similarly oppressed peoples issues.
"A bomb exploded next to our bakery"
Expressing his pleasure for these meetings Yıldırım said "Those who are oppressed on the face of this earth will be freed. It has been less than two hours since a bomb exploded next to the entry door of the Babusselam camp. There are meals made in our kitchen in the camp for 30.000 people. This bomb exploded twenty metres away from this kitchen. It exploded next to our bakery. It is very likely that the oven won't work tomorrow".
"We must be courageous against the people carrying out these bombardments"
Emphasizing the need to be courageous in the face of the bombardments and against those groups who claim that these are being made in the name of Allah, Yıldırim said that
"We have no choice but to explain the ISID (Islamic State of Iraq and Damascus) organization. We must stand against those who murder innocent women and children. Charitable foundations must be able to deliver their assistance in a safe way. The help to Syria is prevented in areas controlled by the Syrian government and ISID. We must explain what is happening in Syria openly without covering anything. We must explain to those who support this organization what is really happening. Those who are the supporters of this organization are also responsible for the blood of these innocent people. Unfortunately the door has been closed again. The human relief organizations don't have the security to deliver their assistance. Those who have cut the path of the aid must be taken to court. We must also reopen the path of aid and assistance. We are supposed to be Ansar for these refugees".
¨Bureaucratic embargo on aid activities must be lifted¨
Speaking of lifting the bureaucratic embargo on aid to Lebanon Yıldırım said that "Those regimes that are near Syria must put pressure on the Syrian regime. The Yarmuk camp is heartbreaking. We must open the path to aid. I am incredibly thankful for all the aid organizations and those people who work in these organizations will be rewarded in heaven. If you create an aid organization there is always a price to pay and we paid for that in Gaza.¨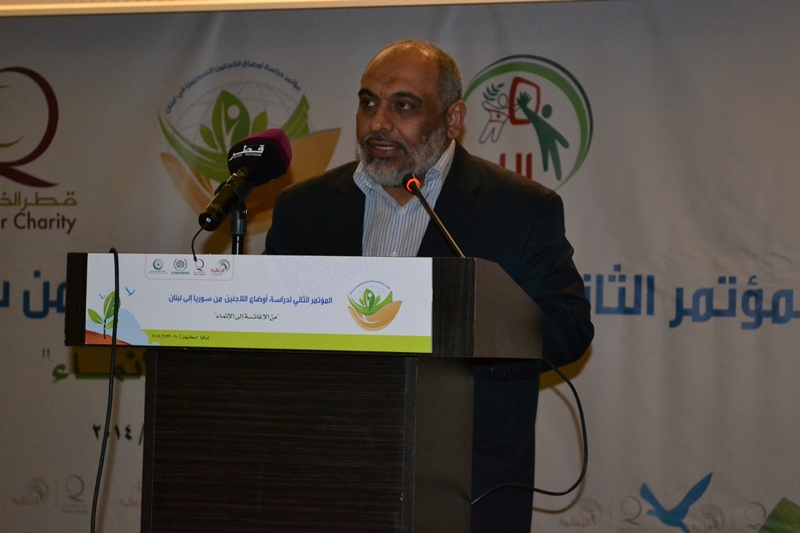 ¨There has been an attempted coup d'etat in Turkey¨
Reminding that there has been an attempted coup d'etat in Turkey, Yıldırım ended his words as:
"The recent attempted coup d'etat has been undone. For this reason we request that you stand firm with Recep Tayyip Erdoğan on this Syrian issue. We face an attempted coup d'etat whose source is some foreign countries. This is not being printed in foreign media. Follow the Turkish media carefully. They will do this against any nation who stands side by side Palestinians and Syrians. Syria will be freed." Cemal Yılmaz Demir, AK party minister also explained that the situation that Syria finds itself in is a result of the current Syrian regime and that the Syrian people have been trying to protect their integrity for the past three years and that to blame forces outside of Syria was wrong.
Saying that the Syrian issue is a humanitarian crisis Demir said that "On the 15th March 2011 peaceful demonstrations had begun and that in April it was nationwide. The demonstrators wanted to Esad to resign and the removal of the Ba'ath party. In 2013 the Hezbollah attended the war that ensued. Esad, receives military and financial aid from Russia and Iran. The death toll has passed 120.000. Thousands of people have been systematically tortured. Chemical weapons have been used more than once."
Reminding that Asad's forces attacked Aleppo and other cities with scud rockets in 2012, Demir continued as:
"The world has only reprimanded this situation. The Syrian situation is a priority for our government. We are not on the side of the dictators of minorities but on the side of those who seek their freedom. No other nation has made such an effort as we have in trying to find a resolution for Syria. We have sought every diplomatic possibility to make this possible. We have camps in ten provinces for the Syrian refugees in Turkey and we meet all their needs in these camps. People all over the world have admired our efforts."
At the end of his speech Demir, touching on the IHH efforts in the region said "Apart from our government IHH is worthy of the praise that it has received from the public. IHH is making effort in countries from Turkey to Syria including Lebanon and Jordan. IHH is carrying out efforts in humanitarian diplomacy."
Ibrahim's first steps
The dream of 6-year old Ibrahim Tüser, who is supported under IHH's Orphan Sponsorship System, to be able to walk, came true with the support of donors.
Pedaling for orphans
IHH Malatya volunteer Ihsan Kılıç will be visiting 13 cities, cycling from Malatya and travelling a total of 500 km to raise "Orphan Awareness."
Malatya, Orphan
23.09.2020