The fourth hearing of the Mavi Marmara case has been seen at Cağlayan Magistrates Court
The Mavi Marmara case is continuing today in which 9 people were killed within international waters while trying to take humanitarian aid to Gaza
The hearing of the Freedom Flotilla case where nine people were killed within international waters is going to continue at the 7th High Court in which the previous head of Israeli Armed Forces Gavriel Ashkenazi, Chief Commander of Israeli Naval forces Eliezer Marom, Head of Intelligence Amos Yadlin and Chief of Aviation Intelligence Avishai Levi will be trialed. Several Plaintiff lawyers will be present. The defendant is being represented by a lawyer sent by the Barons Association of Istanbul.
Warrant of Arrest against Israeli Generals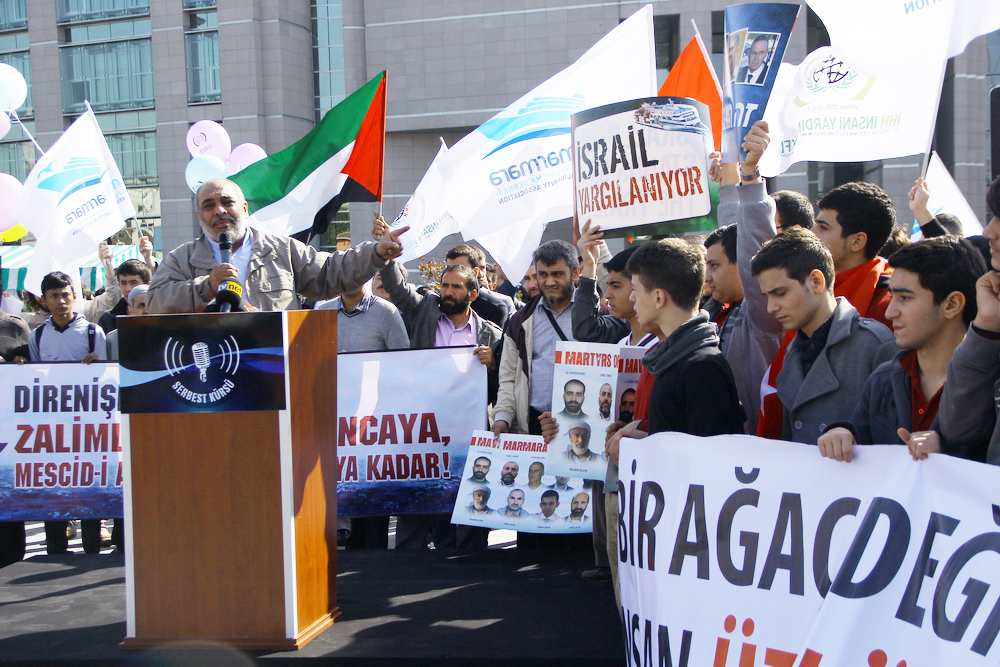 A warrant of arrest is being expected by the Mavi Marmara Flotilla lawyers present against the responsible Israeli generals. Within the indictment prepared by the chief prosecution, crimes committed include "Willful killing", "attempt of willful killing", "intentionally causing serious injury to body or health", "plundering", "hijacking or seizing maritime vessels", "intentionally causing damage to property", "restriction of freedom of expression and instigating violent crime", with a sum of 32 years imprisonment is expected for each defendant.
Bülent Yıldırım: We will not give this case up!
The president of IHH Humanitarian Relief Foundation, Bülent Yıldırım had given a speech regarding the current duration of the the case stating "Before each hearing, offers keep coming, if you don't accept the offer given by them, you then get threatened. I swear if you give the world to us, we will not give this case up!"
Mr. Yıldırım continued stating this was the first time ever Israel was being prosecuted for its actions which shows the importance of this case, possessing a large amount of attention from international communities.
Mr. Yıldırım continued his speech quoting "In their eyes, a drop of petrol is more valuable then a drop of Muslim blood. International corporations of high status are turning a blind eye to this. Israel is killing Palestinians everyday, regardless of them being woman, children or elderly people. While doing this they are using weapons which are banned to be used according to international law and agreements. They are literally acting like spoilt children thinking they could get away with whatever they do."
"Within time, a few weak voices were heard, objecting to what to what is going on and the current situation. Within time, these voices had multiplied dramatically. These people wanted to help their brothers and sisters who are living under and illegal embargo and suffering in Gaza. But Israel went and killed 9 civilians and injured hundreds within international waters. I was also present while these incidents were taking place. Israel had attacked us from both land, air and sea with F-16 fighter jets, 4 warships, zodiac boats and hundreds of soldiers. We had activists present from 36 different countries regardless of them being Muslim, Christian or Jewish, they all possessed a clear conscience and wanted to do something for humanity".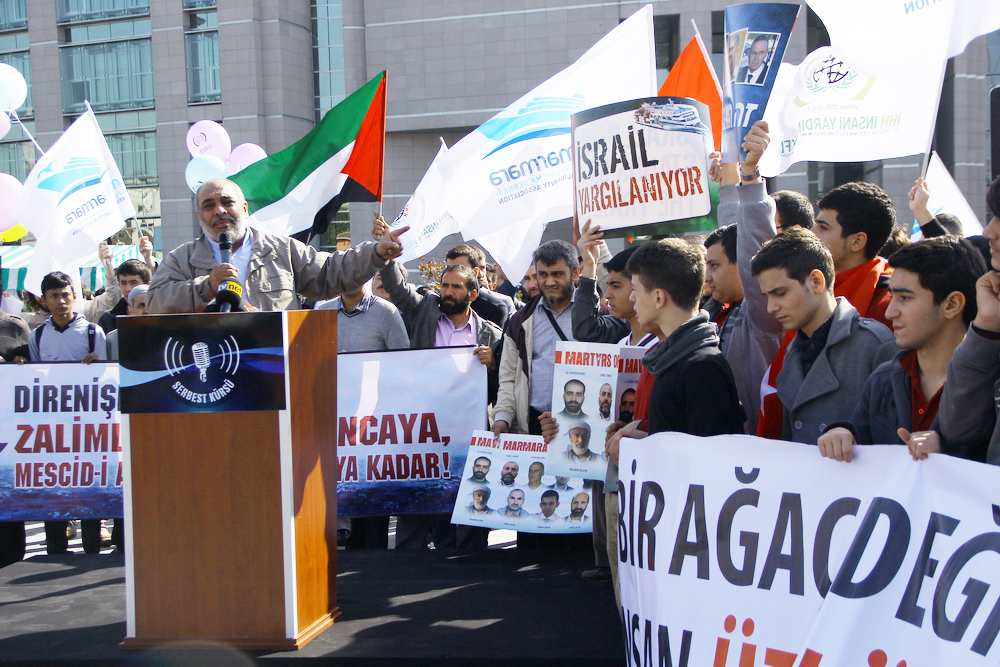 Yıldırım: Zionism is a virus which needs to be taken care of!
"An Israeli official had complained about IHH stating that I called Zionism 'a virus'. I'm stating again that Zionism is a virus which needs to be taken care of. You are pirates, you are terrorists which have challenged the entire world by killing innocent civilians within international waters"
"Was Turkey not apart of NATO? Is NATO not supposed to defend Turkey in times of crisis and war? Was there not a NATO ship present to retaliate back against the attack upon the Flotilla? The double standards and two faceness of NATO has came out with this attack. You cannot attack Israel as Israel has taken control of your intelligences and major corporations. As Israel has the understanding to take control of the intelligence sources of the United Nations, NATO and the United states of America. This shows how Zionism is taking over major corporations throughout the world. For this I congratulate you."
"We all know that it was Israel who is the source of all the problems in Egypt. We also know that it is Israel and other Imperialist governments who benefited from the problems in Syria." said Mr. Yıldırım.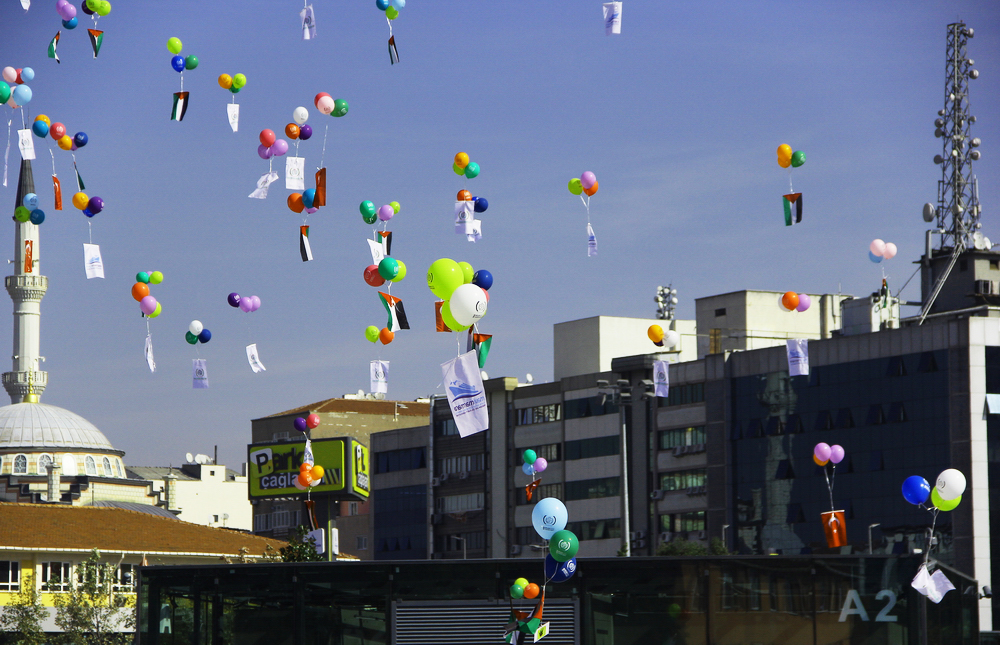 "It is going to be either a scandal or an example for the history of International Law"
Mr. Yıldırım had continued by expressing that the Mavi Marmara case was going to either be a scandal or an example for the history of international law stating "Look at us carefully, we have been killed, shot and wounded. We have been tortured and abused. We have had our internal organs opened without have any anesthetics applied to us so the Israeli's could get rid of the evidence in which they used illegal weapons which are forbidden according to international law and agreements. Know that if nothing is done and this case ends in such a scandal with so much proof present, you will only be leaving disappointment as an inheritance for upcoming generations"
"Turkish Zionist Jews should be arrested"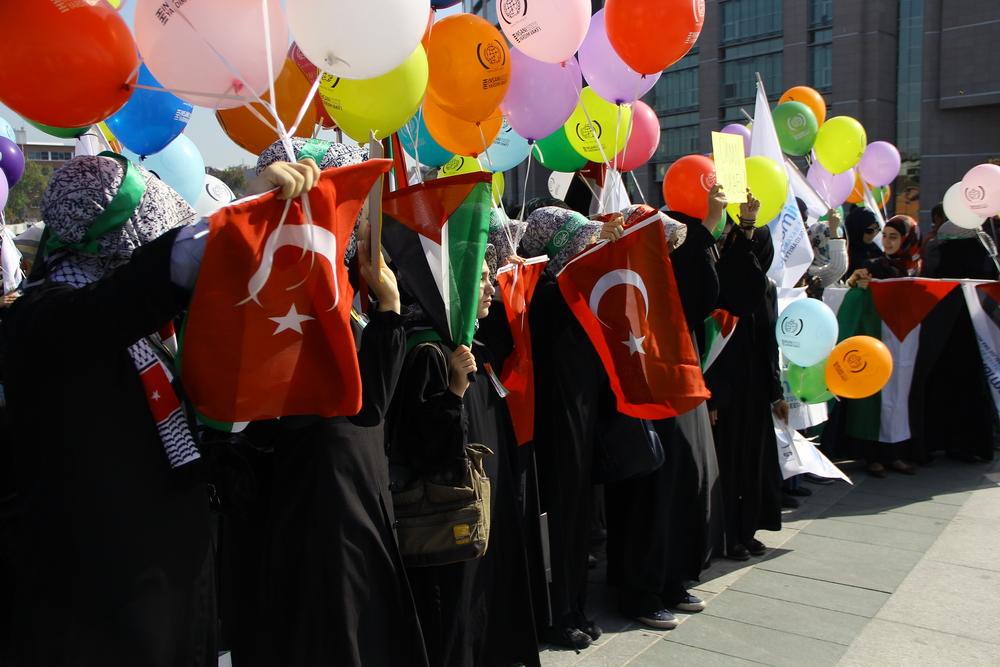 Mr. Yıldırım had affirmed that within the questioning on the Mavi Marmara Ship and with later questioning, there were Turkish Zionist Jews who were speaking perfect Turkish who had traveled from Turkey to Israel to do their army duties, continuing his speech Yıldırım stated, "We want this to also come about in the open and have the veil of obscurity lifted upon it. You literally go, shoot a at the head of a Palestinian child, and then state no one can arrest or judge my actions, because you see yourself as the possessor of all these lands. We will all see together the decision in which the court gives"
"The Mavi Marmara case has made us and our later generations fall in love and care for Palestine. Like the Palestinian children and elderly, we too are determined to fight Imperialism and Zionism"
"What if your children were on that ship?"
"With so much proof and evidence against Israel, how could a bunch of people want to re-secure economic ties with Israel, in the name of trying to source gas out from the Aegean Sea? Remember that with so much evidence and proof present against the defendants in this case, if they are not convicted, you will literally be 'mortgaging' your future and the future of your children and generations to come. Remember that justice is the foundation of everything. From whatever background you are from, you first have to be just. We have got to a good degree with our cases in at the International Justice Court, we have also opened up cases in Spain and South Africa. The legal representatives in these countries state that the people killed upon the ship were all Turkish and posses Turkish passports. The legal representatives in these countries state to us that Turkey has to first take the right steps and end up with solid results so we can take courage from this and do what we can from our side. They are right! Each time we try to take a step forward, they postpone our cases. Why are you postponing our case? While I was being questioned, they literally told me that they were going to kill me and IHH staff in Turkey and added myself on their terrorist list. This literally means that the Israeli soldiers think they possess the right to kill IHH staff and myself wherever they see us. With so much evidence present, they are still postponing our cases in Turkey. Now what would you do if your children were on that ship? What would you do if your children were shot like Furkan? We don't care about economic agreements which you want to sign, all we care about is justice." expressed Yıldırım.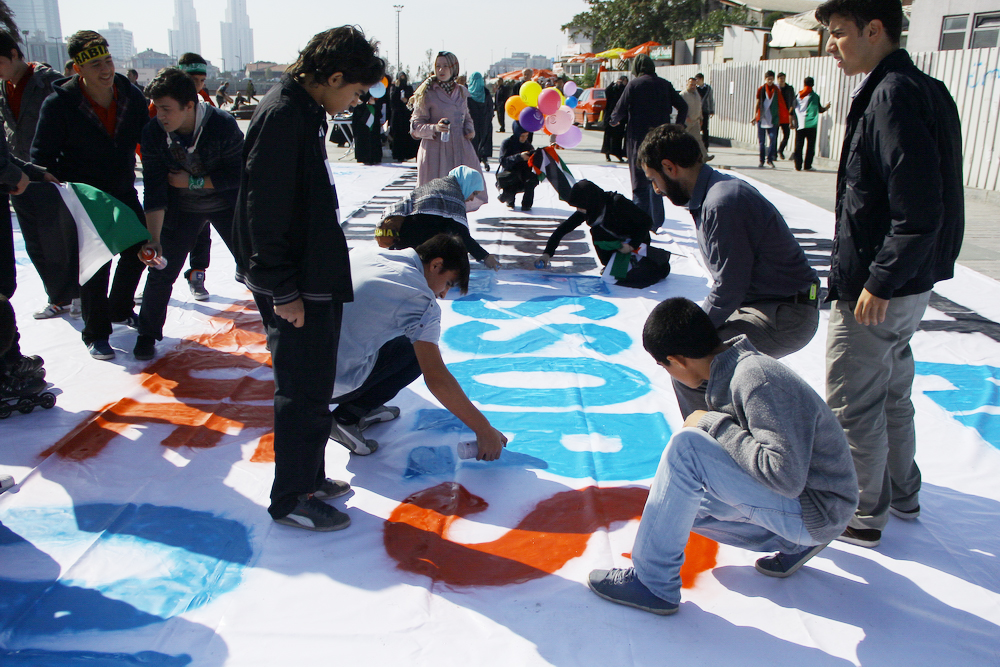 Both offers and threats are coming from Israel
Mr. Yıldırım mentioning before every court hearing offers and threats keep coming one after another to get the case dropped, Yıldırım continuing "Before every case, offers keep coming, one after another. Once we don't accept their offers they start threatening us. I am challenging you from here, do as you please! We had live coverage for 7 hours on the Mavi Marmara ship as Israel was attacking us."
Yıldırım had incited people that the fourth hearing of the Mavi Marmara case was taking place at the moment and finished off his speech stating "We will not change our stance against Israel and Zionism, as Zionism is forcing bloodshed and murder throughout the world. With so much proof, autopsy reports present, with the truth so out in the open how can one keep postponing this case? Don't say to yourselves that justice will eventually find its place. Remember that justice that is postponed is injustice itself. Stand your ground! Do not give into these games. Remember that people who have stood their ground have always made changes within society and in the eyes of Allah. If this case keeps getting postponed here, how are you going to ask for your rights tomorrow?"
Ibrahim's first steps
The dream of 6-year old Ibrahim Tüser, who is supported under IHH's Orphan Sponsorship System, to be able to walk, came true with the support of donors.
Pedaling for orphans
IHH Malatya volunteer Ihsan Kılıç will be visiting 13 cities, cycling from Malatya and travelling a total of 500 km to raise "Orphan Awareness."
Malatya, Orphan
23.09.2020