Turkish daily Habertürk refuted the news suggesting the link Al-Qaeda and IHH
Turkish daily Habertürk was legally obliged to publish a refutation of its news dated 15th June 2012 with the headline "IHH's head Bülent Yıldırım to be investigated over funding Al-Qaeda", after the
Containing unsubstantiated and slanderous claims, the news published on 15th June 2012 edition of aforementioned newspaper, aimed to damage the reputation of IHH Humanitarian Relief Foundation, and misled the public opinion on the issue.

After IHH's lawyers initiated the legal process stating that the claims suggested by the news are totally untrue and deliberately fabricated regarding some malevolent scenarios, the newspaper has been legally obliged to publish a refutation of the news.

Here is the refutation of the news published by Habertürk on 26th September 2012: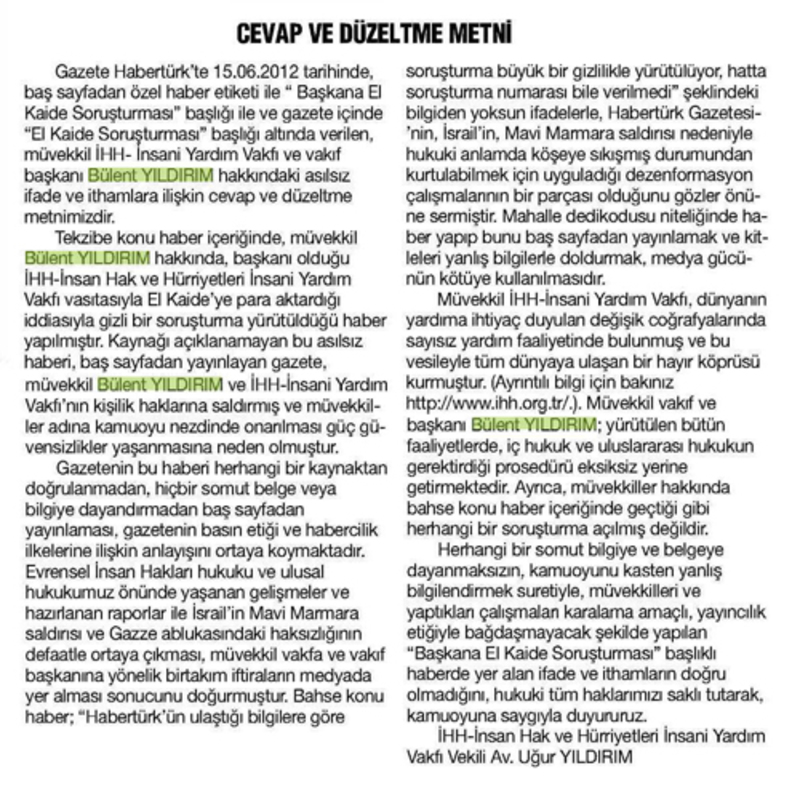 Mobile soup kitchen from Turkey to Ukraine
The mobile soup kitchen dispatched by the IHH Humanitarian Relief Foundation to Ukraine, which is under Russian bombardment, departed from Istanbul. The soup kitchen was intended to provide food to 30,000 people each day. In addition, three truckloads of humanitarian supplies provided to Ukraine by the IHH in recent weeks have been delivered to war victims.
IHH helped 700,000 Syrians in 2022.
In 2022, IHH Humanitarian Relief Foundation delivered 2,043 truckloads of humanitarian relief supply to war-affected Syrian residents living in the country's IDP camps and settlements in various locations.
The last terminal of "An Armful of Goodness"
IHH Humanitarian Relief Foundation continues to commemorate the 11th annual Orphan Solidarity Days (OSD) project with the theme "An Armful of Goodness". Many studies have been carried out for orphans and their families in Kenya, one of the countries where the initiative is executed.