Turkish daily Habertürk refuted the news suggesting the link Al-Qaeda and IHH
Turkish daily Habertürk was legally obliged to publish a refutation of its news dated 15th June 2012 with the headline "IHH's head Bülent Yıldırım to be investigated over funding Al-Qaeda", after the
Containing unsubstantiated and slanderous claims, the news published on 15th June 2012 edition of aforementioned newspaper, aimed to damage the reputation of IHH Humanitarian Relief Foundation, and misled the public opinion on the issue.

After IHH's lawyers initiated the legal process stating that the claims suggested by the news are totally untrue and deliberately fabricated regarding some malevolent scenarios, the newspaper has been legally obliged to publish a refutation of the news.

Here is the refutation of the news published by Habertürk on 26th September 2012: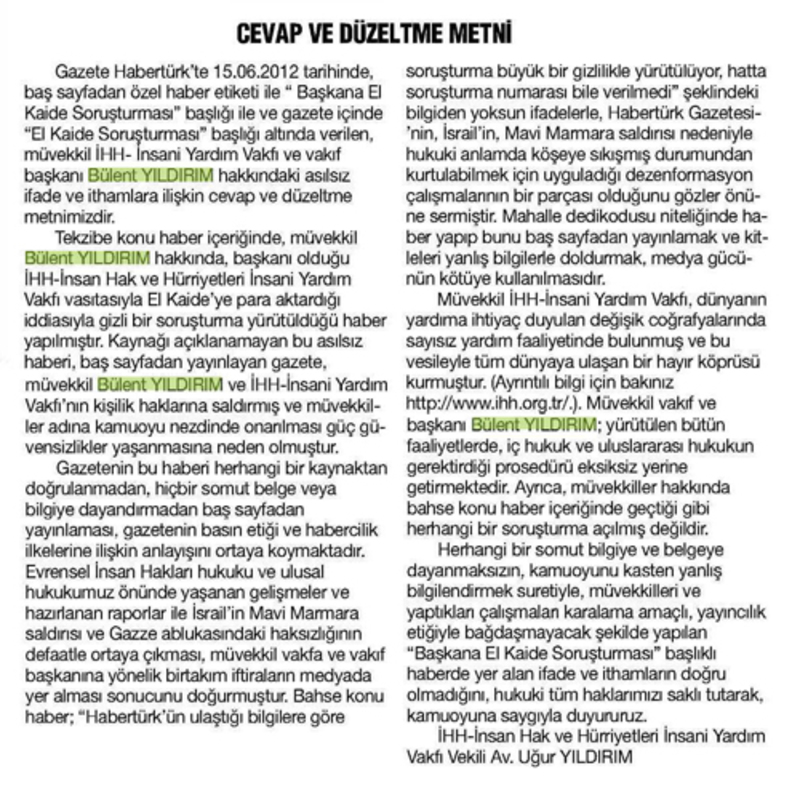 Support from IHH to people of Yemen
In Yemen, where a civil conflict has been raging since 2014, relief efforts are still being made by the IHH Humanitarian Relief Foundation. Recently, IHH dispatched a team to the area to provide relief to the nation's needy.
Emergency aid to Afghanistan's earthquake victims
A least 1.000 people lost their lives and 1.500 people were injured in the 5.9 magnitude earthquake that struck the Khost province of Afghanistan. IHH Humanitarian Relief Foundation immediately launched an emergency aid campaign for the region.