Turkish daily Habertürk refuted the news suggesting the link Al-Qaeda and IHH
Turkish daily Habertürk was legally obliged to publish a refutation of its news dated 15th June 2012 with the headline "IHH's head Bülent Yıldırım to be investigated over funding Al-Qaeda", after the
Containing unsubstantiated and slanderous claims, the news published on 15th June 2012 edition of aforementioned newspaper, aimed to damage the reputation of IHH Humanitarian Relief Foundation, and misled the public opinion on the issue.

After IHH's lawyers initiated the legal process stating that the claims suggested by the news are totally untrue and deliberately fabricated regarding some malevolent scenarios, the newspaper has been legally obliged to publish a refutation of the news.

Here is the refutation of the news published by Habertürk on 26th September 2012: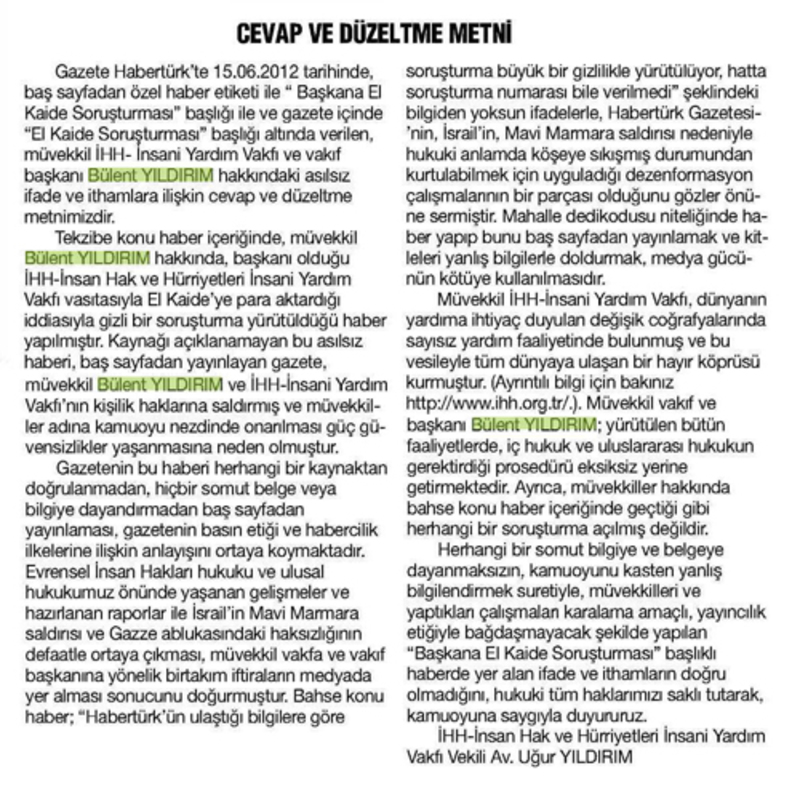 The last terminal of "An Armful of Goodness"
IHH Humanitarian Relief Foundation continues to commemorate the 11th annual Orphan Solidarity Days (OSD) project with the theme "An Armful of Goodness". Many studies have been carried out for orphans and their families in Kenya, one of the countries where the initiative is executed.
54,000 loaves of bread for camps in Syria per day
Through a partnership between the IHH and the İnsan Charity Foundation, and with financial support from The United Nations Office for the Coordination of Humanitarian Affairs (OCHA), 54,000 loaves of bread are supplied daily to civilians living in camps in the countryside of Idlib province in northern Syria
4 permanent works in Sierra Leone
In West Africa's Sierra Leone, IHH inaugurated four distinct buildings including orphanages, universities and mosques. The newly inaugurated permanent works are vital to the country's future.
Mosque-Masjid, Orphan
17.11.2022