Turkish doctors rushed to help Gaza
IHH Humanitarian Relief Foundation and Association of International Doctors (AID) have stepped up medical relief efforts in Gaza.
Palestine,
Palestine-Gaza,
MiddleEast,
Turkey
21.11.2012
Volunteer Turkish doctors who travelled to Gaza in order to heal the wounds of Gazans have begun to work at hospitals in the city.
Three medics who are in the first medical team which went to the region have already begun to work at Al-Aqsa Hospital.
A total of 161 Palestinians were martyred in the eight-day long Israeli attacks on Gaza while 1,222 others were injured.
There was a feast-like atmosphere in Gaza following the agreement for a ceasefire reached in Egypt.
The destruction caused by the Israeli attacks in Gaza, from air, land and sea, became more evident after the end of the bombardments.
The morale of the Palestinians is high but the infrastructure of their city has been seriously damaged by the attacks. Gazans need help in many fields.
One of the most urgent needs of Gaza is medicine and medical supplies. In addition, there is need for medics.
Hospitals in Gaza work at full capacity but a shortage of medicine has begun to emerge in the city. The largest hospital in Gaza, al-Shifa Hospital, has difficulty in serving all the injured Palestinians. The situation of other hospitals in other towns is
worse.

IHH, which took immediate action to help Gaza in the wake of the Israeli attacks, has first of all allocated TL1 million funding for relief efforts in the city. Most of this funding has been used to provide medicine and medical supplies.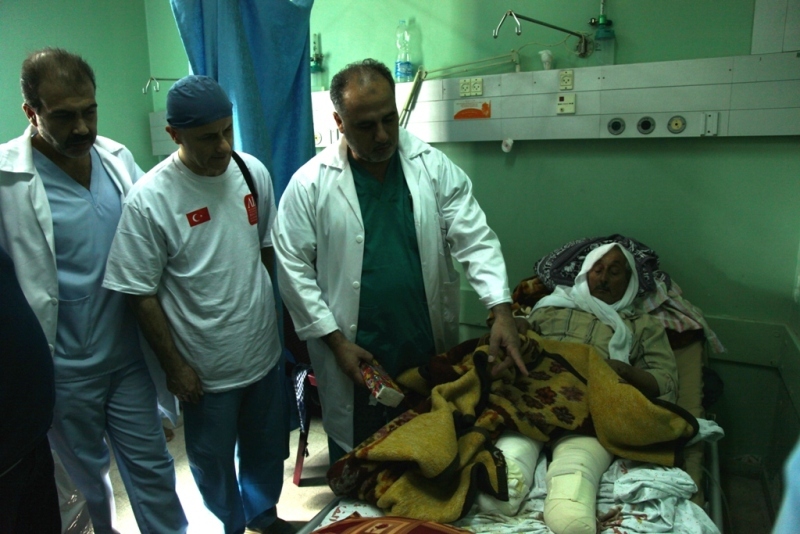 Working in cooperation with AID, IHH has sent six emergency aid workers and a three-member medical team to the region.
Members of the medical team, who have been in Gaza for three days, have already begun to serve for Gazans. They are currently treating injured Palestinians at al-Aqsa Hospital. Al-Aqsa is the only hospital in the region where it is located and it has a bed capacity of 350.
There is only one surgeon in the hospital which has a shortage of medics. After talks with Palestinian officials, the Turkish medical team began to work at al-Aqsa Hospital and they will even sleep at the hospital during their 15-day-long stay in Gaza. Gazans were very happy to see Turkish doctors at the hospital while Gazan doctors expressed their gratitude to them for coming to the region for help at a time when they are needed most.
Provision of medicine costing $200,000
Launching relief efforts immediately after they reached Gaza, the IHH aid team made a list of the necessary items as they visited hospitals one by one in the city. The IHH team provided medicine which has a cost of $200,000 from Egypt for Gaza.
Medicine and other medical supplies were brought to Gaza from Rafah Border Gate and they were delivered to the hospitals in the city.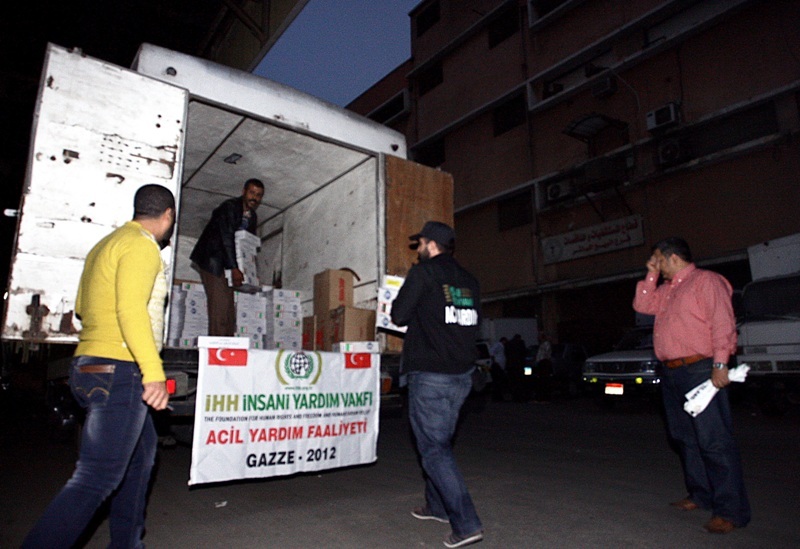 Tragedy of a doctor mother
What a doctor mother went through in Gaza, which was witnessed by the IHH team, was very striking. She learned that her two-year-old son was martyred when her son's body was brought to the hospital she is working for. There were dozens of children among those killed in the Israeli bombardments, yet this incident plunged everyone into further grief.
A female doctor who was vigorously working at a hospital in Gaza for the treatment of those who were injured in Israeli attacks faced with the dead body of her two-year-old son. She burst into tears after seeing her son. All the hospital staff was greatly devastated by the incident.
To send a donation to the Palestinians in Gaza you can use online donation page here.
Click for Bank Account Numbers
[video-293]
[video-294]

Mobile soup kitchen from Turkey to Ukraine
The mobile soup kitchen dispatched by the IHH Humanitarian Relief Foundation to Ukraine, which is under Russian bombardment, departed from Istanbul. The soup kitchen was intended to provide food to 30,000 people each day. In addition, three truckloads of humanitarian supplies provided to Ukraine by the IHH in recent weeks have been delivered to war victims.
IHH helped 700,000 Syrians in 2022.
In 2022, IHH Humanitarian Relief Foundation delivered 2,043 truckloads of humanitarian relief supply to war-affected Syrian residents living in the country's IDP camps and settlements in various locations.
The last terminal of "An Armful of Goodness"
IHH Humanitarian Relief Foundation continues to commemorate the 11th annual Orphan Solidarity Days (OSD) project with the theme "An Armful of Goodness". Many studies have been carried out for orphans and their families in Kenya, one of the countries where the initiative is executed.