We will deliver aid to all of Syria
An "Islamic Geography" conference was held in Diyarbakir by the IHH Humanitarian Relief Foundation.
IHH President Bulent Yildirim, AK Party Diyarbakir Member of Parliament Oya Eronat, AK Party Provincial President Aydin Altac and many other guests attended the conference. The conference began with a Qur'an recitation by Ulu Camii's imam, Mehmet Emin Mulayim. A slide show was then displayed regarding the IHH's activities.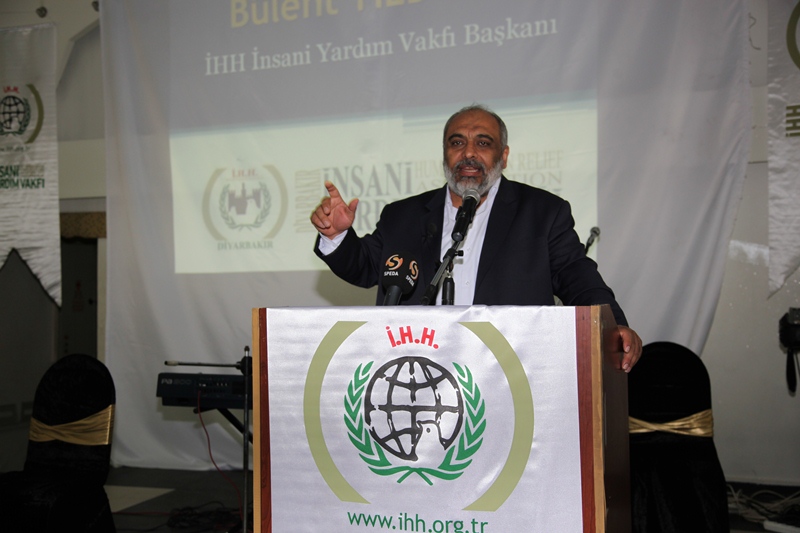 IHH President Bulent Yildirim who spoke at the conference emphasized on the fact that Muslims are being slaughtered in wars all around the world and criticised Israel in a tough manner. Yildirim stated in his speech that "we did not set forth on this road for authority or position; we set forth with the intention to deliver aid to those in need. Even when Diyarbakir was going through difficult times itself, they never forgot their brothers and sisters within the Islamic Geography; they came to their help.
Israel wants for us to forget about the Mavi Marmara incident. O Israel, you will account for the Mavi Marmara, for Gaza and for Palestine. Currently Muslims are being slaughtered in almost every war that is taking place all around the world. Is it not time for us to awaken? Israeli occupants have entered Masjid al-Aqsa. We must stand united against Zionism and Zionist Israel. On the 31st of May, hundreds of thousands will march toward the Israeli consulate; we are inviting the people of Diyarbakir."
December 17th targets the solution process
IHH Humanitarian Relief Foundation President Bulent Yildirim stated that "the December 17th coupe attempt's underlying reason was the solution process. Yildirim, stating that "bloodshed has come to a stopping point with the solution process," continued by saying "as the crusaders and Zionists realised that their benefits had expired, they attempted a coup using different methods with the intent to perpetuate the bloodshed. The solution process will end in success and our Kurdish brothers and sisters will regain their fundamental rights and freedoms once more. As the IHH, we declared our support to toward the solution process since its first day."
Yildirim stated that "the first priority is the Kurdish issue and solution process. In order for this process to continue we must stand united. We must not forgive those who step back. Israel, in specific, doesn't want this process to come to a result because they are only anticipating their own security. Israeli politics are security-oriented and Israel is well aware that if peace was to come to the Middle-East and if complications between Muslims were to be resolved – this is something I always say – the only force to spoil their game will be a Turkish-Kurdish alliance and brotherhood."
Yildirim called out to the BDP and PYD: "Open the gates in Syria"
Yildirim, explaining the manipulation being made against the IHH with its trucks that were headed to Syria, stated that they are finding it difficult to deliver aid to regions controlled by Bashar al-Asad, ISIS and PYD forces. Yildirim, calling out to those who it may concern in Diyarbakir, completed his speech by saying: "Those who ask us as to why we do not deliver aid to the Kurdish region are themselves the ones who shut their doors. I am calling out from here today; open your doors, allow us to enter and distribute aid to the region within the week with our 100 trucks.
I am calling out to the BDP and PYD; let us establish an international commission with IHH officials and officials of your own. Let us examine and survey the aid we distribute and our activities together. We cannot sacrifice another, nor can we allow for that to happen. We believe that the BDP and PYD won't believe statements made on behalf of the international relations network. We want the false accusations made against us to be lifted by all officials and parties."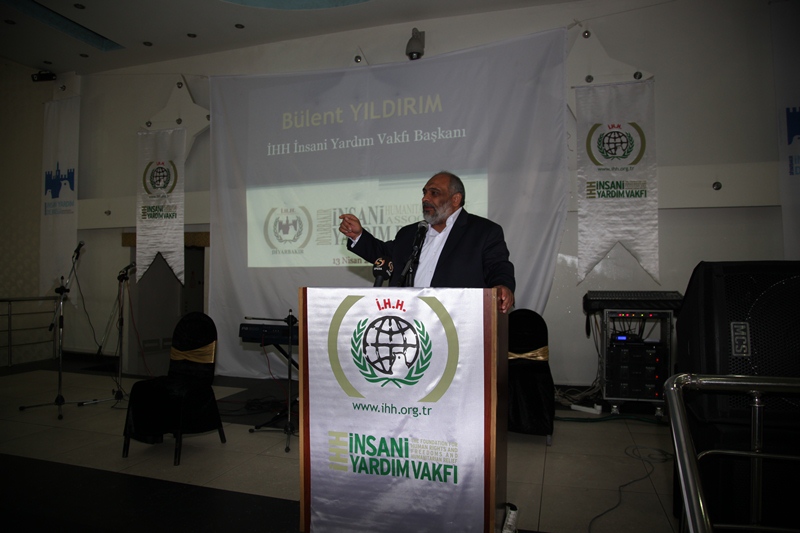 It was planned for the Islamic society to kill one another
Yildirim, pointing out that ever since Zionists seized control over Masjid al-Aqsa, bloodshed became dominant for well over 50 years all over the world. Yildirim continued his speech by stating, "Let me elucidate the 4th World War picture for you all. Muslims are dying in Afghanistan; the USA and NATO are doing the killing. Muslims are dying in Palestine; Israel is doing the killing. Muslims are dying in Chechnya; Russians are doing the killing. Muslims are dying in Kashmir; Indians are doing the killing. Muslims are dying in the Central Republic of Africa; the French and Indians are doing the killing. Collaborators are killing Muslims in Egypt and in Syria. The USA and its collaborators are killing Muslims in Iraq. Is there any other war in the world? These are all the wars taking place in the world. Without any exception, all those being killed are Muslim."
Yildirim stated that in a meeting in 1988, Imperialist nations planned for Muslim societies to kill one another. "What do they mean by Muslims? Do not fool yourselves. Those whose mothers and fathers are Muslim, Islamists with Muslim names, patriots, secularists, Kemalists, nationalists and whatever else comes to mind. They want to transport Muslims' underground resources such as gas, petrol and all other precious resources in the safest and most economical way possible and it is for this reason as to why they create regional instability."

Ibrahim's first steps
The dream of 6-year old Ibrahim Tüser, who is supported under IHH's Orphan Sponsorship System, to be able to walk, came true with the support of donors.
Pedaling for orphans
IHH Malatya volunteer Ihsan Kılıç will be visiting 13 cities, cycling from Malatya and travelling a total of 500 km to raise "Orphan Awareness."
Malatya, Orphan
23.09.2020