After 11 bakeries in the Gaza Strip, Israel struck the only bakery in Maghazi refugee camp. The bakery where we used to queue for about four hours to buy a loaf of bread is no more. They want to starve us and destroy us.
Aseel Mousa, Gaza
Embargoed and blockaded Gaza has long been the world's largest open-air prison. Around 2 million Palestinians, deprived of the right to free movement, are struggling to survive in the city surrounded by high walls. In the city, where conditions have become even more difficult with the attacks carried out by the occupying Israel, needs such as hospitals, food, medicine, shelter, education and electricity cannot be met.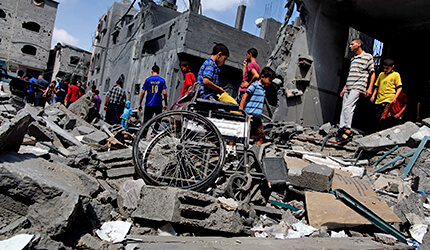 Gaza needs urgent assistance
We provide urgent humanitarian aid for people of Gaza with your support. 
Support
Finally, the Israeli army has resumed its bombardment of the Gaza Strip. Many countries are turning a blind eye to Israel's attacks. Habitats, refugee camps, hospitals and civilians continue to be targeted. Since October 7 alone, more than 10 thousand people have lost their lives. Thousands of homes have been destroyed and more than 1.5 million people have been forced to flee their homes.
In Gaza, which is already under a blockade and has electricity for 3-4 hours a day, Israel has restricted electricity and internet connection and besieged the city. This means that hospitals are not functioning and hundreds of thousands of people are unable to access basic needs, especially food.
Humanitarian assistance we have delivered since October 7

Food parcels for 20,560 people

59,340 hot meals

Clothes for 500 children

806 hygiene packets

Medical supplies for 500 people

9 medical beds

10 wheelchairs

2000 blankets

First aid kit for 1160 people

5 patient walkers

120 patient diapers

Fuel support for 13 ambulances

6 crutches
IHH's work in Gaza is carried out through the Gaza Office established in 2009. The Gaza Office, which produces various projects in order to eliminate the problems of the people of Gaza, provides emergency and health aids, as well as enabling more than 2 thousand Palestinians to receive regular education and learn a profession with 1 education center belonging to the office.
What kind of humanitarian activities does IHH Gaza Office carry out?

IHH Gaza Office was established in 2009 in order to manage the aid activities from its location after the occupying Israel's "Operation Cast Lead" attacks, in which more than a thousand Palestinians were killed. 19 staff members work in the office, which also provides emergency aid, psychological support, vocational training, education and orphan activities.