Can you walk for six hours every day?
Ahmet Fatih Madanoğlu
16.11.2021
We are in a village in the town of Kisiju in Tanzania. Except for motorcycles, there is almost no transportation in the village. Our car drives forward with a piece of pleasant Swahili music. Besides us, there are 10 other students in the car. On the way, we buy bananas from a vendor. Fifteen minutes later, the three boys say, "Will you take us here?" and get out. I ask one of the kids in the car how he is. He says he is tired. Then it's his turn to get out and he gets out with his three friends. We have been on the road for 20 minutes. The road is almost done, but there are still two kids in our car. Five minutes later they end up in front of a house painted red. It's the end of the village. It took us exactly 25 minutes to get from school to this point by car. On the way there we almost never stopped.

We spend a happy 20 minutes with 10-15 students. They are very lucky to stumble across a vehicle that day.
In fact, this was a trip I had wanted to take for a long time. It made me realize what an African boy goes through on the long journey from home to school. Students make this journey, which takes 25 minutes by car, every day. Three hours. They have to be home before dark and leave their house at first light in the morning. It would be the right decision if they walked the path together because there are wild animals like leopards and hyenas nearby.

This is the road where dozens of students swallow their dust for hours every day. It is advisable to be careful, it may surprise you at any time.
Ramadani looks around with worried eyes. He is only thirteen years old. He tries to answer my questions quickly without insulting me. I do not understand the reason for his haste. "I walk two hours to school. It takes me four hours every day. I want to be a doctor, but it's difficult under these conditions. Just walking for hours keeps me from studying." He does not forget to thank you for the bike. But he can not stand it and hurries away on his bike. I ask the school staff why he is doing this. "His friends are out and he does not want to be left behind. He is afraid of wild animals. It's better not to travel alone," they say.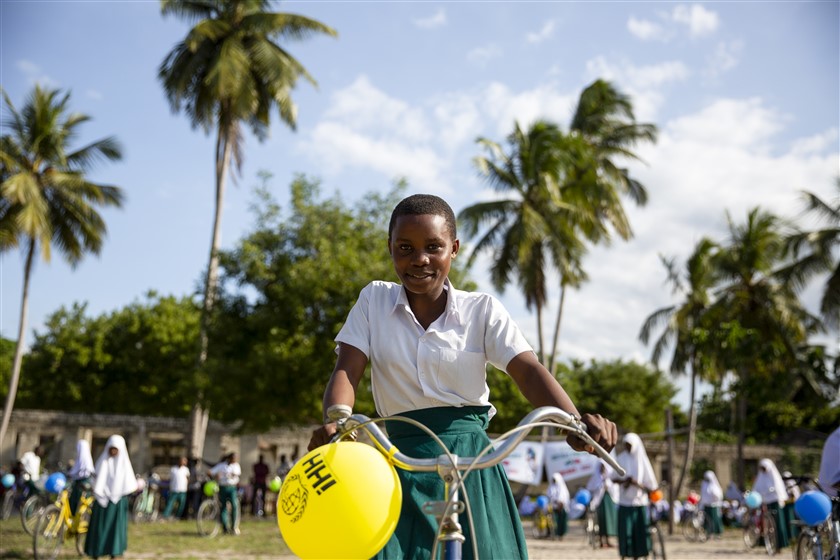 Ramadani is only 13 years old. He has just started high school. He wants to become a doctor. He also mentioned that he likes biology a lot.
That day we gave bikes to 100 students in Kisiju. Everyone had a smile on their face. That's exactly what Paulina, who had to leave before the sun came up, said, "I am going to walk less and study more."

Happy children who received bike gifts. From this day on, their new bikes will accompany them on their long journeys.
In Tanzania, hundreds of children wait for bicycles in Tanzania. It's up to us to make the long school joyful with a bicycle. With a donation you can become a partner in a child's success and reduce their fatigue.