You have given light to more than 120 thousand people
In the last 12 years, with the support you have given to IHH, more than 120 thousand people regained their sight. The cataract operations that were launched in Africa in 2007 with the slogan "If you can see, they should too" is now spreading over the world.
In Turkey cataract mostly seen in old patients, which causes blindness if it is untreated, is wide-spread due to reasons like malnutrition, exposure to strong light for a long time and eye traumas in addition to old age. Millions of people lose their eyesight and live their life depending on others when they are unable to get surgery due to lack of medical and financial resources.
How Cataract Patients See the World?

 

Is it possible to cure it?

The cure is the surgery only and it only takes 15 minutes. However considering the poverty and lack of adequate resources ieven a short surgery as such can be impossible

What does IHH do for this matter?

We have been facilitating surgeries since 2007. So far we have done;

Medical check-up on 797.323 people.

Medical examination on 385.739 people

Surgeries on 157.000 patients who regained their eyesight

Since 2007 IHH has facilitated periodic cataract surgeries in 18 African countries in total which are as follows: Togo, Benin, Nigeria, Ghana, Mali, Chad, Uganda, Tanzania, South Africa, Sierra Leone, Niger, Sudan, Ethiopia, Mozambique, Somalia, Bangladesh, Pakistan and India. In 2014 we have established an eye hospital in Niger where surgeries are carried out regularly.

Patience Selection and Surgery Duration

The number of patients in regions where we conduct cataract operations is determined according to the donations made. The number of cataract patients treated depends on the budget allocated for this purpose.  Determining the patients, the duration of surgery and recovery process can vary according to the country. As legal procedures are long in certain countries, this can increase this process to up to 6-8 months.

How can I contribute?

You can fund the surgery of an African cataract patient to regain his eyesight by donating 85$ only. You should see the patients leaving the hospital with smiling eyes that are able to see and pray for the donors. Because if you see them they will also see.
I want to open the eyes of a cataract patients
120 thousand people in 12 years
IHH that has been continuing its operations in Africa for 12 years, in the meantime also contributed to 120 thousand people regaining their sight. IHH that continues its aid efforts with the slogan "Spreading kindness, anytime and anywhere" is now expanding its operations worldwide.
Niger Eye Hospital
In Niger, where deserts make up 60% of the land, due to inadequate healthcare service there is a significant number of cataract patients: 130.000. Here the predominant cause of cataract is grain of sand getting into the eye, which is one of the causes of cataract. IHH helped the establishment of an eye hospital in Niger's capital Niamey in 2014. The hospital, which brings hope and light to thousands of patients who are unable to get surgery due to lack of financial and technical resources, aims at doing surgery on 6.000 patients in 5 years. Moreover specialized doctors flying in from Turkey provides medical training for the local doctors to become qualified to do the surgeries.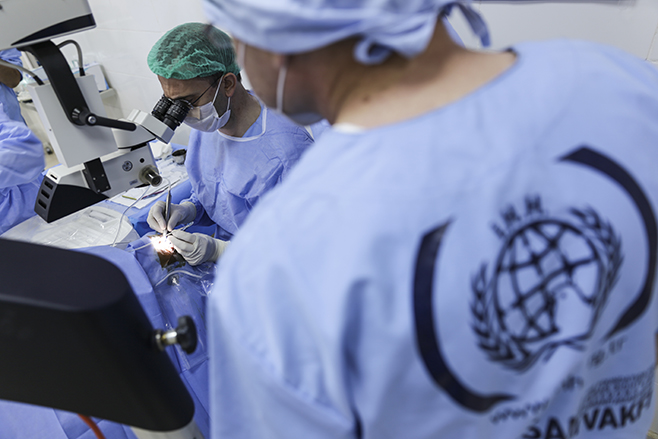 WE WERE THERE

When we landed in Togo it was extremely hot. I visited African countries before, but this time it was different, we came to perform cataract surgeries on 300 people. This would mean 300 people regaining their sight. They asked me to remove the bandages from the eyes of a child. I was so excited. I bent over and tried to remove the bandages. I tried to remove the bandages slowly, as if I was trying not to scare a small bird. After I removed the second bandage I noticed she was looking into my eyes. I was the first person she had ever seen. She was so surprised, and I was so happy and excited. I don't really know how to describe such happiness. She looked at me for a while, then she began to look at everything around her. Things I had seen thousands of times and was used to seeing were strange to her. She screened everything around her like a scanner. I am not sure if I have ever seen such a beautiful scene before in my life. A simple cataract operation can make such a huge difference to a person, but they neither have the means, nor the money for this."  

- İzzet Şahin / Togo