Mavi Marmara Keeps Waiting for Justice
The 13th hearing in Mavi Marmara case took place in Istanbul 7th High Criminal Court. The case was postponed to 2nd December.
Istanbul 7th High Criminal Court held 13th hearing of Mavi Marmara criminal in Çağlayan Court.
The court continued the prosecution of 4 defendants including Israeli Chief of Staff at the time, Rau Aluf Gabiel Ashkenazi in relation to ruthless Israel attack at Mavi Marmara flagship carrying humanitarian relief aid to Gaza
The defendants for whom the court issued arrest warrants were absent in the hearing that was held in the main hall by Istanbul 7th High Criminal Court. However their representative lawyers were present. Victims' families and foreign nationals who had been on board Mavi Marmara also attended the hearing.
 "Israel Will Answer for Her Crimes"
After the hearing Mavi Marmara martyr's families, victims and representative attorneys gave press statement before the court. IHH President Bülent Yıldırım and Mavi Marmara participants delivered speeches along as people cheered on and shouted out slogans: "Israel will answer for her crimes," and "Mavi Marmara is our pride."
IHH President Bülent Yıldırım said that those who anticipated Mavi Marmara case to be over are utterly disappointed.
Yıldırım said they have left behind another important stage in this process of achieving a great feat. "Your contribution in it is invaluable. We well know that zionist regime has been waiting for Turkish court to dismiss this case in this hearing today. 'I killed you and here is the blood money in return. Just shut up and close the case' the Zionist regime says by giving out 20 Million USD compensation as if it is a favour. You on the other hand stepped forward to uphold Mavi Marmara case and you showed today that this case can and will continue. Thanks for your support," he said.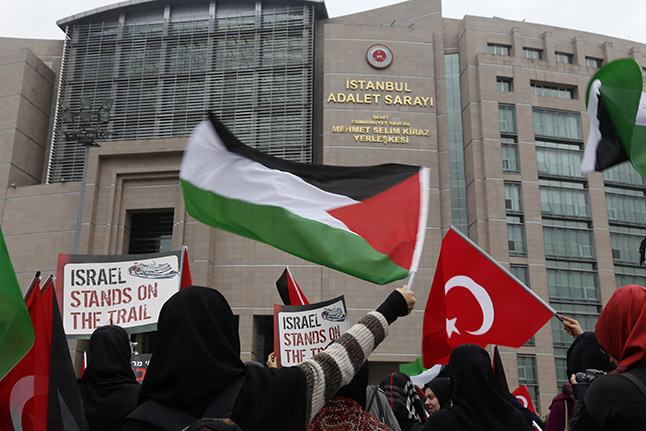 "This case belongs to everyone under oppression" 
Yıldırım said that hundreds of foreign nationals are involved in this case and added:
"We had guests from all around the world to follow this case. We have people from different faiths. We have Christian friends. We are all following this case. This is not the struggle of a single religion or a single nation. It is the struggle of a whole humanity. The case of Mavi Marmara participants is the case of everyone under oppression. Then how can you close this case? It shall never close. You have proven that by coming here today. We have this 90-year-old grandpa who had been on board Mavi Marmara. So this is the case of all humankind. Yet there are efforts to finish it off."
Yıldırım highlighted that they are going to stand with all people under oppression no matter what faith, race, or language they have. "Mavi Marmara was the flagship of humanity. Human conscience will not let this case to be over. Those who say that 'The case will close' are disappointed. No power can stand against the people. Everyone is standing up right. Do not leave this case alone. Do not forget that those who leave it alone will be left alone" he said.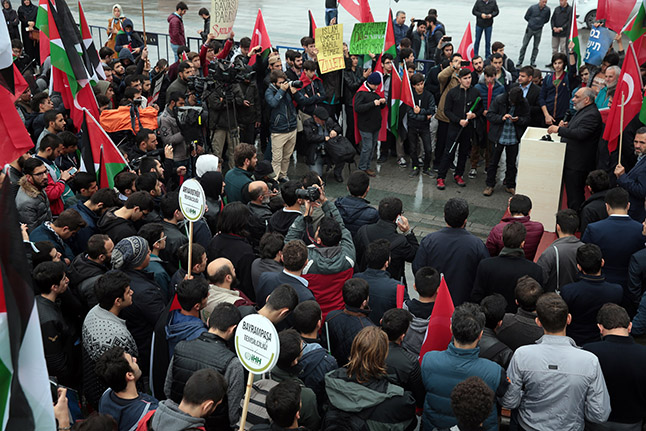 "Perpetrators Should Be Prosecuted"
After Bülent Yıldırım Att. Rodney Dixon, who is the head of the representative attorneys in Mavi Marmara lawsuits filed abroad, took the floor. Dixon said that he is glad to be among the people who pursue the Mavi Marmara case and insist that the hearings should continue at the court. He noted that court cases in USA, UK and Africa along with International Criminal Court continue simultaneously with the case in Turkey. "It would not be legal to dismiss the cases because of the agreement. The perpetrators of these crimes should be held accountable before justice" Dixon concluded.
Dror Feiler: We want no apologies, no money
Mavi Marmara participant Swedish Activist Dror Feiler said "We want no apologies and no money from the Zionists. We only want them to be prosecuted." Feiler pointed out that people from different communities worldwide were on board Mavi Marmara. "Those who were killed on board are the martyr of all humanity. Therefore we will pursue this case everywhere around the world" he added.
Huveyda Araf: Our case should not succumb to politics
Palestinian citizen Huveyda Araf, who was one of the passengers on board Mavi Marmara said "Those who pursue this case should not succumb to the politics. Such a critical case should not become the victim of politics. I am telling this as a Palestinian. No one raised a voice for those killed out there. Now all Muslims in Gaza, Jerusalem and Palestine are following the news of the case. We want them to feel proud and happy about how the case progresses in Turkey."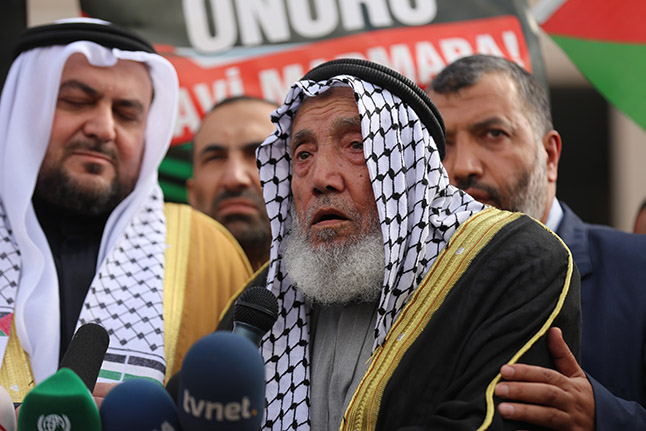 İsmail Bashfan: Don't Be Among Those Who Closed the Case
92-year-old Palestinian Ismail Bashfan who worked for Islamic efforts all his life said "I am proud to stand for the martyrs of the ummah."
Bashfan highlighted that his close ones and relatives are mostly martyred in Palestine.
"My sister was also killed yesterday and I am among you standing up for our martyrs today. I came here with the key of our house in Hebron from where we were forced out. I do not call them Jewish as they are Zionist murderers. I would like to shout out to everyone to make their best to let this blessed case continue. Don't be among those who close the case."
"Africa Won't Be Liberated Unless Palestine is Free"
Att. Ziyad Patel, who is the plaintiff's attorney in Mavi Marmara case in South Africa, was the last person to take the floor. Patel said that he follows the case in his country and regardless of obstacles he will follow up and pursue these cases. In his speech Patel quoted the first black prime minister of South Africa, Nelson Mandela and said "Africa Won't Be Liberated Unless Palestine is Free"
The press conference ended following the speeches by other activists and attorneys.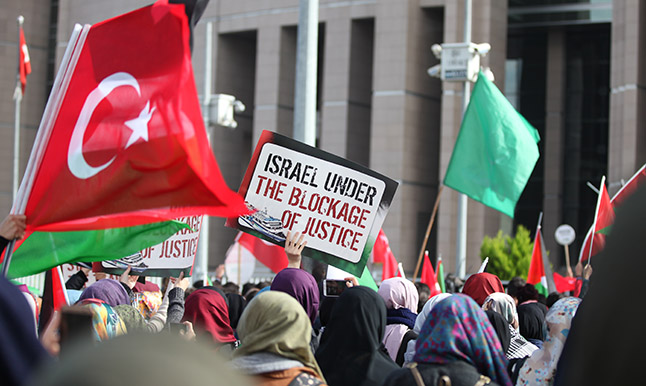 Claim of Charge is 18.032-year sentence
In the formal criminal charges brought by Istanbul Chief Prosecutor's Office against former Israeli Chief of Staff Rau Aluf Ashkenazi, former Commander of Naval Forces Eliezer Alfred Marom, former head of Israeli Intelligence Amos Yadlin and Air Force Intelligence Director Avishay Levi, the prosecutor demanded nine aggravated life sentence for instigation of murder in the first degree, 18.032-year sentence for each for instigation of damage to property, instigation of qualified robbery, instigation of torture, instigation of prevention of communication, instigation of deprivation of liberty, instigation of wounding, instigation of shooting.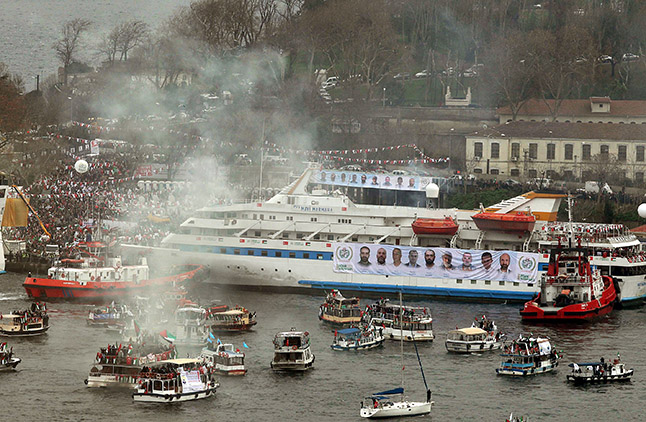 Palestine Our Route
01.06.2022
Palestine Our Route
27.05.2022
Women marched for East Turkistan
On 8 March International Women's Day, women staged marches in 61 cities to be the voice of the East Turkistan women. A joint press statement was given after the protests in Fatih, Istanbul.