No Bread Delivery to Syria
The bakeries that IHH opened to produce bread for Syrians have come to a halt due to dwindling flour supplies.
As Syrian war enters its sixth year Russian and Asad forces keep launching attacks at civilians every day. While people try to survive in spite of the constants shelling it is very difficult to get access to basic supplies to live.
While Syria suffers dozens of bombings daily, flour, the primary ingredient of bread has now become unavailable.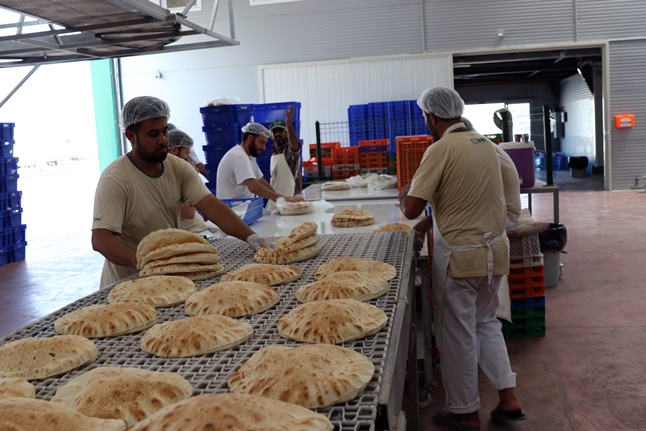 Bakeries About to Shut Down
Bread production for the people in Syria, where the humanitarian crisis got worse as the war drags on, is an urgent and essential activity. Therefore, decreased flour supplies of the bakeries in the area set off the alarm bells. The failure to replenish flour supplies, which is the primary ingredient of bread, the basic food to survive puts people in great risk in Syria, which receives dozens of bombs every day.  The only way to get access to living supplies is the aid coming through Turkey. When that stops the bakeries had to stop bread production too.
2 million pieces of pita-bread are produced and distributed daily from 46 bakeries supplies by IHH Humanitarian Relief Organization. However, it is not possible to deliver flour to many areas as the donations and supplies bottomed out. If this continues death from hunger could be inevitable as it happened in Gouta, Damascus, Yarmuk and Humus.
The 46 bakeries across Syria supplied by IHH need 2.050 tons of flour each month in order to work in full capacity. Two millions of pita-bread produced here are distributed to over 1 million people in return.
Aid for flood-affected families in Sudan
Sudan's last week's flood is still impacting the country. The floods, which claimed 99 lives and wounded 94 others also destroyed houses, workplaces, and acres of farmland. After the floods, IHH Humanitarian Relief Foundation launches its relief efforts for the victims there.
IHH Takes Action for Pakistan
The flood occurred the day before due to heavy rains in Pakistan. The flood resulted in the deaths of 1061 people and injured 1575 others. Right after the flood, the IHH Humanitarian Relief Foundation launched an emergency relief effort for the country.
IHH delivers aid to Gaza
In the attacks carried out by the occupying Israel against Gaza, 44 people, including 14 children, were martyred and 360 people were injured. The IHH Humanitarian Relief Foundation, which took action immediately in the aftermath of the attacks, launched emergency relief efforts for the people of Gaza.