Silent screams of conscious women
The Convoy of Conscience that departed from Istanbul in an aim of ensuring the release of the imprisoned Syrian women reached Hatay. Women participants raised a silent scream to the world from the Syrian border.
The International Convoy of Conscience that was organized to bring attention and demand the release of the women who were imprisoned during the 7 year war in Syria, and are subjected to torture and maltreatment in these prisons reached the Syrian border. The Convoy of Conscience, that materialized with the participation of more than 450 NGOs from Turkey and abroad, travelled from Istanbul, then onto Kocaeli, Sakarya, Ankara and Adana, and reached the border with a convoy of 200 buses.
Ten thousand women from different religions, languages, races and cultures from 55 countries participated in the convoy led by the women of Turkey. Among the participants were representatives of NGOs, academics, lawyers, press members, journalists, authors, doctors, artists, sportswomen, politicians, housewives and working women.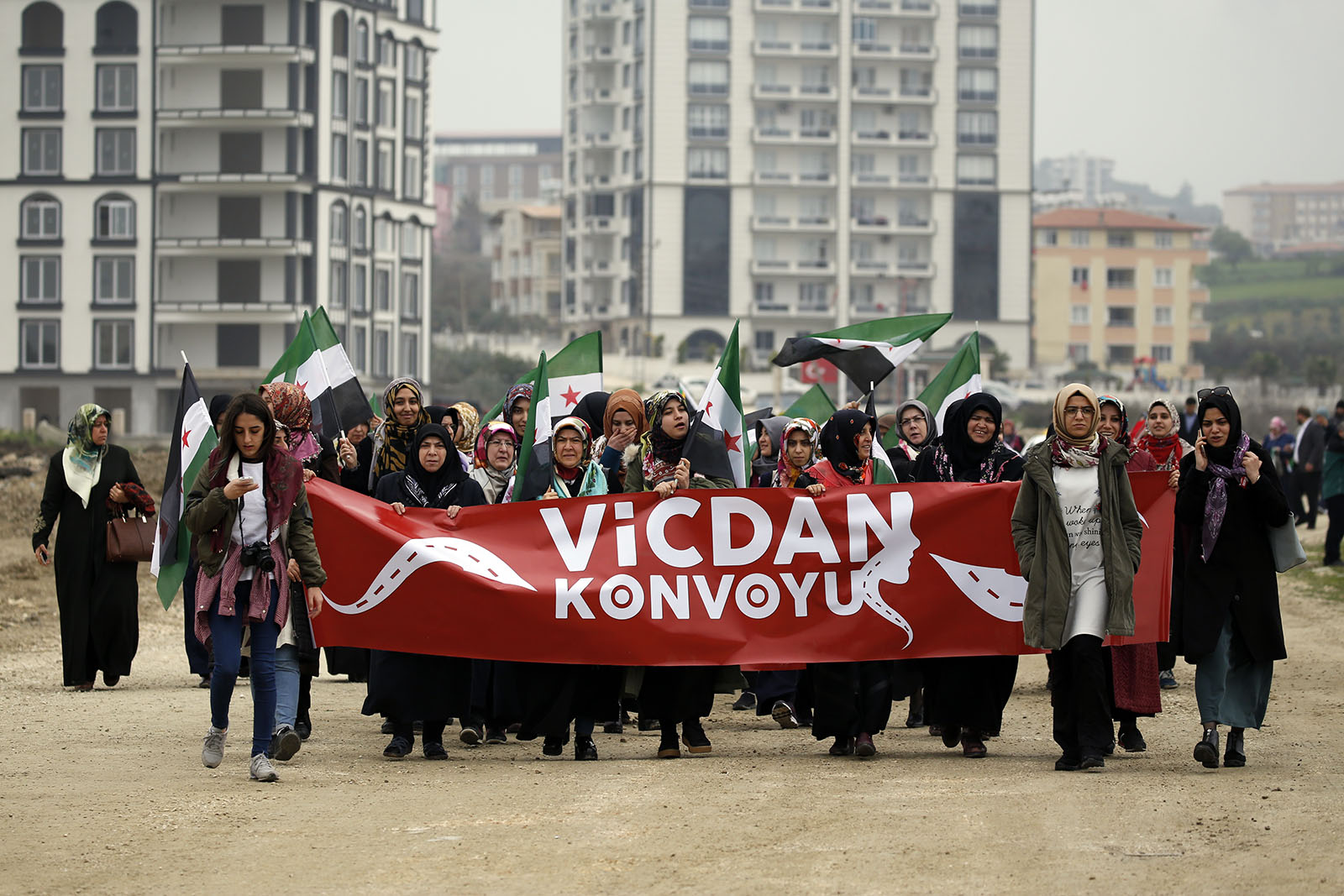 Among important names who participated from abroad were Pakistan MP Munaza Hasan, Ukrainian doctor and MP Olga Bogomolets, Scottish author-journalist and women's rights activist Yvonne Ridley, Councilor of Newcastle City Council Ann Schofield, Asia Waheed Alrabayah of the family of the Qatar Emir, Prof. Dato Sri Dr. Zaleha from the Malay University Faculty of Law, Mandela's daughter in-law Rayne Rose Mandela-Perry, award winner comedy author and actress from England Sajeela Kershi and the Mothers of Srebrenica.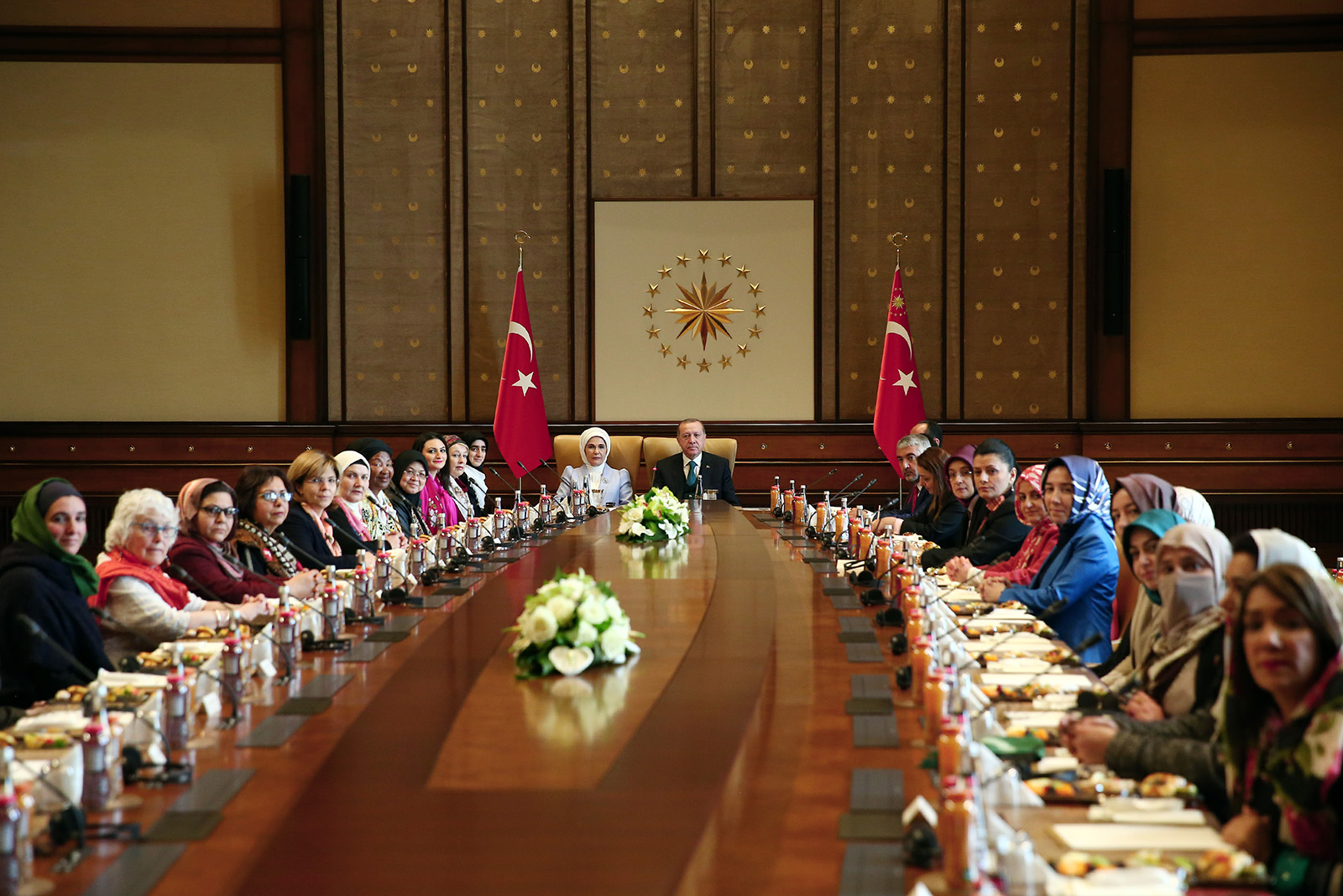 Representatives Visit the Presidential Palace
During the stop at Ankara, representatives of the Convoy visited the Presidential Palace and spoke with President Recep Tayyip Erdoğan and his wife Emine Erdoğan. President Erdoğan conveyed his support for the convoy during the visit where the objectives of the convoy and stories of the Syrian women prisoners were related. There were emotional scenes during discussions following stories conveying the experiences in Syrian prisons by women representatives from 55 different countries.
Representatives of the Convoy of Conscience Visit Parliament
Following this, representatives of the convoy visited Parliament and met with Chairman of the Human Rights Inquiry Committee Ömer Serdar and his associates. Chairman of the Human Rights Inquiry Committee Ömer Serdar, who met with the group led by Nalan Dal, spokeswomen of the Convoy of Conscience, congratulated the group for launching the Convoy of Conscience organized to raise awareness by bringing attention to the human tragedies experienced by Syrian women in prisons.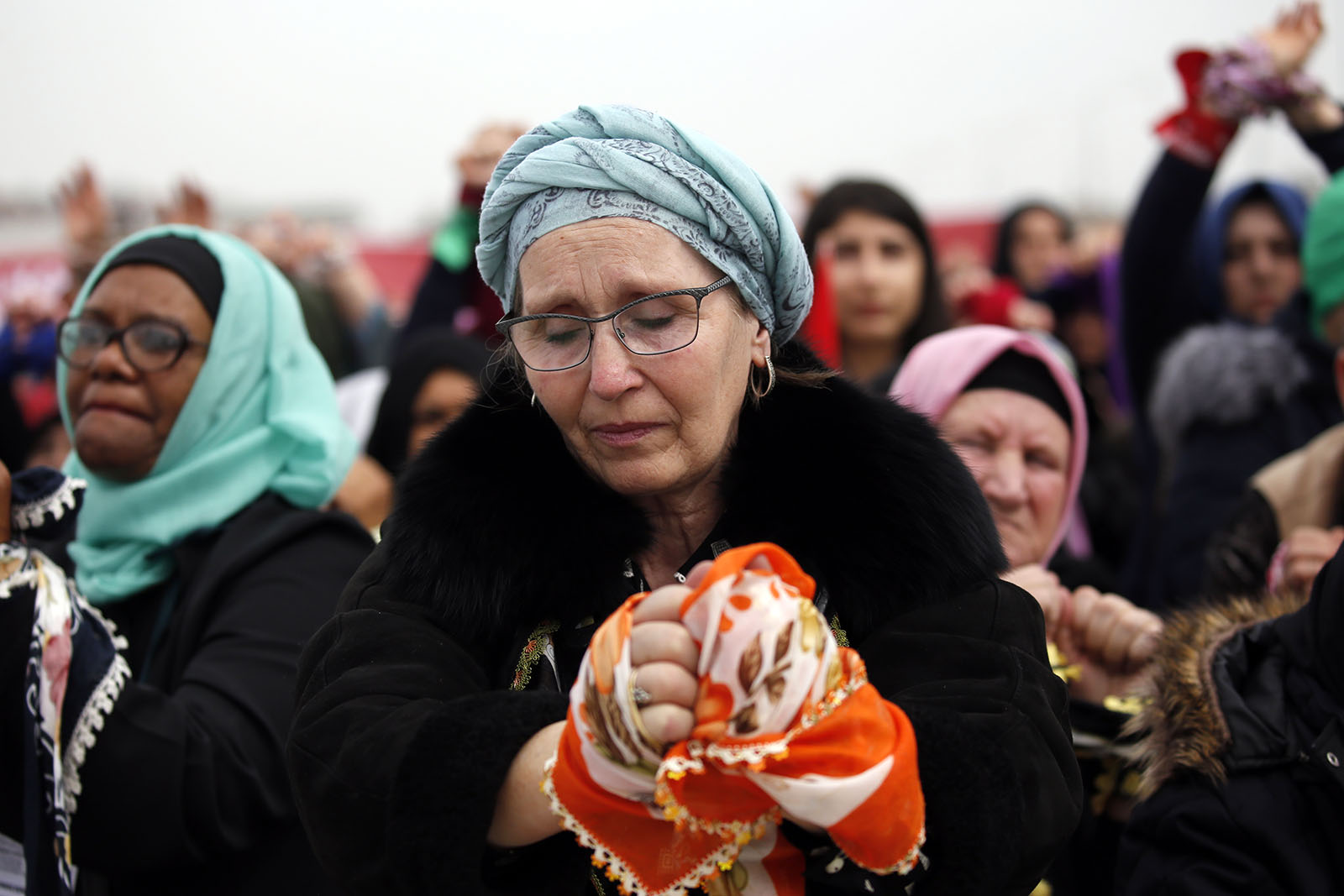 Addressing the World from Hatay
The women of conscience, who raised a silent scream to the world from the Hatay Exhibition Arena, conveyed the message "We have not forgotten you, our Syrian sisters. And this is just the beginning of our mission." These women brought attention to the Syrian women prisoners by tying embroidered head-scarfs to their wrists.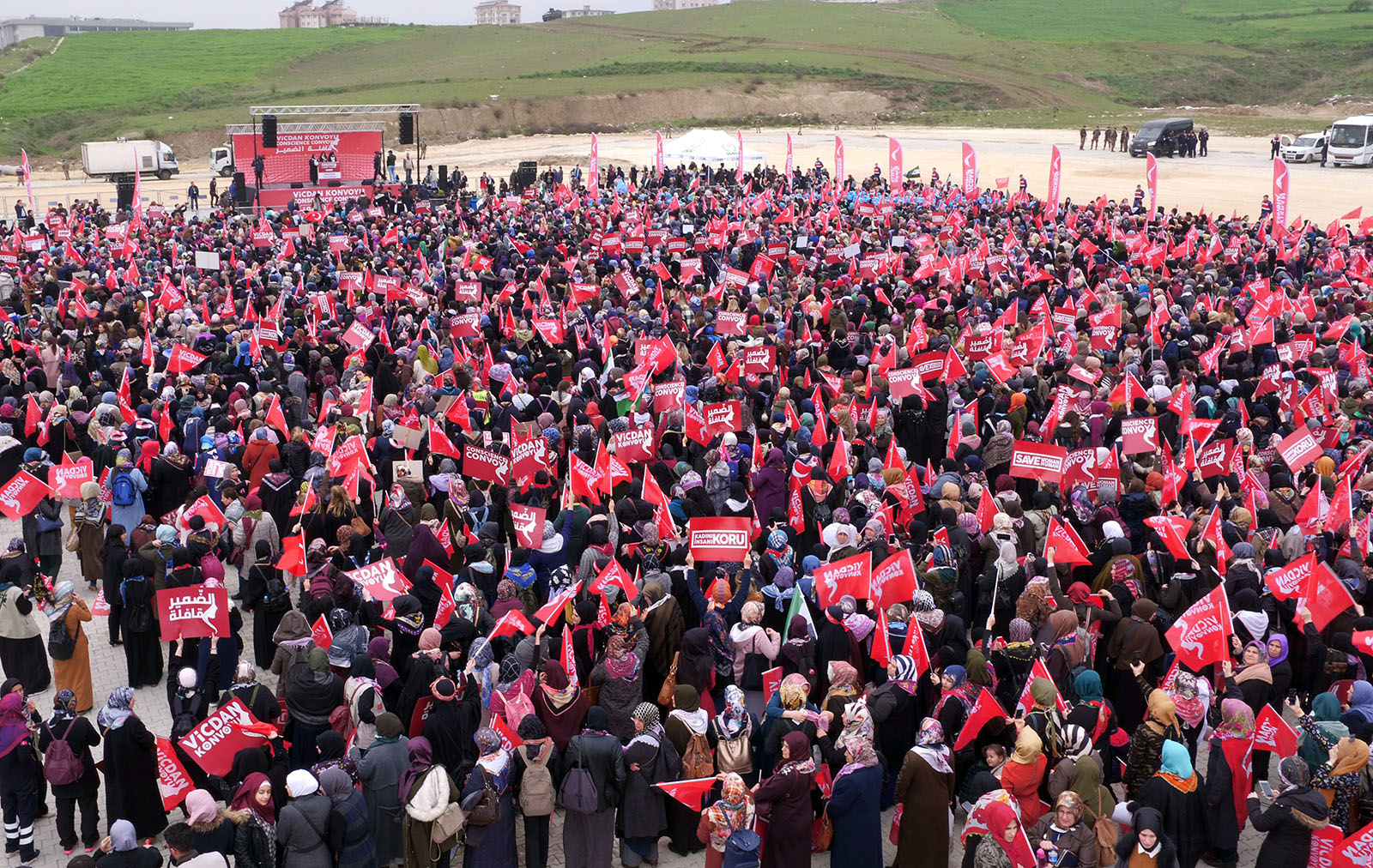 Participants from England, France, Ukraine, Malaysia, Egypt, Afghanistan, Iraq, East Turkistan, Syria, Qatar, Kuwait, South Africa and Bosnia came onto the stage and voiced the silent screams of the Syrian women.
"Our Prayers Turned into Protests"
Speaking at the program, Habibe Öçal, Chairman of the Memur-Sen Women's Commission, said "This meeting is not the awakening of women, but is rather the awakening of the conscience and morality! Here today, we have turned our utterance of prayers into active prayers of protest. By fulfilling this duty, we have transformed our actions into prayers and our prayers into protests."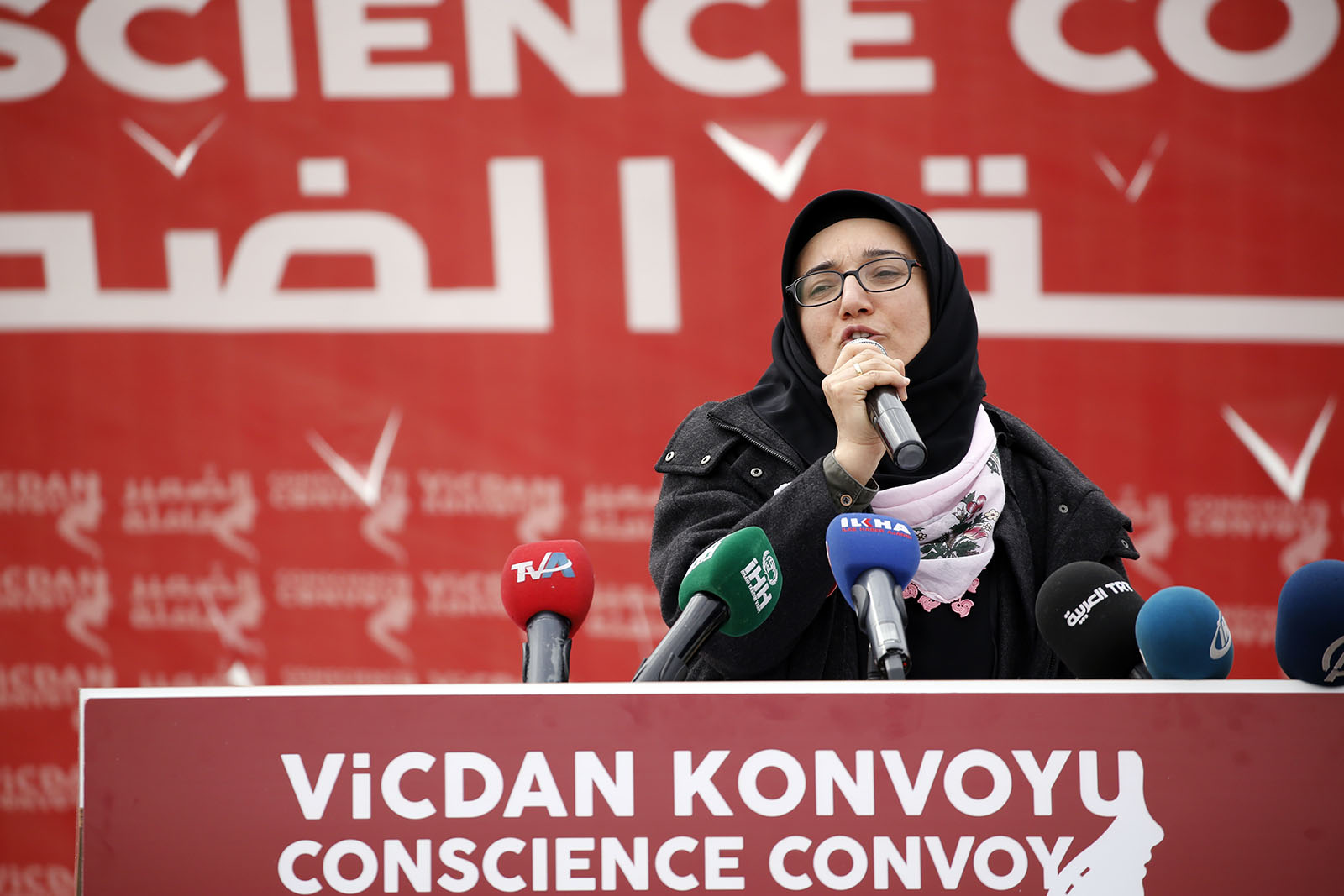 "That's Enough!"
Speaking on behalf of the Convoy of Conscience, Coordinator of the Convoy Lawyer Gülden Sönmez said "Everyone asked 'why are you participating on this journey?' This journey is our way of protesting against the persecution of our sisters and children that are suffering. And we are saying that's enough." Sönmez's statement was as follows:
"As women who come from many different parts of the world, we have come together for the freedom of Syrian women who are imprisoned unjustly; who are subjected to sexual attacks and torture. As a group of women from different countries of the world; women of different occupations and cultures, by participating in the Convoy of Conscience from Istanbul to Hatay we have introduced a sense of solidarity. As we travelled, the convoy grew. Our voices were heard around the world.
Everyone asked why are you participating on this journey? This journey is our way of protesting against the persecution our sisters and children that are suffering.
The Syrian War is now in its 7th year. So many died, and there was so much suffering. We are people who want peace in every part of the world and who believe that peace is beneficial to the whole of humanity. But unfortunately we see that as women we do not have the power to prevent wars. Again, we want to appeal to the whole world; there is no justification or morals in these wars. Rape is being used as a weapon against women in the Syrian war. We are ashamed of humanity. Every child who suffers death from chemical weapons, every innocent woman held in these prisons is making us lose hope for the future of humanity. Every day we are discovering new methods of torture, witnessing weapons that are the shortest, cheapest means of mass murder. We are afraid that we will not only lose our future, but also our humanity.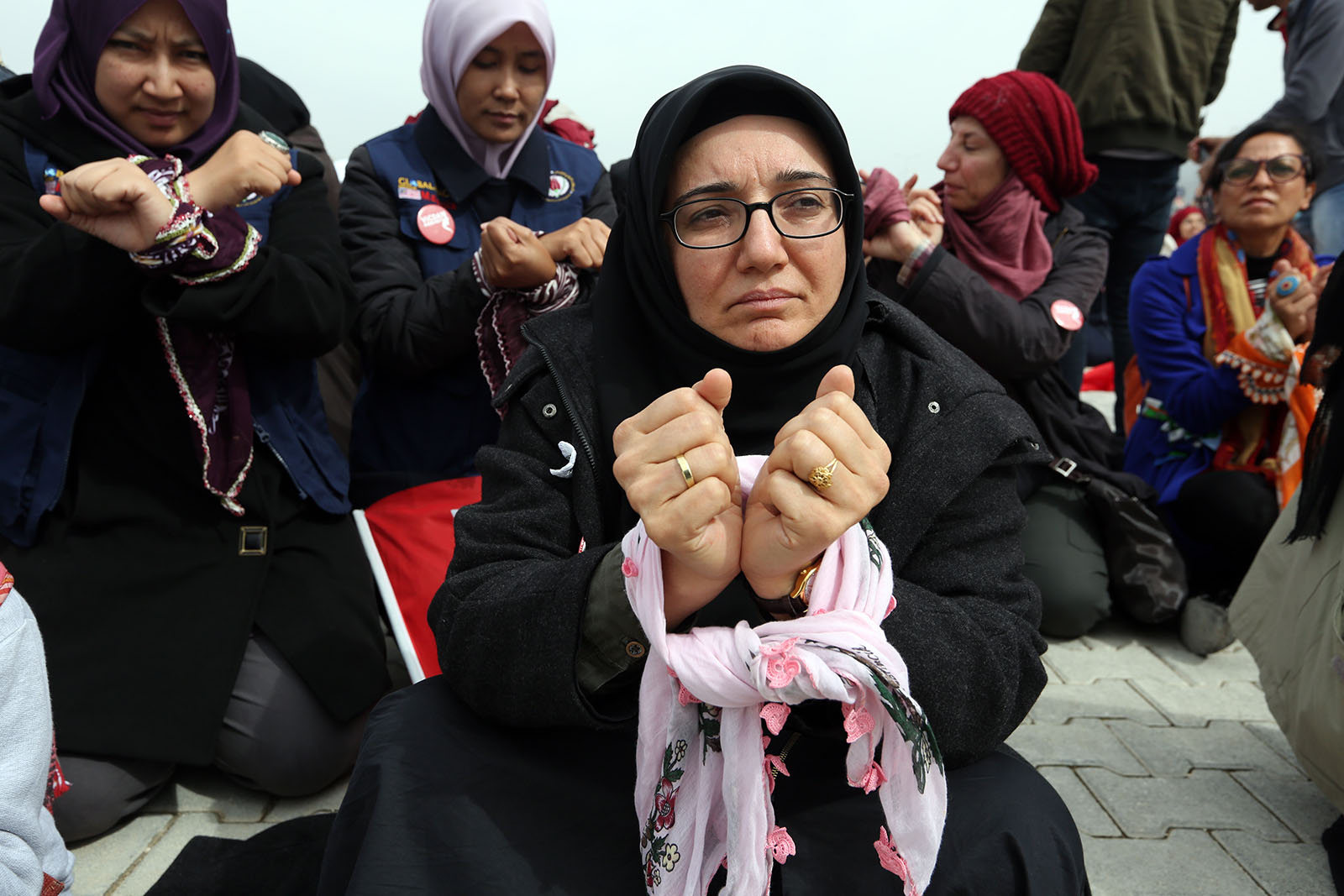 Those who believe they have gained victory by torturing women and imprisoning children will never be able to build anything but unhappiness upon all the tears and bloodshed. We set out on the Convoy of Conscience with great love and compassion so the children can live, and all the women be protected irrelevant of their language, belief or race. We also set out with great determination…
We are appealing to everyone! Hear our silent screams as women and please respond to these calls; stop using rape as a weapon of war immediately! Stop the cruel, vicious acts of torture against women immediately!
Release all of our Syrian sisters immediately. Release them so they can return to their homes and families. Release them so we can return to our homes with more hope for the future. For all of us, a world of justice where human rights are protected, where requirements of humanitarian law are met is only possible with the release of our Syrian sisters.
As a group of women who have come together to help you, we have launched such a strong movement and solidarity that there is no government, palace, leader or mechanism that is not hearing our voices. Now we await their choices. Everyone will have to make a choice, including Russia, Iran and the Assad regime. They will either go down in history as those who imprisoned and tortured innocent women, or be remembered as those who ended these acts of evilness.
We are addressing the brave, honorable women detained in the regime's prisons: Throughout the past few days, our journey to you has brought us together and we will never give up. We will never abandon you. Our voices are not weak; on the contrary our voices are strong and loud, because you are strong. Our willpower is strong not weak, because you have strong willpower. We will never give up, despite all the evil and injustices done to you, because you refuse to give up. This is a new beginning…"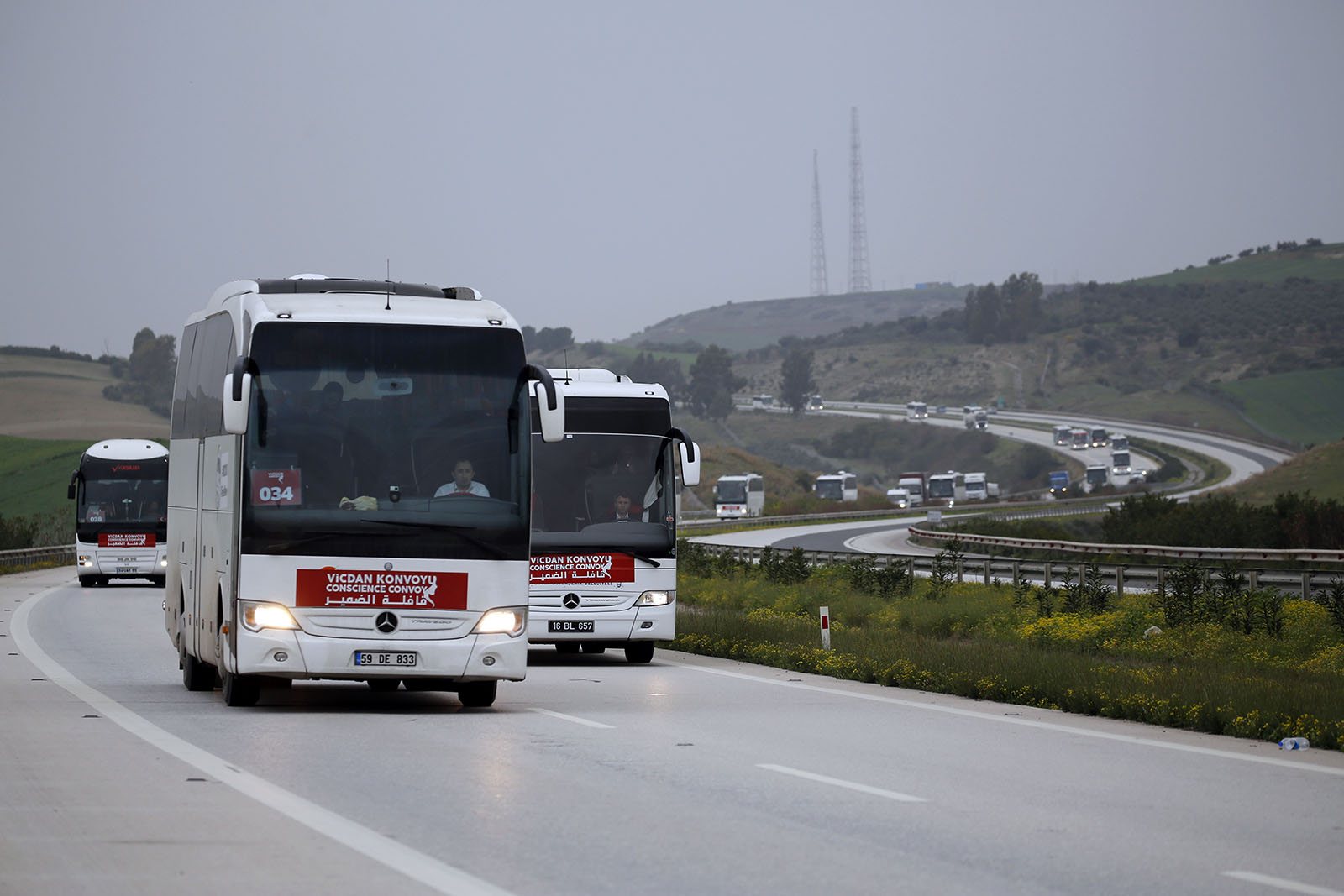 Palestine Our Route
01.06.2022
Palestine Our Route
27.05.2022
Women marched for East Turkistan
On 8 March International Women's Day, women staged marches in 61 cities to be the voice of the East Turkistan women. A joint press statement was given after the protests in Fatih, Istanbul.