This school has 56 orphan siblings
"Every class has a sibling" campaign initiated by IHH is garnering support from schools. Küçükköy Islamic School joined the campaign by volunteering to sponsor 56 orphans. An event attended by students and teachers was held at the school to highlight the charity.
Through "Every class has an orphan sibling" campaign that started in 2013-2014 academic year and endorsed by Ministry of Education and Department of Religious Affairs, IHH succeeded to reach over 5 thousand classrooms at 1500 schools and Quranic schools in 79 cities of Turkey.
The campaign received great support from schools across Turkey but Küçükköy Islamic School in Istanbul is one of the top schools that volunteered to sponsor the biggest number of orphans that is 56. Therefore IHH officials held an event at the school to meet the students and their teachers.
IHH Orphan Department's head and board member Murat Yılmaz delivered a speech and gave a brief to the students about the campaign. He extended his thanks to the students for volunteering to take care of orphans thus setting an example for their elders.
Yılmaz also added that the support for "Every class has an orphan sibling" campaign initiated by IHH is growing everyday. "There are 79 cities where the campaign is launched and we have reached 1.500 public and Quranic schools overall. The number of orphans sponsored on Orphan Care Sponsorship Programme of IHH reached 40.000 in 46 countries," he also noted.
Yılmaz also informed that they are delivering aid to 250.000 orphans periodically and nearly 20 million students from across Turkey support this campaign out of their pocket money.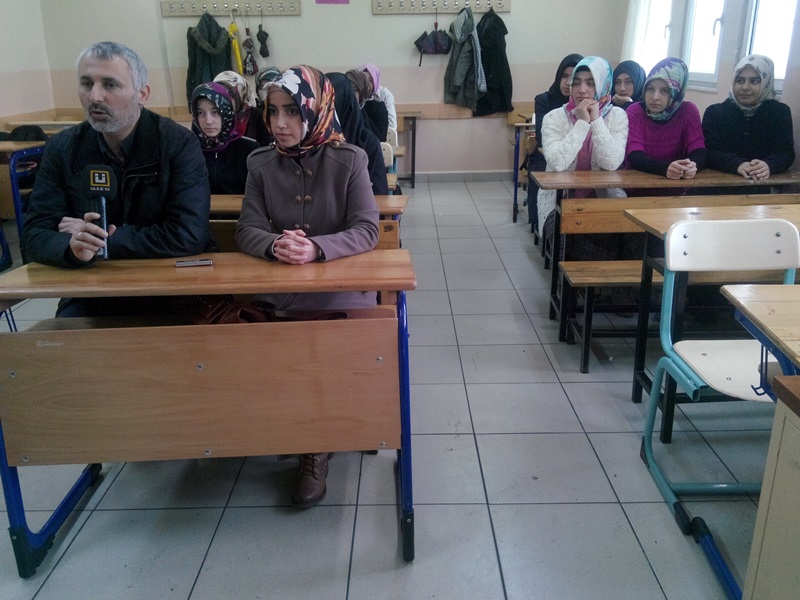 Yılmaz also reminded that 4th Orphan Solidariy Days took start on 12th February.
"Since 2011 we are celebrating Orphan Solidariy Days during February-March-April. During this time we are realizing various projects in countries where we opened up orphanages or where we run our Orphan Care Sponsorship Programme. This year through 350 projects we have developed we aim to raise the number of orphans we are sponsoring to 65.000. In terms of charity, Turkey ranks at the top 4 out of 230 countries in the world. But for me charitable people of Turkey deserves to be number 1."
Following the event, along with the school officials Yılmaz visited class 12-A, which pioneered the campaign in the school, to thank each and every student there.
Opening wells by means of bookmarks
Yılmaz was also informed that in cooperation with IHH's water well campaign, the students of 12-A is planning to open a well in Chad and name it after Ummu Umarah, one of the Prophet's companions, who carried water to the fighters during the Battle of Uhud. The students already started to raise 4.000 USD necessary to realize it.
One of the students of 12-A Merve Hasoğlu said that they started to raise the funds to open the well by selling the bookmarks they make themselves and added: "Today while we live in healthy conditions there are thousands of people who suffer due to lack of water or dehydration. Perhaps helping them out will enable them to continue their lives."
Ibrahim's first steps
The dream of 6-year old Ibrahim Tüser, who is supported under IHH's Orphan Sponsorship System, to be able to walk, came true with the support of donors.
Pedaling for orphans
IHH Malatya volunteer Ihsan Kılıç will be visiting 13 cities, cycling from Malatya and travelling a total of 500 km to raise "Orphan Awareness."
Malatya, Orphan
23.09.2020